The five most powerful companies among the 500 largest companies in the United States are all tech companies. This is according to the S&P 500 Index as of February 11.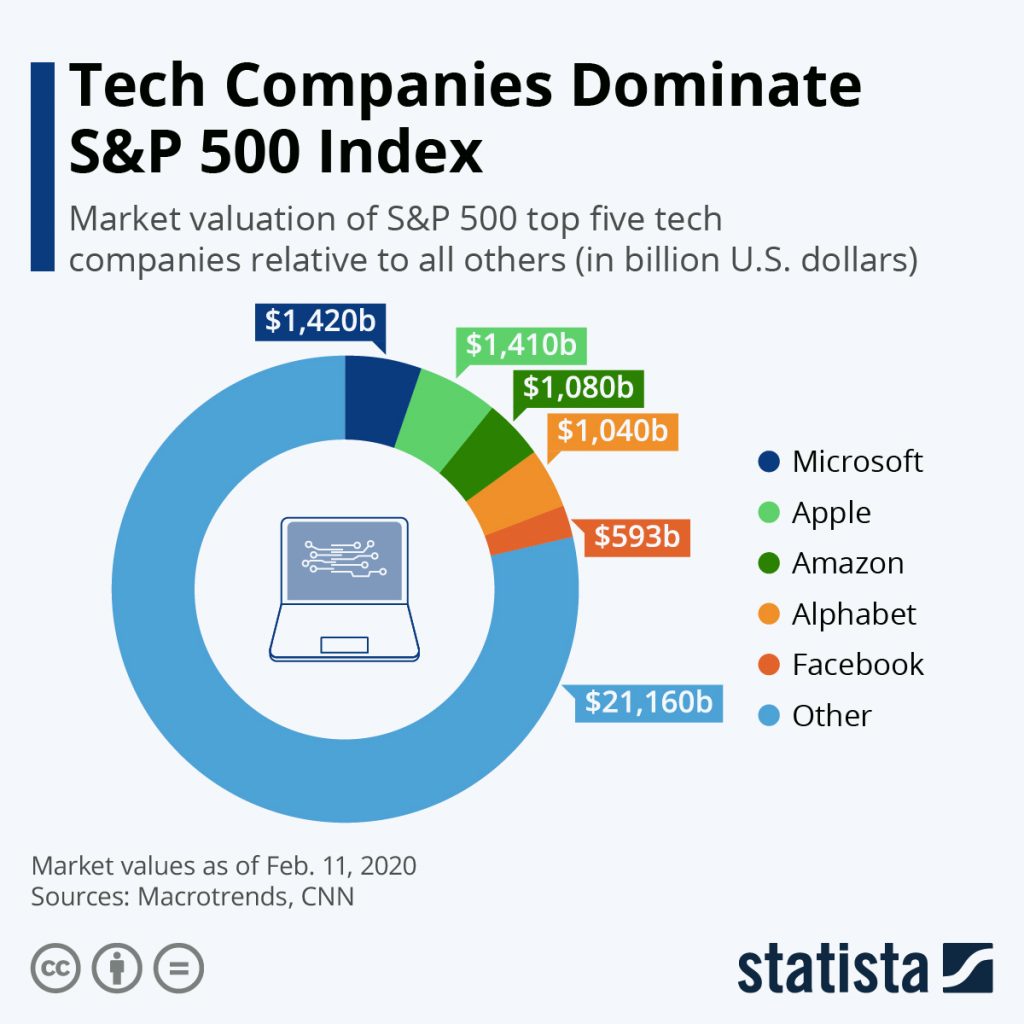 Highlights
The total valuation of the S&P 500 companies amounts to around $ 27 trillion. With a market valuation of US$ 1.42 trillion, Microsoft soars as the most powerful among the largest companies in the country. With this, it accounts for about 5.26% of the market value of the S&P 500.
Apple comes at a close second, with a market valuation of about $ 1.41 trillion. Meanwhile, it is Amazon which occupies the third seat with a value of $ 1.08 trillion. 
Alphabet is in fourth place, with a valuation of $ 1.04 trillion, also making it the last among the four companies which exceeded the 1 trillion mark in valuation as of the recent years.
In fifth place is Facebook, with a market valuation of around $593 billion, not yet quite making it in the 1 trillion mark unlike the other four.
Together, these five companies account for more or less 20 percent of the S&P 500 total value, indicating their massive influence in the U.S. market.
Repercussions
Market indices such as S&P 500 are used in what are known as index funds. Instead of the traditional method of looking at individual companies in-depth, these funds faithfully rely on the indices which track certain companies in order to decide where to buy shares.
By doing this, in theory, an investor will be able to invest diversely. That is, the "basket" of stocks they bought will belong to companies of different industries.
In practice, this may not be exactly true. Given the dominance of tech industries in indices like S&P 500, an investor might be misled into thinking that they are investing in a diverse range of industries when in fact, they are primarily investing in tech companies.
Given the unfortunate scenario that the tech industry suffers from a massive dip, this repercussion of the dominance of tech industry in market indices will prove to be a tragedy for an investor.
Mitigating the effects
As long as the tech industry continues to prosper, perhaps this isn't much of a problem. However, no one can say for certain until when this will remain to be the case.
This is especially true given how the tech industry is receiving some damage, in the face of the ongoing US-China trade war. The volatility in the tech industry segment of the market is undeniable.
What can be done in order to mitigate the effects of this potential downfall? For passive investors, nothing much can really be done, since index funds are supervised.
For those who regularly keep track of their portfolios, the investment to value stocks apart from high-valued ones, especially those which have potential to increase in value in the future, may be a move worthy of their consideration.
---
For enquiries, product placements, sponsorships, and collaborations, connect with us at

[email protected]

. We'd love to hear from you!
---
Our humans need coffee too! Your support is highly appreciated, thank you!