SaltStack®, the creators of intelligent automation for security operations and IT teams, today announced it has been named to the Women Tech Council's (WTC) 2020 Shatter List. SaltStack was recognized for its leadership and efforts to accelerate the removal of the glass ceiling for women in the technology sector by enacting impactful programs and culture that foster inclusivity and promote women. The company was chosen based on its development and implementation of measures that create a gender-inclusive culture where women can lead, contribute, and succeed.
"The Shatter List is designed to measure the policies, practices and organizations that are creating real impact for women in tech, said Cyndi Tetro, president of WTC. "These organization-wide, holistic solutions to actively create gender-inclusive environments and teams make impact not only for those within an organization, but throughout the technology community by helping advance women across the entire sector."
The Shatter List was developed as part of the WTC diversity and inclusion program and commitment to help build high-performing environments where men and women can succeed and drive company success. To make the Shatter List, SaltStack was evaluated and scored against hundreds of technology companies on four key criteria: executive engagement, company programming, community investment and women's or diversity and inclusion groups. Each named Shatter List company was required to demonstrate active, visible activities at all company levels showing commitment and progress in these four areas.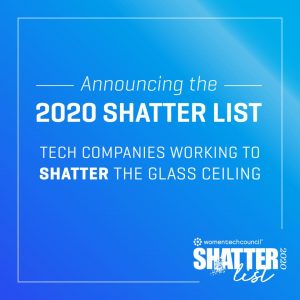 "We're extremely proud of our inclusive work environment. Our team's tireless efforts to build a culture that amplifies and builds on our employees' diverse range of talents pays undeniable dividends to the company and the tech community," said Marc Chenn, "Our success is tied directly to our employees feeling supported, safe, and empowered to contribute to our innovation and growth. In the tech industry, where there remains significant work to be done to achieve gender equality, SaltStack believes building an inclusive culture is a priority and a responsibility."
In addition to this recognition from the WTC, SaltStack is also a founding sponsor of Women of Security (WoSEC), a community for women in the cybersecurity industry. WoSEC is dedicated to building a community for women and girls in the information security industry to create meaningful, lasting connections and relationships. SaltStack support of WoSEC is representative of the company's efforts to reduce and eliminate barriers to entry women encounter in the technology industry.
Women Tech Council (WTC) is a national organization focused on the economic impact of women in the technology sector through developing programs that propel the economic pipeline from K-12 to the C-suite. WTC offers mentoring, visibility, opportunities and networking to more than 10,000 women and men working in technology to create business environments focused on inclusivity and high performance. Through this work, WTC propels women in technology careers and the talent pipeline by ensuring a strong, diverse and entrepreneurial technology workforce. For more information on Women Tech Council, visit: www.womentechcouncil.org.
---
About SaltStack
SaltStack® intelligent IT automation software is used to help the largest businesses in the world manage and secure their digital infrastructure. Known for its powerful event-driven infrastructure automation engine, SaltStack is designed to control, optimize, and secure the inherent complexity of Web-scale while providing efficient, collaborative solutions for ITOps, SecOps, NetOps, and DevOps teams. https://www.saltstack.com
---
For enquiries, product placements, sponsorships, and collaborations, connect with us at

[email protected]

. We'd love to hear from you!
---
Our humans need coffee too! Your support is highly appreciated, thank you!