At Google Cloud, we are committed to supporting the next wave of growth for Europe's businesses and organizations. Germany is one of the largest and most connected global economies, and it is undergoing digital transformation enabled by the use of cloud services. To further support that transformation, we announced plans to invest approximately EUR 1 billion in cloud infrastructure and green energy in Germany by 2030.
Organizations in Germany and across Europe need cloud solutions that meet their requirements for security, privacy, and digital sovereignty, without compromising on functionality or innovation. To help meet these requirements, we launched 'Cloud. On Europe's Terms' in September, and as part of that initiative, we entered into a strategic, long-term partnership with T-Systems to build a Sovereign Cloud offering in Germany for private and public sector organizations.
Building on our investments and partnership, we want to share the next steps in our plan to support sustainable digital transformation in Germany. Together with T-Systems, we will embark on an ambitious co-innovation program focused on developing new sovereign cloud and digital transformation solutions that help and promote the innovation and competitiveness of local cloud customers.
Munich – home to digital innovation for users and customers globally
Munich is at the center of our plans. Google and Google Cloud have a long history in the city. Since the initial opening of our Munich office in 2006, it has grown to become one of Google's main European engineering hubs. More than 1,500 Googlers are based in Munich-Arnulfpark, our largest office in Germany. It is home to our global Google Safety Engineering Center (GSEC) where robust privacy and security solutions for billions of Google users are being built. Munich was a natural choice for Google to locate the cloud co-innovation initiative given the security and privacy expertise in the region.
The Free State of Bavaria and its capital are among the most exciting places globally where the next decade of digitization is being shaped – it is home to a rich ecosystem of established and emerging industry leaders, a vibrant technology sector, and academic and research excellence.
This environment is the ideal place to establish our first European Google Cloud Co-Innovation Center, located in our offices on the Westhof side of the developing Arnulfpost Quarter. The Co-Innovation Center will open in the coming months and serve as a digital innovation stronghold in the heart of the Bavarian capital.
Dr. Markus Söder, Minister-President of Bavaria, commented: "Isar Valley meets Silicon Valley: the future lies in digitisation. Google Cloud and T-Systems launch a global partnership for cloud computing in Bavaria. Munich thus continues to grow as one of the leading IT locations worldwide. With the HighTech Agenda, Bavaria is promoting technology, digitalisation and Super-Tech with a total of 3.5 billion euros. We are creating 13,000 new university places and 1,000 professorships, 100 of which are for AI alone."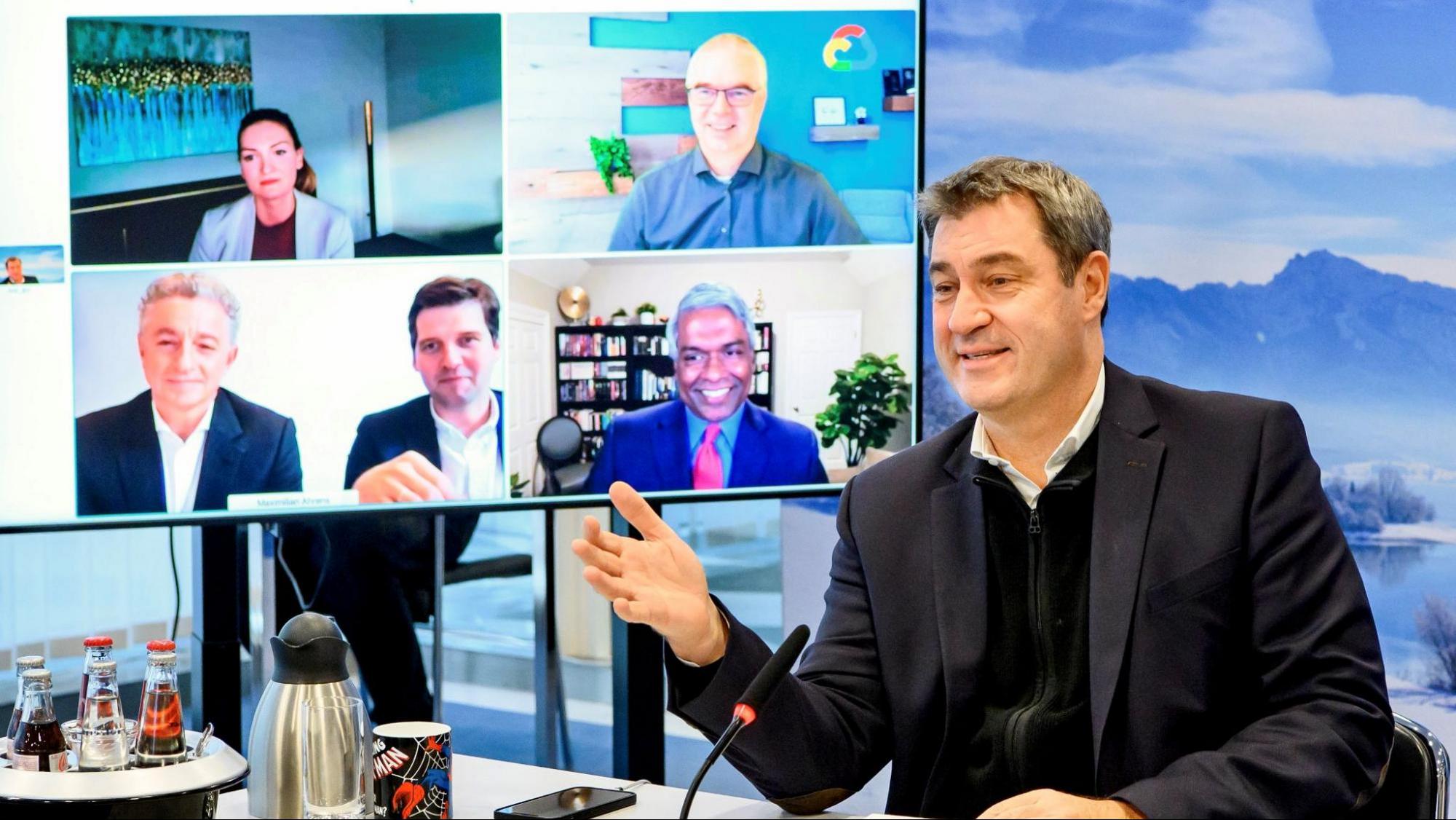 Co-Innovation on a sovereign foundation
Together with T-Systems, a company that has also championed innovation in Munich for a long time, we'll leverage the new Co-Innovation Center to:
Serve our joint customers' needs by collaborating on new solutions aligned with their sustainability and transformation goals
Create a space for attracting and developing top cloud engineering talent and expertise in and for Germany
Build the foundation for future sovereign solutions at scale that will strengthen competitiveness and overall digital transformation efforts in Germany.
The Co-Innovation Center will also offer programs that support the development of expertise among cloud customers and partners to further accelerate digital transformation efforts across the ecosystem.
Dr. Maximilian Ahrens, Chief Technology Officer at T-Systems, said: "We are very excited to see co-innovation as a central aspect of our partnership with Google Cloud come to life in Munich. Trust is a core strength for T-Systems and so is innovation for Google Cloud. Co-innovating along these values uniquely positions us to work together with our joint customers in Germany to address their most critical sovereign needs."
As part of this effort, T-Systems and Google Cloud will create a number of highly-qualified software engineering roles in Munich.
Outlook
The official opening of our Co-Innovation Center will take place in mid-2022. Dr. Wieland Holfelder – Google Cloud's long-standing Vice President, Engineering and site lead for Google Munich – will be leading the efforts for a new generation of sovereign cloud solutions.
Given the challenges and opportunities of our time, we believe it is more useful to build bridges and fewer walls, and team up to innovate and develop better technology for Germany, Europe and beyond. We look forward to welcoming our customers and partners to the new Center as we work to make Google Cloud the best possible place for sustainable, digital transformation.
By: Daniel Holz (VP, EMEA North, Google Cloud) and Wieland Holfelder (VP Engineering, Google Cloud)
Source: Google Cloud Blog
---
For enquiries, product placements, sponsorships, and collaborations, connect with us at

[email protected]

. We'd love to hear from you!
---
Our humans need coffee too! Your support is highly appreciated, thank you!