NTT Communications Corporation (HQ: Chiyoda-ku, Tokyo, President and CEO: Toru Maruoka; hereinafter "NTT Com") and OMRON Corporation (HQ: Shimogyo-ku, Kyoto; President and CEO: Yoshihito Yamada) will start a collaboration for manufacturing DX (hereinafter "joint development") from October 3, 2022. In the joint development, we aim to develop and launch solutions that accelerate the realization of manufacturing which coexists with the global environment by linking the each technologies in the IT domain that NTT Com specializes in with the technologies OMRON specializes in the OT (factory automation) domain.
1.Backgrounds
In the manufacturing industry, we are required not only to respond to diverse needs and pursue high QCD*1, but also to make efforts rapidly to achieve the SDGs, such as realizing manufacturing that coexists with the preservation of the "global environment". Decarbonization of manufacturing processes is one of the issues at manufacturing sites, and it is required to consider not only the own factory but the entire supply chain and work on decarbonization for total optimization. CO2 emissions data, etc. of manufacturing sites are held in the OT domain in multiple systems in own factory and other companies in the supply chain. To realize decarbonization in manufacturing, it is necessary to create a mechanism that enables to share data in the OT domain across the entire supply chain while protecting data sovereignty by utilizing technologies in the IT domain, and utilize the data for improving energy efficiency, etc. in the production processes.
2.Outline of Joint Development
NTT Com and OMRON have been working on interconnection trials with partners in Japan and Europe since 2021 to realize secure data sharing between domestic and international organizations while protecting data sovereignty*2. These trials have verified interconnection using the "IDS Connector"*4 by IDSA, that equally cooperates with "Gaia-X"*3 under the DSBA alliance and aims to expand the scope of this trial. Specifically, the two companies will jointly build an experimental environment from October 2022 that links the automation technologies, experiences at manufacturing sites and wide lineup of control devices held by OMRON with the ICT infrastructure of NTT Com and develop and launch solutions that enable to share data in the OT domain across the entire supply chain while protecting data sovereignty. We will mainly work on the following.
①Implementing a data linkage platform that enables interconnection with various European data linkage infrastructures
By utilizing the data utilization platform "Smart Data Platform"*5 of NTT Com (hereinafter "SDPF") and the data linkage platform developed by NTT Com and NTT DATA Corporation*6 (hereinafter "this platform"), interconnection with various European data linkage infrastructures such as "Catena-X*7" and "SCSN*8" (that present two of the seven Gaia-X Lighthouses) will be realized. Furthermore, we will implement this platform to enable international linkage of CO2 emissions data, etc. while protecting data sovereignty, and provide solutions utilizing this platform in the IT domain.
②Verifying interconnection that safely connects IT domain and OT domain
The two companies safely interconnect this platform located in the IT domain with controllers located in the OT domain to share between companies the data in the OT domain which are related to the products and production of each manufacturing company. We will connect the mobile networks such as 5G, global networks, edge computing service "SDPF Edge*9", and "withTrust®*10" with controllers of OMRON, and jointly verify a mechanism to precisely collect, analyze and utilize data such as of raw material types, energy consumption, and quality that are gathered during production processes.
③Providing realization of manufacturing sites that achieve both high productivity and energy efficiency
We will support both high productivity and energy efficiency by providing automation solutions that embody OMRON's unique manufacturing site innovation concept "innovative-Automation" in the OT domain. We will enable to reduce and visualize CO2 emissions by precisely converting the carbon footprint into data, which are minimized by optimizing the operation rate and control method of the equipment at the production sites. In addition, we will begin the joint technical verification to visualize the usage and disposal status of each resource for resource recycling and to promote reuse of it.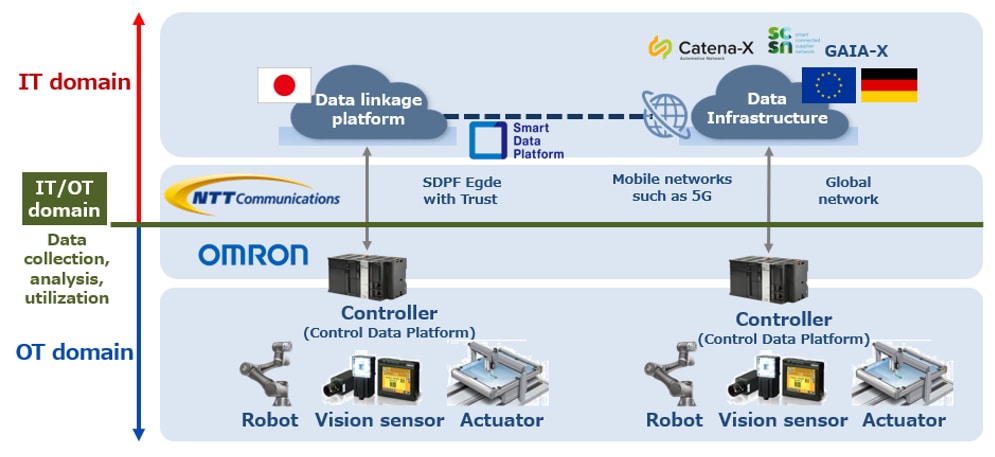 <Image diagram of joint development>
3.Future Deployments
The two companies aim solving total issues in the IT and OT domains by providing ①, ②, and ③ in the image diagram of this joint development to customers mainly in the manufacturing industry in one stop. Furthermore, this platform will be expanded not only to various data linkage infrastructures in Europe, but also to global manufacturing systems and cloud connections, so that all manufacturing industries support international standard interfaces and continue to grow globally. Both companies will accelerate the realization of manufacturing that coexists with the global environment by promoting manufacturing DX and contribute to the realization of a sustainable society.
*1:QCD is an acronym that stands for Quality, Cost, and Delivery, and these are three elements that should be emphasized in the manufacturing industry.
*2:Refer to the following news releases for the interconnection trials with partners in Japan and Europe.
OMRON Joins Interconnection Trials of European "Gaia-X" and Various Systems of Companies and Organizations Led by NTT Communications (OMRON October 14, 2021)
https://www.omron.com/jp/ja/news/2021/10/c1014.html
NTT Com Starts Interconnection Trials Using Platform Connecting Gaia-X (European Secure Data-sharing Platform for Supply Chain Companies) with Systems of Domestic and Overseas Companies/Organizations (NTTCom October 14, 2021)
https://www.ntt.com/about-us/press-releases/news/article/2021/1014.html
*3:"Gaia-X" is an initiative announced by the German and French governments in October 2019 to support data sharing via infrastructure that ensures security and protection of data sovereignty.
*4:"IDS Connector" provided by IDSA is a mechanism that allows to control access to each data based on laws and contracts when deployed in the clouds, on edge computers and devices that send and receive data and configured properly.
*5:"Smart Data Platform" is a next-generation platform of NTT Com that provides all the functions necessary for corporate DX in one stop.
*6:The data linkage platform, which is capable of interconnection with European data linkage infrastructures, is the new data linkage platform NTT Com and NTT Data Corporation are developing based on the technology provided by Nippon Telegraph and Telephone Corporation. Through working with industry groups and companies that have issues in data linkage, they will work on promoting data linkage necessary for realizing the achievement of carbon neutrality, resource recycling and stable electricity supply.
https://www.ntt.com/about-us/press-releases/news/article/2022/0427.html
*7:"Catena-X" is a data linkage infrastructures operated by German auto manufacturers and others. This platform enables to link data safely among various companies, groups, and organizations and aims to realize calculation of CO2 emissions and digital transactions between companies across countries and regions when manufacturing EV battery parts. Refer to the following web page.
(https://catena-x.net/de/)
*8:"SCSN (Smart Connected Supplier Network)" is a Dutch data linkage infrastructures that enables the safe data linkage of data used in the supply chain of manufacturing industry. Refer to the following web page.
(https://smart-connected.nl/)
*9:"SDPF Edge" is an edge computing service that realizes a distributed processing computing model by placing a server close to the terminals in the SDPF and processing data to ensure real-time performance and reduce communication volume. The managed edge computing infrastructure, a server virtualization function on which edge applications can be mounted, is provided for a monthly flat rate with integrated operations.
https://sdpf.ntt.com/services/sdpf-edge/
*10:"withTrust®" is a mechanism for safely distributing and linking highly confidential data.
About NTT Communications
NTT Communications solves global technology challenges by helping enterprises utilize managed IT-infrastructure solutions to overcome complexity and risk in their IT environments. These solutions are backed by our worldwide infrastructure, including industry-leading, global tier-1 public and private networks reaching over 190 countries/regions, and more than 500,000m2 of the world's most advanced data-center facilities. As the core provider of the DOCOMO group's enterprise-business services and solutions, we create value by providing global-scale support for restructuring in industry and society, new workstyles and digital transformation in communities. Together with NTT Ltd., NTT Data and NTT DOCOMO, we are the NTT Group.
www.ntt.com | Twitter@NTT Com | Facebook@NTT Com
About OMRON Corporation
OMRON Corporation is a leading automation company with its core competencies in Sensing & Control + Think technology, and is engaged in a wide range of businesses including industrial automation, healthcare, social systems, and electronic components. Established in 1933, OMRON has about 30,000 employees worldwide, working to provide products and services in around 120 countries and regions. In the field of industrial automation, OMRON contributes to the advancement of manufacturing that will support a sustainable society through solutions and service that innovates our customers' production sites. For more information, visit OMRON's website: https://www.omron.com/global/en/
About "innovative-Automation"
OMRON is advancing a unique "innovative-Automation" concept, creating new types of automation that drive the manufacturing revolution forward at the same time as realizing coexistence with the global environment and a sense of purpose for all workers, as well as contributing to the growth of sustainable industries. As we look to the future of manufacturing, OMRON will pursue novel approaches to productivity in the form of "Autonomation beyond human abilities" and "Advanced collaboration between people and machines," underpinned by "Digital engineering transformation" in order to enrich the future for people, industries and the globe by innovative-Automation.
---
For enquiries, product placements, sponsorships, and collaborations, connect with us at

[email protected]

. We'd love to hear from you!
---
Our humans need coffee too! Your support is highly appreciated, thank you!