Leaders among Communications Service Providers (CSPs) are choosing to modernize on cloud to better monetize their 5G network investments. We are interested in learning how the industry, as a whole, is progressing on these initiatives. Are there best practices that can be shared? What are the primary challenges, and how are the more advanced CSPs overcoming them?
These are the questions explored in a survey of executives at Tier 1, 2, and 3 CSPs from around the world, conducted by Heavy Reading and sponsored by Google Cloud. The results of this research are summarized in the whitepaper, Monetizing the Cloud-Based Network.
Here are five key takeaways from the research.
1. CSPs are adopting a holistic cloud strategy versus a single cloud-only approach.
In fact, 77% of survey respondents are doing exactly that, by focusing on a hybrid cloud approach integrating private and public clouds. While transformation using cloud-based and cloud-native technologies is the key to faster innovation and efficient scale, the simple truth is not all network functions nor all workloads can be moved to the public cloud right away. Region-specific compliance and latency requirements are some critical considerations that dictate a hybrid approach. Therefore, CSPs need a common operating model that will enable them to manage their networks running across premises-based and cloud environments, from the core out to the edge.
We believe a distributed cloud architecture is the answer. Google Distributed Cloud (GDC) Edge supports network functions and the applications running across them on Google's network edge, at the operator edge, the customer edge, and on-premises at the customer's data center – all on one control plane with a single pane of glass management. Recently at Mobile World Congress 2023, Google Cloud also announced the ability to run the Radio Access Network (RAN) on GDC Edge. By building on our strategic partnerships with network function providers, we continue to offer CSPs the flexibility to manage networks the way they need to while helping to optimize deployment and operating costs, essential elements for monetizing 5G investments.
2. Artificial intelligence (AI), machine learning (ML), and automation will be foundational to 5G monetization.
We believe that leveraging AI/ML to increase automation will be a differentiating capability for CSPs because it can deliver value across many different functions or teams within an organization. The survey revealed that the top three areas where we can expect the greatest impact include network operations and optimization, customer experience, and network security.
According to Heavy Reading research director Jim Hodges, AI, ML, and automation will ultimately become a foundational capability for sales, marketing, security, customer experience, and even network and operations teams because they tie together backend and frontend functions to enable a 360-degree view of a customer's experience.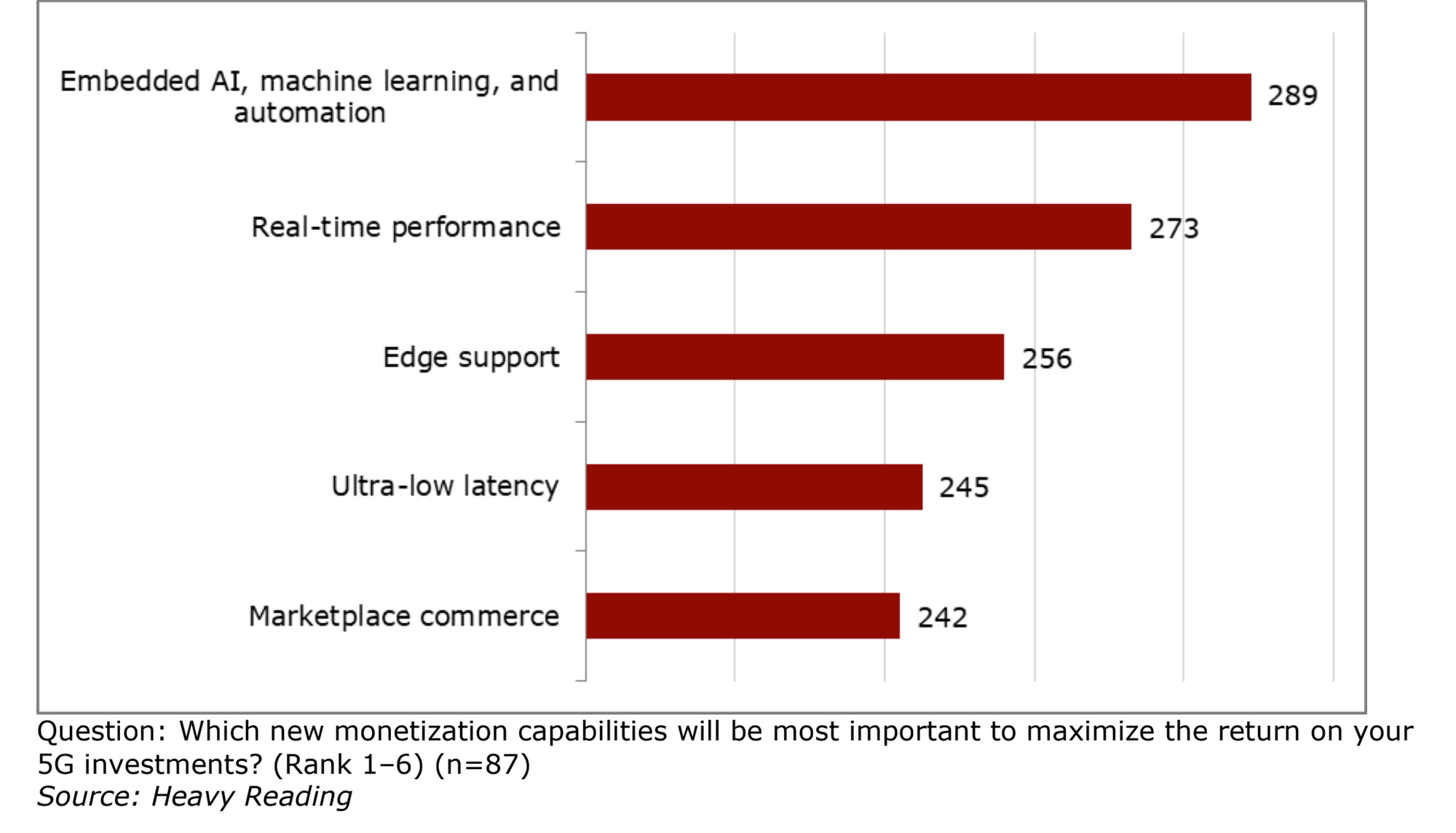 At Google Cloud, we believe that data-driven CSPs in the 5G era are likely to focus on activating data and analytics with the power of AI and ML to generate new "business-to-business-to-X" (B2B2X) revenue opportunities, where enterprises who purchase services from CSPs can further customize and add value to the original service to their end-customers. Real-world examples include:
Using location intelligence in retail to understand when and where consumers shop for better site planning and more targeted marketing offers
Improving operational efficiency across the automotive, transportation, and logistics industries. For example, tracking the number of trucks active per month leveraging not only sensors but also the number of accesses to the network
Enabling real-time inventory management with visual inspection, stock outage prediction and robotic technologies
Anomaly detection using video and AI to reduce defects on the factory floor
Smart cities: Site planning in public sector and leveraging geo-location data to improve planning of services and facilities
3. B2B2X models will benefit from 5G API-based applications, data exposure models and slice-based services.
The value of these models are that they are highly programmable and can be leveraged to enhance monetization of a myriad of services. CSP survey respondents in the research indicated that a range of data will need to be exposed to drive new B2B2X revenue streams. In order of priority, the top three include service experience insights, load and performance analytics, and mobility insights. Multilayer data exposure and the development of a unified capability-exposure framework with ecosystem partners will be essential to support new B2B2X services. This will also be vital to help ensure a consistent end-to-end digital experience throughout the 5G network.
In addition, Google offers 5G network slicing capabilities to help CSPs and the customers they serve deliver enterprise applications and services over network slices. Certain services may require enhanced security and performance – for example, autonomous vehicles and remote healthcare delivery. These slices can be dynamically created with specific properties based on their use case, yet still take advantage of shared underlying resources.
4. Opportunities still exist to simplify business support systems (BSS) to support 5G monetization.
64% of survey respondents believe that their existing systems are too complex to allow them to monetize their networks effectively. Furthermore, four out of ten respondents believe their existing BSS do not offer the agility to self-configure and rapidly monetize new 5G services.
A modern, cloud-native digital charging solution like MATRIXX Digital Commerce Platform running on Google Cloud is one way that CSPs can overcome this obstacle to agility as they execute cloud-based transformation strategies. The solution supports click-not-code configuration of innovative monetization models, configurable gateways to help streamline business and network function integration. and open, configurable APIs to expose data functions for not only IT systems but the lines of business as well.
"Telcos are still challenged to deliver next-generation services," says Marc Price, CTO of MATRIXX Software, "and cloud-based monetization is a critical element for them to compete and address evolving consumer and enterprise demands."
5. Confidence in security is fundamental to successful monetization initiatives.
53% of respondents expressed concern about securing cloud data when stored as a barrier. Ensuring data sovereignty and meeting regulatory requirements present as second and third ranked security concerns.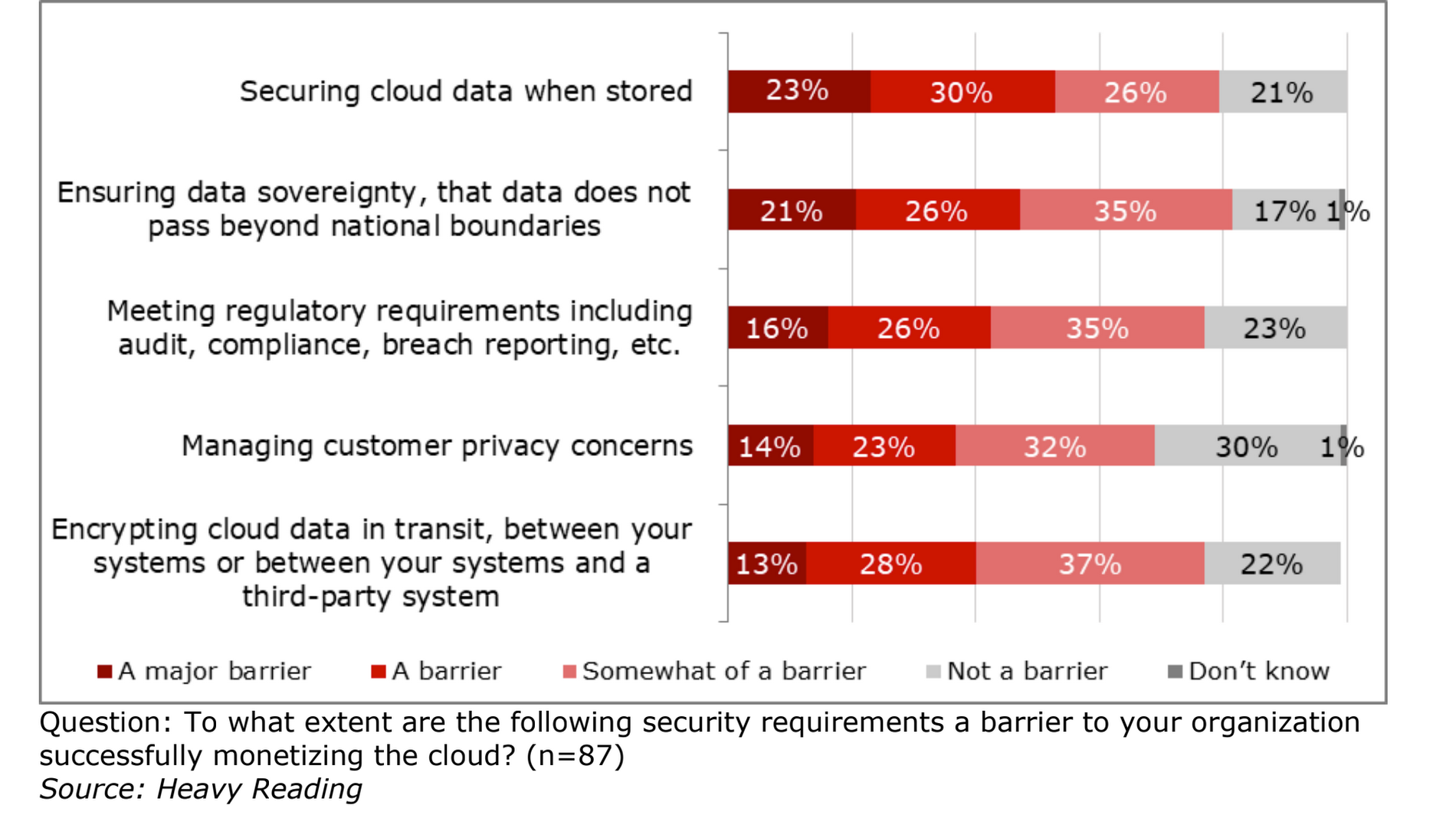 As such, MATRIXX and Google Cloud offer a joint solution for CSPs — a carrier-grade real-time 5G monetization platform deployed securely in the public cloud. The MATRIXX Digital Commerce Platform runs in a Google Cloud environment with Google Cloud Confidential Computing enabled. The solution supports encryption of data not only at rest and in transit, but also in process. MATRIXX has established that a CSP using Google Cloud Confidential Computing can deliver the audits and controls required by its regulator to demonstrate the security of private data within their monetization processes.
Based on the Heavy Reading research, we can conclude that CSPs are strongly committed to 5G transformation leveraging cloud-based technologies due to the agility and flexibility benefits offered when it comes to developing and monetizing new services. Heavy Reading believes that "CSPs of all sizes need to consider 5G network investment a strategic imperative as they rank short- and medium-term investment opportunities."
By Matt Anderson Head of Cloud IT Telecom Solutions, Google Cloud
Originally published at Google Cloud
Source: Cyberpogo
---
For enquiries, product placements, sponsorships, and collaborations, connect with us at

[email protected]

. We'd love to hear from you!
---
Our humans need coffee too! Your support is highly appreciated, thank you!