The full integration of 5G in our technological terrain will open a world of new innovations and services, radically changing the way that we experience the world.
With this in mind, who is currently in the lead when it comes to generating 5G-related innovations? Let's find out.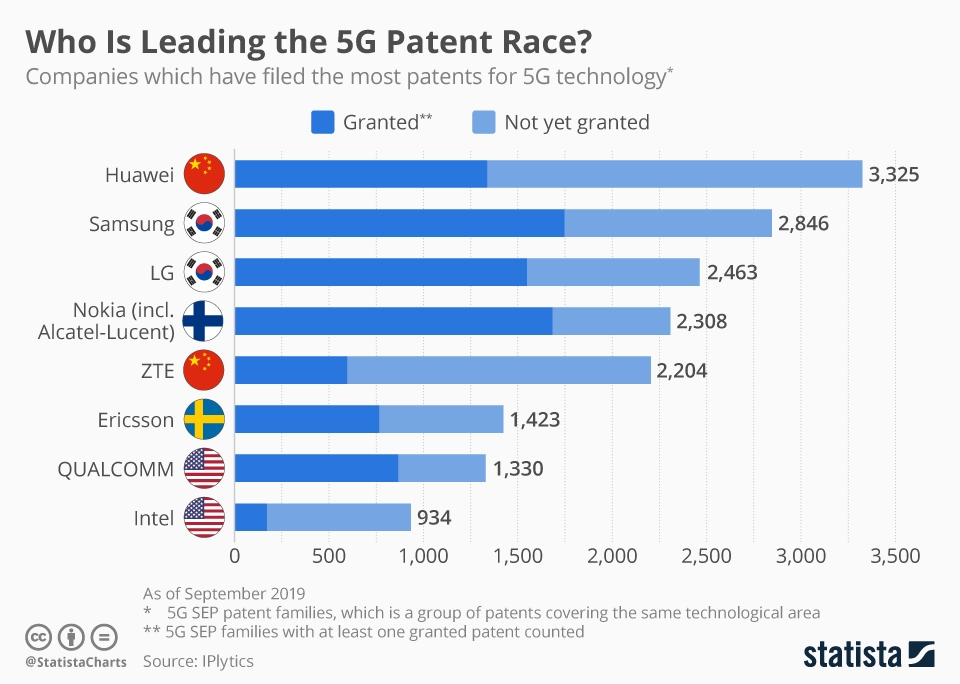 This is according to the data of innovative market intelligence company IPlytics. They collected the number of 5G declared patents owned by companies.
Highlights
Huawei leads the list when it comes to the number of declared patents, recording a total 3,325 patents filed as of November 2019. This is followed by Samsung (2,846), LG (2,463), Nokia (2,308), and ZTE (2,204).
However, when it comes to the number of patents granted, the list order changes immensely:
| | | |
| --- | --- | --- |
| Rank | Company | Number of Patents Granted |
| 1 | Samsung | 1,746 |
| 2 | Nokia | 1,683 |
| 3 | LG | 1,548 |
| 4 | Huawei | 1,337 |
| 5 | Qualcomm | 866 |
Now, we have Samsung in the lead, earning 1,746 granted patents out of 2846, which is nearly 61 percent of all the patents they have filed as of the recent tally.
Samsung is followed by Nokia, with 1,683 patents granted. It is followed by LG (1,548). Huawei which led in terms of the number of patents filed falls to the fourth place with only 1,337 of the 3,325 patents granted. Lastly, Qualcomm grabs the fifth place by recording 866 patents.
Differing timelines
According to Statista, the patenting process can take several years before attaining completion.
This means that Nokia has filed most of its patents a few years back and hasn't filed much as of the recent time with 73 percent of its patents already granted. According to IPlytics, the earliest 5G related patent from Nokia can be traced back to even before 2012.
Meanwhile, Huawei's relatively low proportion of patents granted can be explained by how it has filed much of its patents only recently.
Similarly, Chinese tech Company ZTE and The United States' Intel are both relatively new in the 5G game, as evidenced by the low fraction of their patents filed are granted.
IPlytics reported that the earliest 5G patents coming from Intel and ZTE are linked to innovations created after 2012 — the time period where new 5G technologies are already expected to be created.
Not made equal
While the quantity of patents do matter to some extent, the value of the patents is arguably more important. With this, IPlytics also computed the market coverage (MC) of the companies with the largest patents.
In computing for the MC, IPlytics computed for the number of jurisdictions in which the patent has been filed and weighing in accord to the gross domestic product (GDP) of each jurisdiction.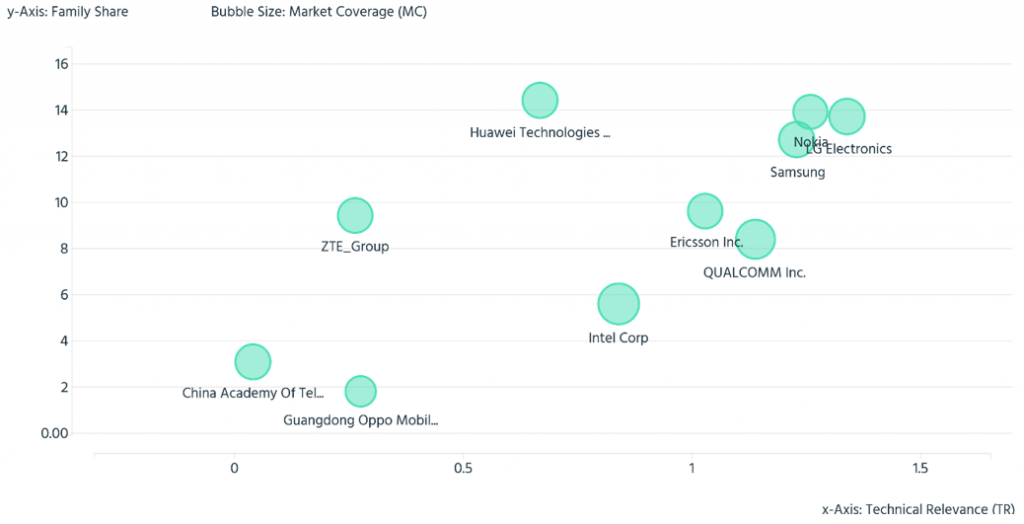 In this sense, Intel, Qualcomm, and Huawei have the largest MC values.
IPlytics states that a higher MC values reflects a company's strong global internationalisation strategy and wide market protection. At the same time, a high MC value also indicates a large market potential.
With the versatility of 5G as well as the intense drive of the tech companies to innovate, we can expect the number of inventions to inflate in an accelerated manner in the succeeding years.
---
For enquiries, product placements, sponsorships, and collaborations, connect with us at

[email protected]

. We'd love to hear from you!
---
Our humans need coffee too! Your support is highly appreciated, thank you!