Amazon Web Services (AWS) dominates as the largest public cloud infrastructure in terms of market share, Synergy Energy Group reports.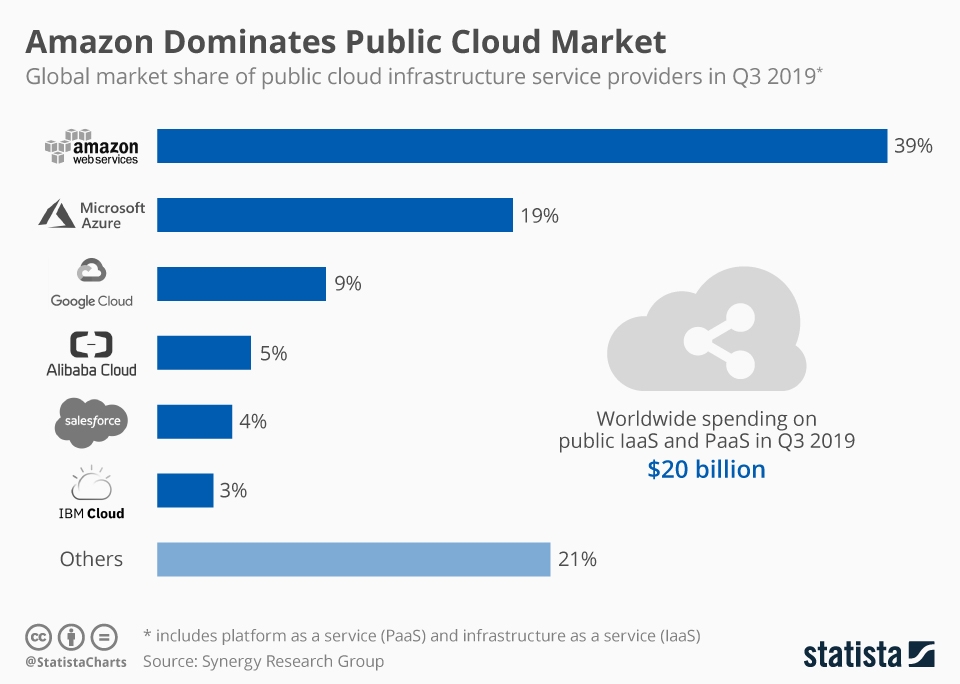 Highlights
Amazon's market share amounts to a total of 39% in 2019 Q2. Some of Amazon's services include databases, machine-learning tools, and data-warehousing products.
Amazon is followed by Microsoft Azure (19%), Google Cloud (9%), Alibaba Cloud (5%),  and Salesforce (4%). Together, they account for 76% of the market.
To understand just how large the influence of AWS is in the public cloud infrastructure market, it should be noted that even if the other Top 5 companies are combined together, they still cannot rival the market size of AWS.
The worldwide spending on public Infrastructure-as-a-service (IaaS) and Platform-as-a-Service (PaaS) has reached a whopping US$ 20 billion as of 2019 Q3. This accounts for around 80% of the expenditures directed towards cloud infrastructure services.
Raised suspicions
The large influence of AWS isn't completely good news for Amazon. This has led to suspicions regarding Amazon's business conduct. The US Federal Trade Commission (FTC) is currently investigating if Amazon is violating antitrust laws or harming competition.
According to Bloomberg, one potential angle FTC can look upon is if Amazon is penalizing companies also working with other providers, favouring those that work exclusively with them. This way, the competition is gravely disadvantaged, given Amazon's magnitude of influence.
Prior to the AWS probe, FTC already subjected Amazon's online retail platform to scrutiny.
Amazon's platform reached a size so massive that third-party retailers have grown dependent on it. However, these sellers often find themselves in competition with Amazon's own products, which is clearly a threat to competition.
While the growth of the cloud infrastructure is very much welcome, no one should have the absolute monopoly over it. The best way to hasten innovation in the cloud infrastructure is if everyone is able to contribute to the market. This is going to be difficult if the existing system disables entry and competition.
---
For enquiries, product placements, sponsorships, and collaborations, connect with us at

[email protected]

. We'd love to hear from you!
---
Our humans need coffee too! Your support is highly appreciated, thank you!