An estimated 26.6% of the world population still uses Windows 7 as their desktop operating system, Net Marketshare reports.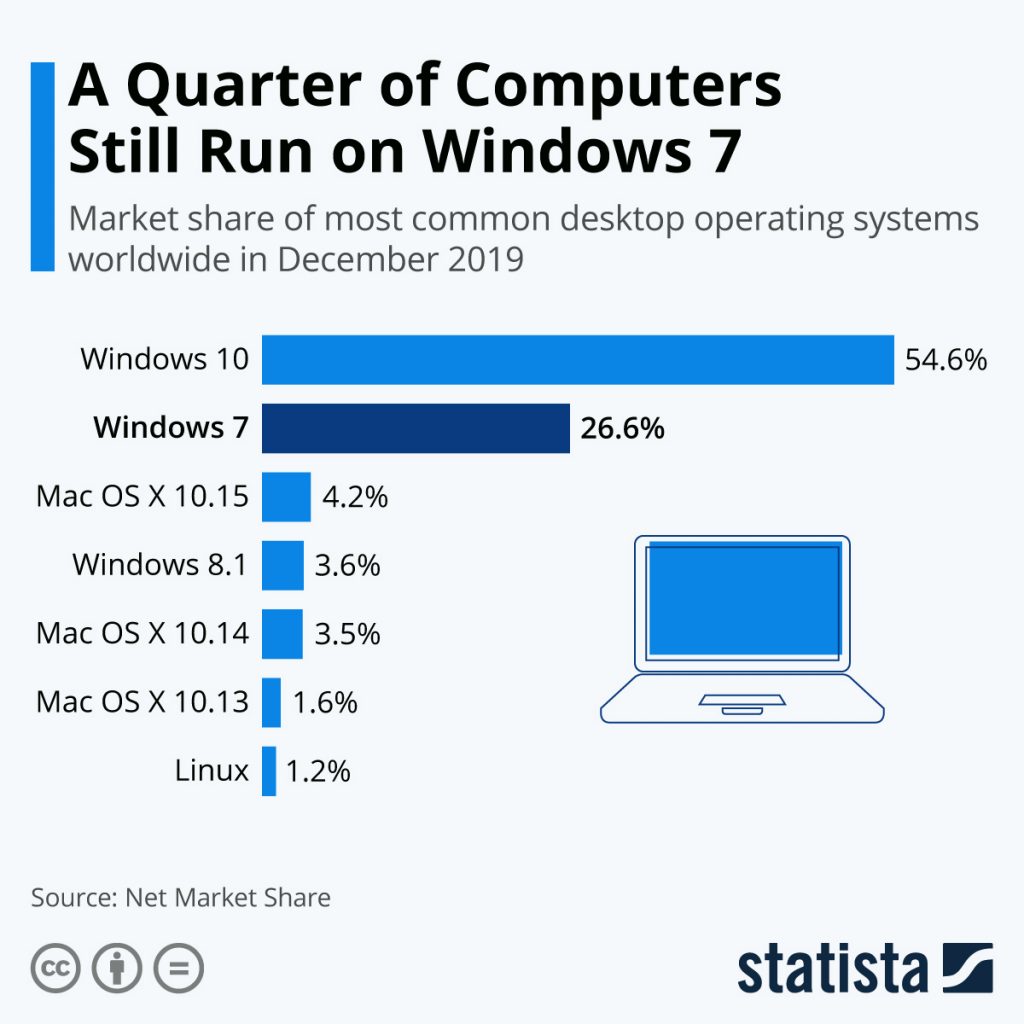 End of support
Now more than a decade since its release, Microsoft finally cut support for Windows 7 last January 14. This means that none of these things will be provided anymore:
Security updates
Software updates
Tech support
Eventually, web browsers and software tools will also drop their support for the OS, just like what they did eventually with Windows XP when newer versions of Windows rolled out.
With all of these things, Microsoft recommended that users switch to a newer PC running on the latest iteration of the operating system, Windows 10.
For organizations and businesses,  extended security updates (ESU) can be availed. This will allow them to gain access to Windows security updates if they pay for it.
The fees will raise over time, in order to encourage organizations to transition to Windows 10.
As for us regular users, this is truly the end of the road  ESUs must be purchased from "qualified cloud solution provider partners," according to Microsoft officials. This means that getting access to the ESUs isn't that easy, either.
Transition woes
Many users have continued to hold on to the older Windows 7 due to privacy concerns, compatibility issues, and personal preferences.
However, some important software will not be compatible with Windows 7 anymore. For instance, Office 2019 will no longer work on older devices such as Windows 7. This is another way that Microsoft is killing off the old operating system.
Time to let go?
While Windows 7 will continue to run in spite of the lack of support, it is best for us to let go and make a switch to Windows 10 or some other operating system.
We're now a few days in Microsoft cutting the support for Windows 7. Right now, Windows 7 users will be most likely good security-wise.
However, as time goes by, more and more security holes will be discovered and will be left unpatched. At the same time, the number of software releases incompatible with Windows  7 will exponentially increase as time goes by.
If you really need Windows 7, you can instead use a virtual machine. If you want to transition to Windows 10, you can actually do so for free using a Windows 7, 8, or 8.1 key
Admittedly, Windows 7 is a good piece of technology that is close to our hearts. Its simplicity is really appealing to a lot of people. However, just like with other technologies, there comes a point that we need to let go.
It's been a good run with Windows 7. But now that we are in an era where the information we place in our devices continue to increase in importance, sticking to an old operating system under a huge risk of getting this information compromised is not worth it.
If Windows 10 is not your style, then there are other operating systems that can be considered. As for Windows 7, it is something that we must leave behind in the past.
---
For enquiries, product placements, sponsorships, and collaborations, connect with us at

[email protected]

. We'd love to hear from you!
---
Our humans need coffee too! Your support is highly appreciated, thank you!