Microsoft continues to gain strength in its Intelligent Cloud segment for the quarter that ended on December 31, 2019. This is according to the reported figures from the company's January 29 press release.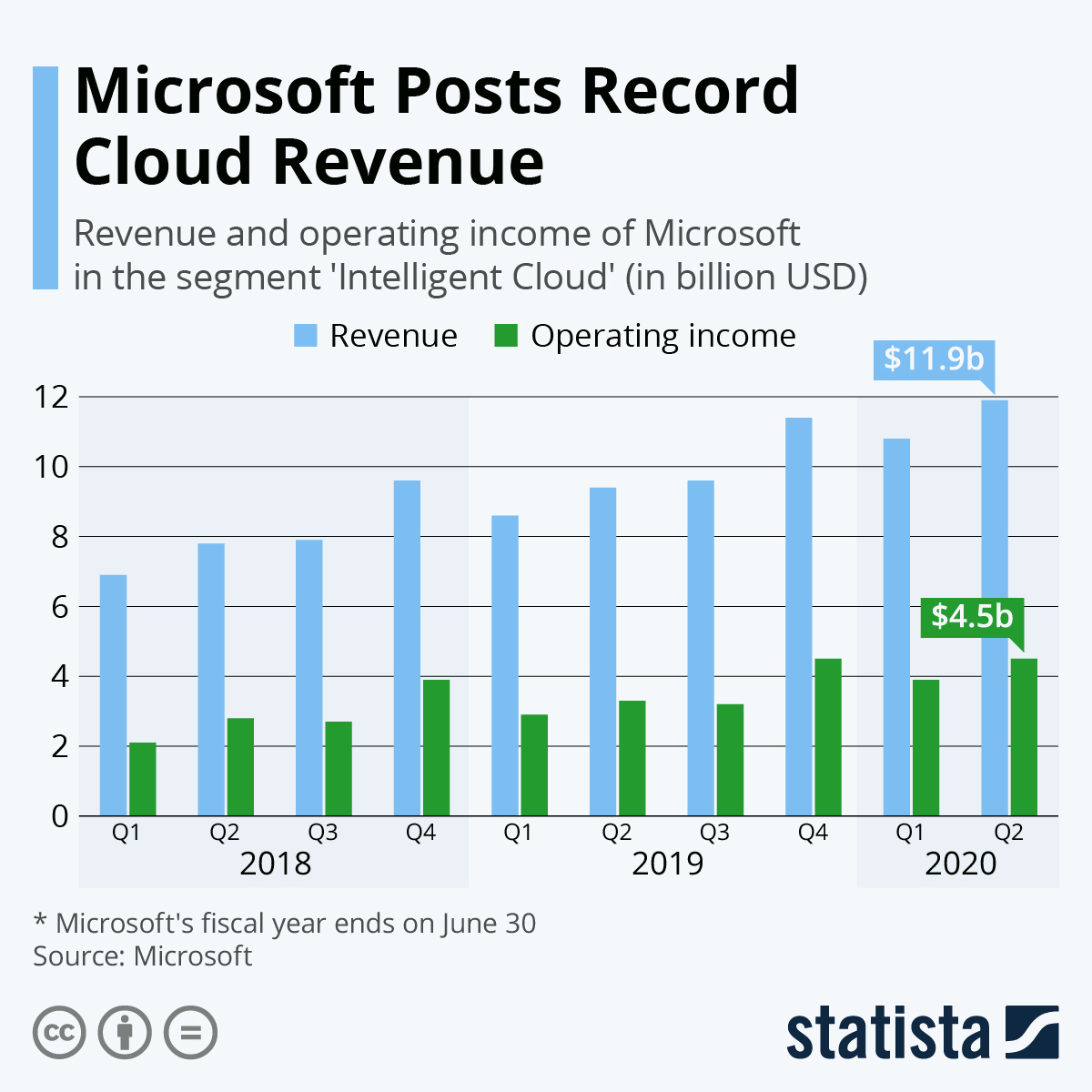 Massive growth, numerous achievements
According to Microsoft, the revenue coming from the Intelligent Cloud segment reached US$ 11.9 billion last quarter. This translates to around US $ 4.5 billion in operating income.
This is an increase of 27% when compared to the revenue obtained from the same quarter back in the year 2018. This is also the highest figure attained by the segment to date.
Apart from the impressive, record-breaking growth, Microsoft also mentioned some business highlights which occurred in this Intelligent Cloud segment during the quarter.
First, the server products and cloud services revenue increased by 30% .
Microsoft's cloud computing service Azure was said to be the primary driver of this growth in the segment. Last quarter, Azure attained a massive 62% growth in revenue.
At the same time, Microsoft's Enterprise Services also increased by 6% in revenue.
Rising to the top
It should be noted that the total revenue for the quarter amounts to US $36.9 billion. With this, around 32% of the revenue of the company comes from the Intelligent Cloud segment.
This makes it the second-largest segment, only next to the More Personal Computing segment which recorded a total of US $ 13.2 billion, meaning it accounts for around 36% of the revenue during the quarter.
On the other hand, the remaining segment, Productivity and Business Processes, accounts for $US 11.83 billion, which is also about 32% of the total revenue. We can see that this is only slightly behind the Intelligent Cloud segment.
What is Microsoft Intelligent Cloud?
The Microsoft Intelligent Cloud consists of several products and services:
Microsoft Azure,
SQL Server
Windows Server
Visual Studio
System Center
Consulting Services and Support
For quite some time, this segment lagged behind in comparison to the company's other segments when it comes to revenue.
In recent years, however, this segment obtained massive growth thanks to the recent shift of the companies to the cloud. CNBC noted that this shift also boosted other companies like Alibaba, Google, IBM, and Oracle.
"We are innovating across every layer of our differentiated technology stack and leading in key secular areas that are critical to our customers' success," according to Microsoft CEO Satya Nadella.
In a separate report, Microsoft highlighted innovations which were made during the past quarter in order to help their customers become more productive as well to deliver differentiated value across the cloud.
Among these innovations include improvements in Microsoft Azure's security and management, data, and other services.
Nadella also remarked that the priority of their company goes beyond just the opportunities for revenue or growth.
"Along with our expanding opportunity, we are working to ensure the technology we build is inclusive, trusted and creates a more sustainable world, so every person and every organization can benefit," Nadella said.
---
For enquiries, product placements, sponsorships, and collaborations, connect with us at

[email protected]

. We'd love to hear from you!
---
Our humans need coffee too! Your support is highly appreciated, thank you!