In the midst of the COVID-19 pandemic, more and more people are being required to stay in their homes in order to slow down the spread of the disease and to fully contain the virus.
A lot of businesses are compelled to halt their operations. Some of them, however, have continued their operations, with employees performing their tasks and responsibilities at their homes.
With this, Atlas observed a spike in VPN users during the outbreak, with an increasing demand for a means to work from home while making sure that connection remains reliable and their company's data remains safe from cyber attackers.
A noticeable link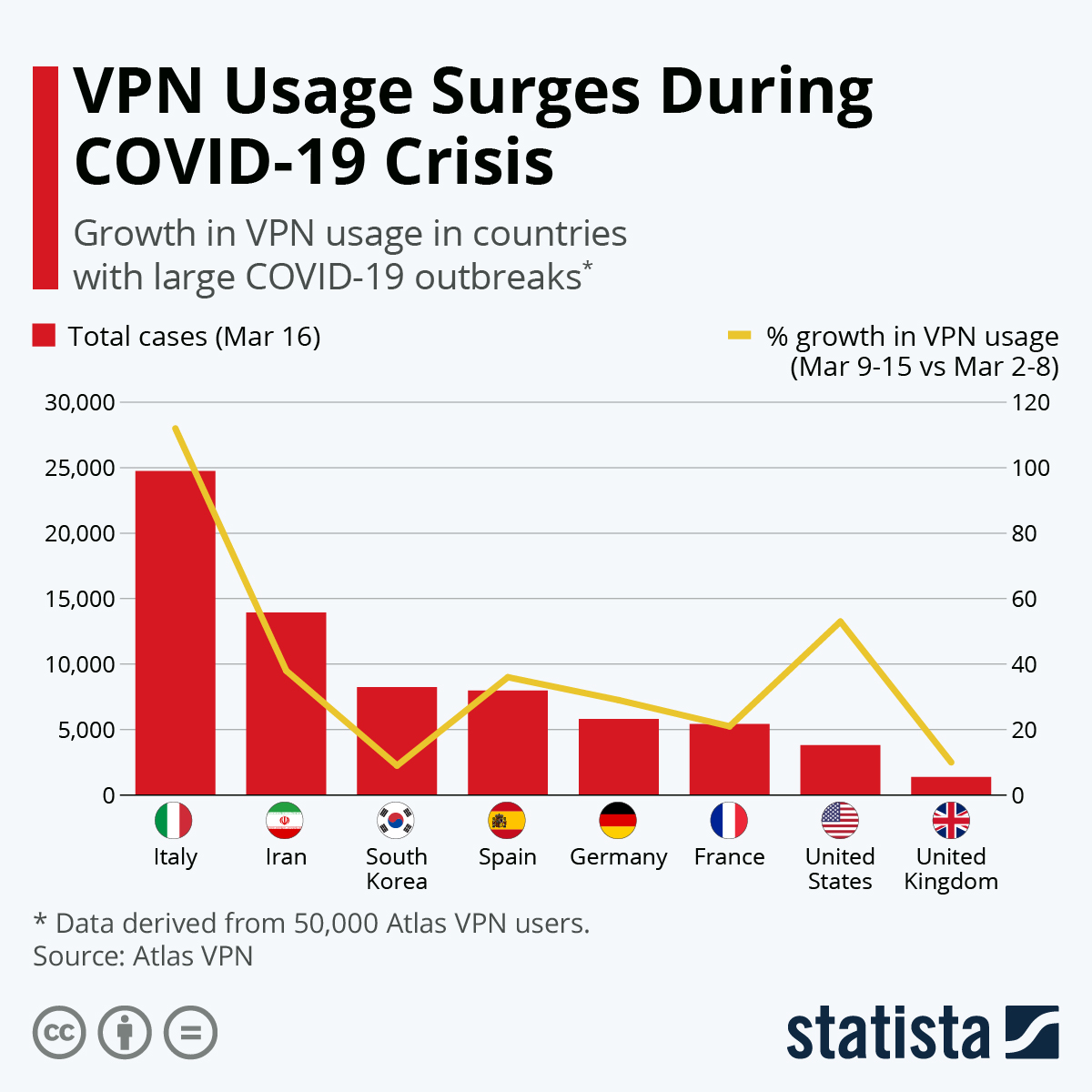 Aggregating the data from their 50,000 weekly users from 9-15 March 2020, Atlas measured the volume of traffic which travelled through their servers in comparison to the previous week, 2-8 March 2020.
The graph above superimposes the growth in VPN usage between the two weeks with the number of confirmed cases in selected countries as of March 16.
It can be seen that Italy, which has the highest number of confirmed cases among these countries — 24,747 as of March 16 — also has the highest recorded VPN usage growth at 112%. Italy is followed by the U.S. which recorded a 53% growth and Iran with a 38% spike.
Aside from some exceptions like South Korea, U.S., and Russia, it can be observed that the general behaviour of the graph suggests that there is some level of association between the number of confirmed cases and the growth in the VPN users.
According to Atlas, this increase in VPN users had begun since the first reports of a novel coronavirus were released by the World Health Organization back in December 31st of the previous year.
"We estimate that VPN usage in the US could increase over 150% by the end of the month. Overall, the usage of VPNs should continue to surge if the coronavirus pandemic worsens," according to Atlas COO Rachel Welch.
This observation is not only applicable to Atlas. Other companies like NordVPN also reported a 165% surge in users in the midst of the pandemic.
Driving factors
Apart from the home quarantine leading companies to encourage their employees to work remotely, there are other reasons that are driving the VPN popularity surge.
First, people in general have been spending more time using the internet as a form of entertainment while being required to stay in their homes. The use of VPNs is a good way to overcome geographical restrictions in accessing online content worldwide.
Students who may be required to fulfill their school requirements using online platforms are also in need of reliable connections, especially if they have synchronous or live online classes. This reliability is something that VPNs can provide for them.
Using VPN is also a good way to prevent bandwidth throttling, which is a deliberate slowing down of network speeds to reduce the congestion of network traffic.
If you want a VPN for yourself, you should check out NordVPN, one of the most trusted VPN providers today.  With their military-grade encryption, strict no-log policy, DNS leak protection, secure streaming, and 24/7 customer support, your internet safety is practically assured.
---
For enquiries, product placements, sponsorships, and collaborations, connect with us at

[email protected]

. We'd love to hear from you!
---
Our humans need coffee too! Your support is highly appreciated, thank you!