With the onset of the COVID-19 pandemic, we noticed many of our technology partners and solution providers started offering their services for free, or began to work even more closely with their customers to develop solutions designed to help inform and support communities. Today we're sharing a few examples of these partners and their customers who are helping drive innovation and creative projects to help people during these times.
Web Geo Services
Web Geo Services, a Google Cloud Premier Partner with a focus in location innovation, works with customers across the retail, logistics, finance, transport and hospitality sectors. They created their own consumer geolocation platform, Woosmap, which offers location-based APIs that augment Google Maps Platform. When COVID-19 began to spread, the WebGeoServices team started offering services and access to the Woosmap platform free of charge for up to six months. Here are three recent projects that leverage Woosmap: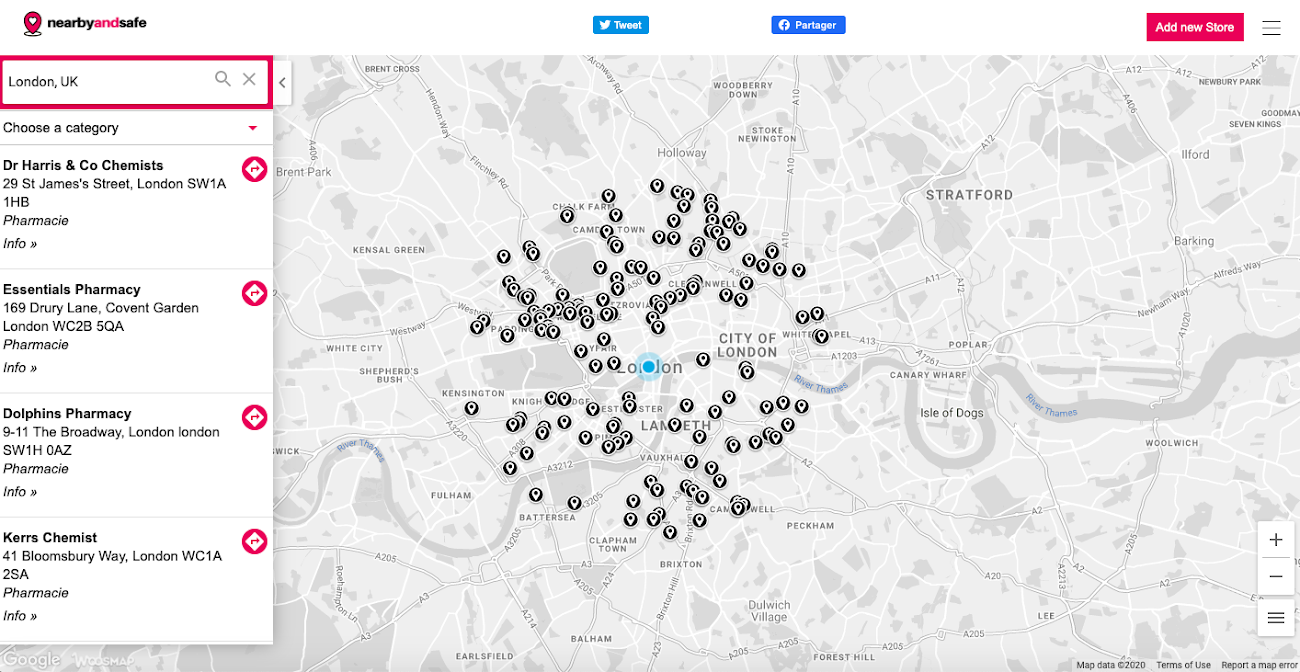 Born in Reggio Emilia during the italian lockdown at a time when individuals were staying home to help limit the spread of COVID-19, a team of 3 digital experts in Italy developed vicino-e-sicuro. The project is an interactive map of all businesses that offer home delivery or click & collect: groceries, restaurants, bakeries and other essential services. From there, the team partnered with Web Geo Services to access the Woosmap platform for free. They have since developed NearbyAndSafe in the UK and Proxisur in France providing tools to support citizens and local businesses. Citizens can choose the type of services they need, consult information on delivery methods and prices for the service, and contact the merchant directly. Merchants, by registering with vicino-e-sicuro, NearbyAndSafe or Proxisur, can increase their visibility for free.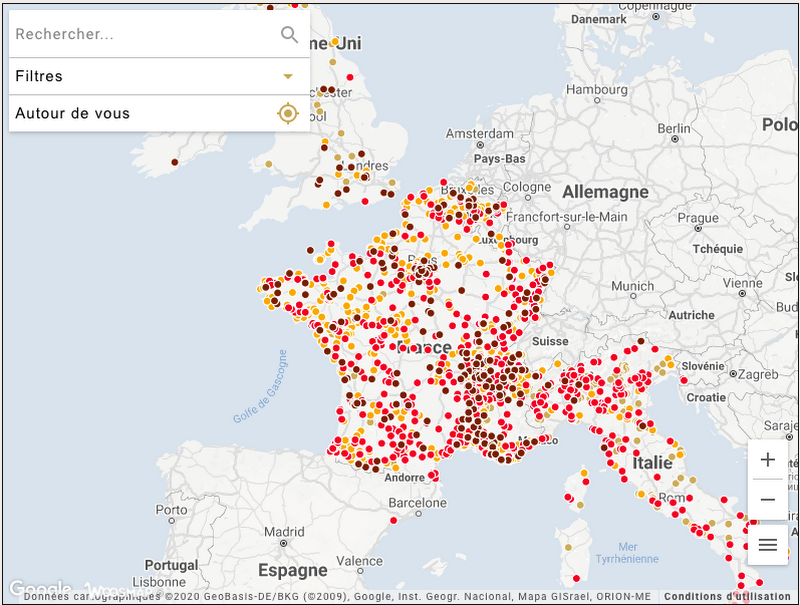 Valrhona also worked with Web Geo Services to build their interactive pastry map which allows users to  find local pastry chefs and artisans in the US and Europe who sell their pastries, chocolates, bread, and other sweets using social distancing. Food and pastry are at the heart of so many cultures. Through the map, they're able to direct people to passionate, hard-working chefs, as they continue working hard to provide others with familiar foods during an uncertain time.
Route4Me

Earlier this year Route4Me started offering their service free of charge to all government agencies at the federal, city, and municipal level across the world to support their efforts. Route4Me provides a route planning and mapping system that lets businesses find the most optimal route between multiple destinations. The platform automatically plans routes for many people simultaneously, creates a detailed route manifest, a map with pins and route lines, driving (or walking) directions, and dispatches the route directly to any smartphone. Their service will be available as an unlimited free subscription until the peak of the Coronavirus threat to the public is over. Let's look at two projects that used Route4Me to deliver support to local communities.
The Foodbank of Santa Barbara County is working to provide enough healthy food to everyone who needs it in Santa Barbara County. The foodbank created an initiative called Safe Access to Food for Everyone (SAFE) Food Net. Of the 50 SAFE Food Net distributions they're operating, nearly 20 brand new emergency drive-thru food distributions make receiving healthy food fast, easy, discreet and safe. In addition, the service provides a home delivery service for seniors that provides enrollees with home food deliveries. They worked with Route4Me to establish routes for this rapidly-growing home delivery initiative. Annually, the Foodbank serves 20,000 low-income seniors across the county.
Maverick Landing Community Services (MLCS) is a multi-service organization with a primary focus on helping children, youth, and adults to build 21st-century skills within Maverick Landing, East Boston, and surrounding communities. The MLCS team developed a COVID-19 response plan that not only required communicating directly with the community, but also provided a way to meet the community's needs. MLCS worked with Route4Me to develop and use route maximization technology to increase expediency, efficiency, and reduce their carbon footprint while delivering grocery bags to keep the community fed and safe.
Unqork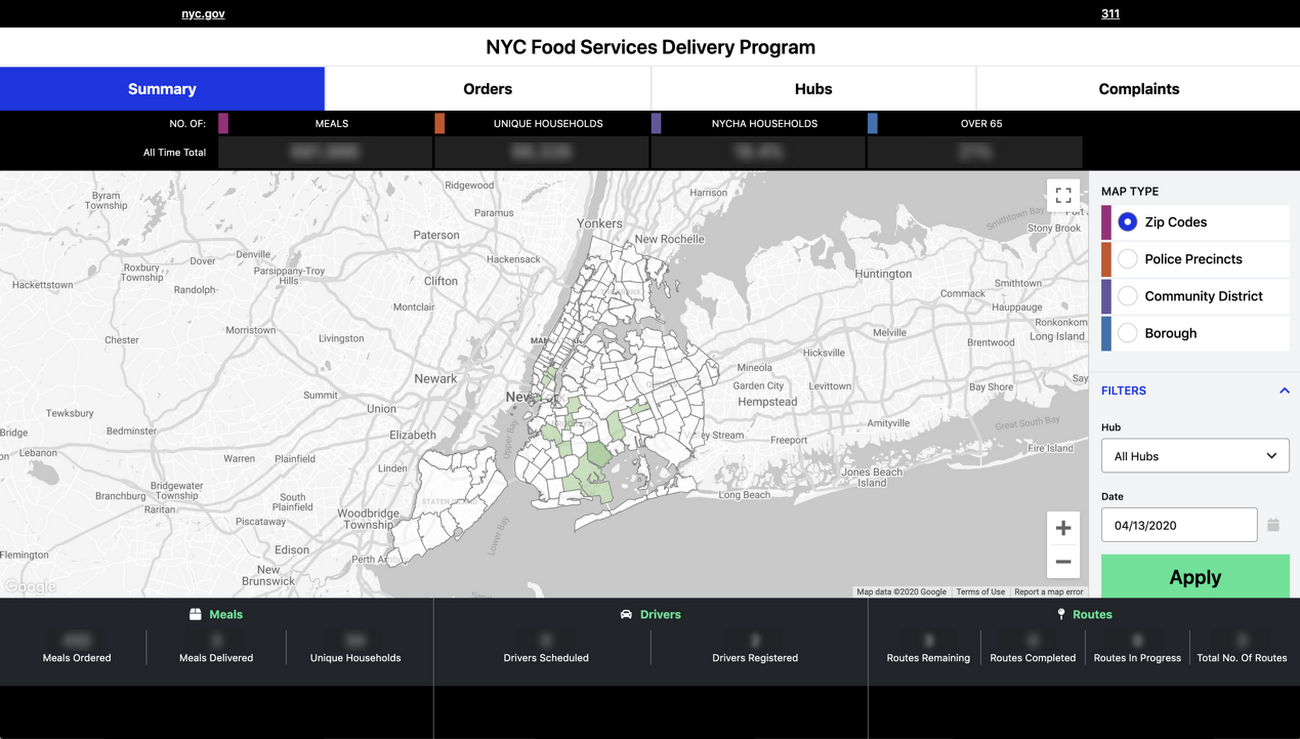 Unqork developed the COVID-19 Management Hub, a solution available to any major city to integrate into its crisis management practice. The COVID-19 Management Hub application automates real-time mapping of the COVID-19 risk, maintains communication with residents in need, delivers critical services including food, medicine and other supplies, and coordinates multi-agency response and dispatch efforts in a single operations dashboard. Unqork is currently working with cities, states, and counties including City of New York and Washington D.C. to help develop their COVID-19 Management Hub for city officials to manage the pandemic and provide access to critical information and resources. So far in New York the system has enabled the delivery of over 8 Million meals and the collection of over $125M in PPE for front-line workers.
To learn more about the core features of Google Maps Platform that can be useful for building helpful apps during this time, visit our COVID-19 Developer Resource Hub.
For more information on Google Maps Platform, visit their website.
---
For enquiries, product placements, sponsorships, and collaborations, connect with us at

[email protected]

. We'd love to hear from you!
---
Our humans need coffee too! Your support is highly appreciated, thank you!