Data analytics technologies are becoming a must-have for businesses looking to stay competitive in a changing environment. And if there's one lesson from this unpredictable year, it's that we always need to be prepared for anything. We spent this week at Google Cloud Next '20: OnAir exploring Google Cloud's data analytics technologies and hearing how customers across all industries are using BigQuery, Dataflow, Dataproc, Looker and more to drive real-time data insights and power new data-driven applications.
Key data analytics announcements
We kicked off Next OnAir this year with the launch of BigQuery Omni, a multi-cloud analytics solution that lets you query data stored across Google Cloud, AWS and Azure (coming soon). Data QnA, a natural language interface for analytics, also launched at the beginning of Next OnAir, allowing a business user to just ask a question on their company's dataset and get results back the same way.
BigQuery Omni was designed to meet the needs of a multi-cloud computing future. So is Looker, acquired by Google Cloud earlier this year, which powers data experiences that deliver actionable business insights at the point of decision to help meet different types of data users where they are. Check out the latest announcements from Looker, such as new multi-cloud hosting options and new UI components, all designed to optimize costs and use data at greater scale. You can also find a technical deep-dive session on Looker's technology.
Also new this week: BigQuery now offers a 100-slot purchase option, so that SMBs and digital-native businesses can get started more easily, with predictable pricing options. In addition, BigQuery now offers a 99.99% availability with guaranteed SLAs, providing peace of mind that the platform will be available to handle all your mission-critical needs.
Finally, we launched detailed and prescriptive design patterns that allow you to build real-time AI solutions like anomaly detection, pattern recognition, and predictive forecasting that can be used across multiple industries. These help you to quickly get started with your organization's real-time needs.
How customers are blazing new trails with analytics
Just this week, we heard how organizations using Google Cloud and data analytics are transforming digitally and improving customer and user experiences. Procter and Gamble shared how their cloud data analytics journey lets them personalize products for consumers. Major League Baseball (MLB) migrated to BigQuery to centralize their enterprise data warehouse (EDW) and bring better decision-making and tailored fan communications.
And lifecycle pricing platform provider Revionics chose BigQuery to stay ahead of their application development needs, forecast growth, and give customers up-to-the-minute information at scale.
Explore this fleet management demo
A conference isn't complete without demos, and Next OnAir brings them to you for easy exploration. Check out this interactive demo to see how you might increase vehicle safety and health using streaming and predictive analytics, and business intelligence within Google Cloud's smart analytics platform. And this blog post gives you the backstory on how the demo was developed to create a live simulated world of 7,500 trucks generating approximately 25 million trip events per day. Here's a look: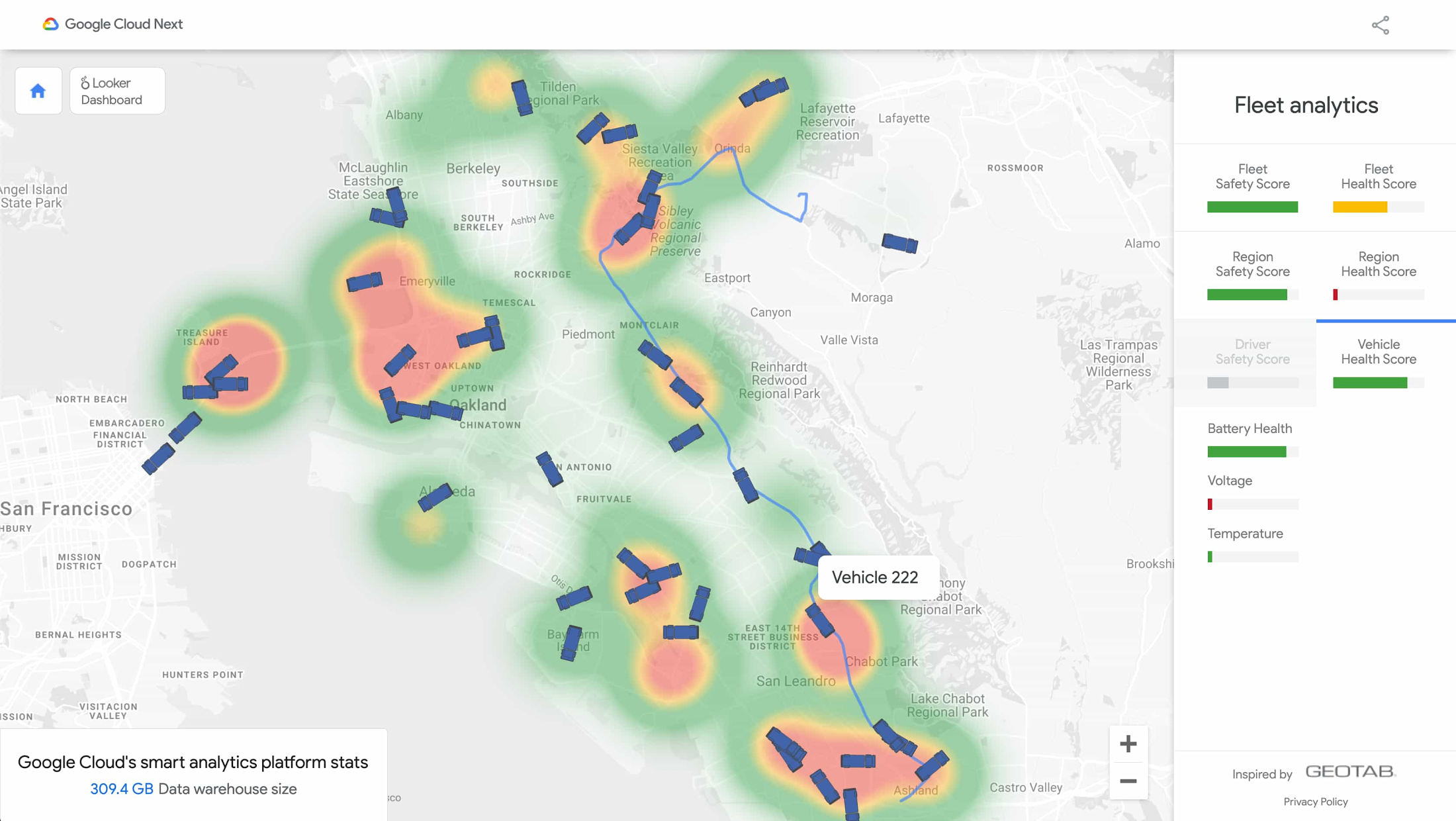 Go deep with data
There are plenty more sessions and topics to explore, from building a data lake to implementing real-time AI. If you're curious about streaming analytics, check out this session on creating and managing real-time experiences. Wherever you are in your modernization journey, you can find tips and how-tos, like this post for DBAs on how to easily adapt to cloud data warehouses.
Looking ahead: Data management
Looking forward to more Next OnAir? Next week is all about data management. On Tuesday, August 18, Penny Avril, director of product management for databases at Google Cloud, will talk with chat app ShareChat about how they've modernized their database infrastructure to stay ahead of user demand, plus dive into product features.
Next OnAir runs through September 8, and you can find live technical talks and learning opportunities aligned with each week's content. Click "Learn" on the Explore page to find each week's schedule. Haven't yet registered for Google Cloud '20 Next: OnAir? Get started at g.co/cloudnext.
---
For enquiries, product placements, sponsorships, and collaborations, connect with us at

[email protected]

. We'd love to hear from you!
---
Our humans need coffee too! Your support is highly appreciated, thank you!