Enterprises run applications in a variety of locations—in their data centers, in a cloud, in our cloud—and want the freedom to keep them there (or move them down the road)—in response to any number of factors. Those factors can include cost, uptime, compliance requirements, latency considerations, or proximity to other services, just to name a few. But moving applications is only possible if they're portable. Anthos makes moving applications between clouds easy with a set of rich functionality on top of a Kubernetes foundation.
Last week, we introduced Anthos attached clusters, a new deployment option that extends Anthos' reach into Kubernetes clusters running in other environments. By connecting Amazon EKS and Azure Kubernetes Service clusters (and soon others) back to the Anthos control plane on Google Cloud Platform (GCP), you gain a single-pane-of-glass view for managing your clusters across hybrid and multi-cloud environments.
With Anthos attached clusters, you can use several advanced Anthos features on non-native clusters. For instance, you can deploy policies and ensure governance across your multi-cloud environment using Anthos Config Management, or you can secure, manage, and monitor services running on your attached cluster using Anthos Service Mesh.
This deployment option allows you to begin your Anthos journey at your own pace, and eases the transition to Anthos clusters in other cloud environments.
How it works
Anthos attached clusters is a rich, connected experience, built on Anthos' hybrid and multi-cloud observability and management capabilities. To get started, simply register and connect your cluster to Google Cloud by installing an agent into your cluster. This agent provides control-plane connectivity to the cluster without having to open up firewalls to provide external access to your cluster's API server. This same agent is used by Anthos GKE on AWS and Anthos on-prem clusters as well.
Once your cluster is connected to Google Cloud, you can take advantage of the following Anthos capabilities:
Single-pane-of-glass Cloud Console UI – The Cloud Console enables visibility into workloads and services running across all your hybrid and multi-cloud environments. With this UI can you see which workloads are running properly, which ones need attention, and even make changes to those workloads.
Policy and config management – Using Anthos Config Manager, you can set up a declarative, GitOps-based config root that can be applied to all your clusters, so you can set and enforce policy guardrails across your development teams.
Service mesh – Using Anthos Service Mesh 1.6, you can create a mesh on your attached cluster that allows you to manage, monitor, and secure services.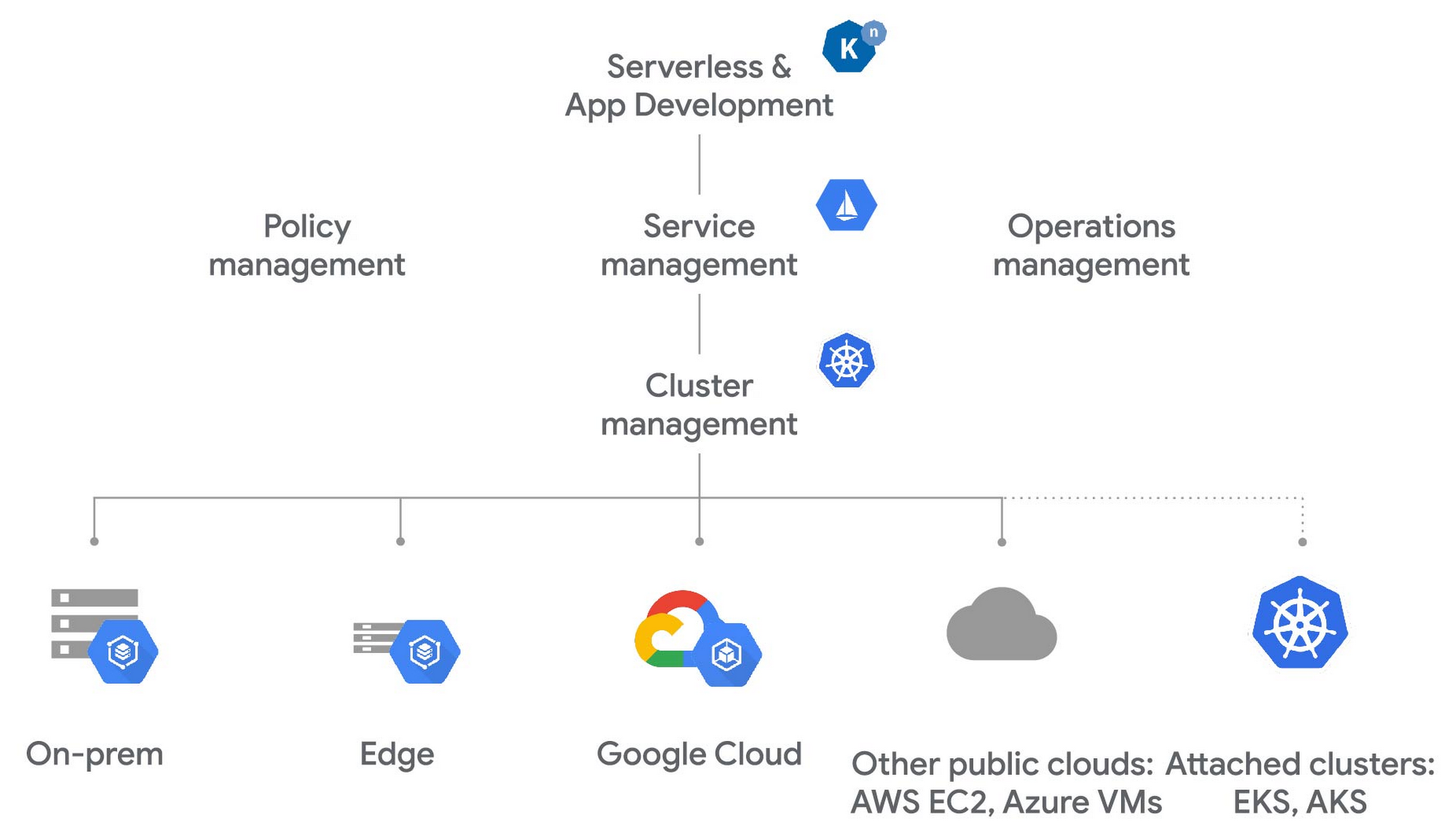 Getting started
To get started today, please check out the Anthos attached cluster guide, which discusses the various deployment options and requirements. We will add support for additional Anthos features and deployment options in future releases. If you are interested in seeing how Anthos attached clusters can help with your use case, please reach out to our sales team to schedule a follow-up.
---
For enquiries, product placements, sponsorships, and collaborations, connect with us at

[email protected]

. We'd love to hear from you!
---
Our humans need coffee too! Your support is highly appreciated, thank you!