Qualcomm Technologies, Inc., a subsidiary of Qualcomm Incorporated, is powering better-than-ever virtual reality (VR) gameplay and experiences with the launch of Oculus Quest 2, the first-to-launch VR device powered by the QualcommÒ Snapdragon™ XR2 Platform. Oculus Quest 2 is a culmination of years of collaboration between Qualcomm Technologies and Facebook to create the most advanced and immersive gaming VR experiences for consumers to-date.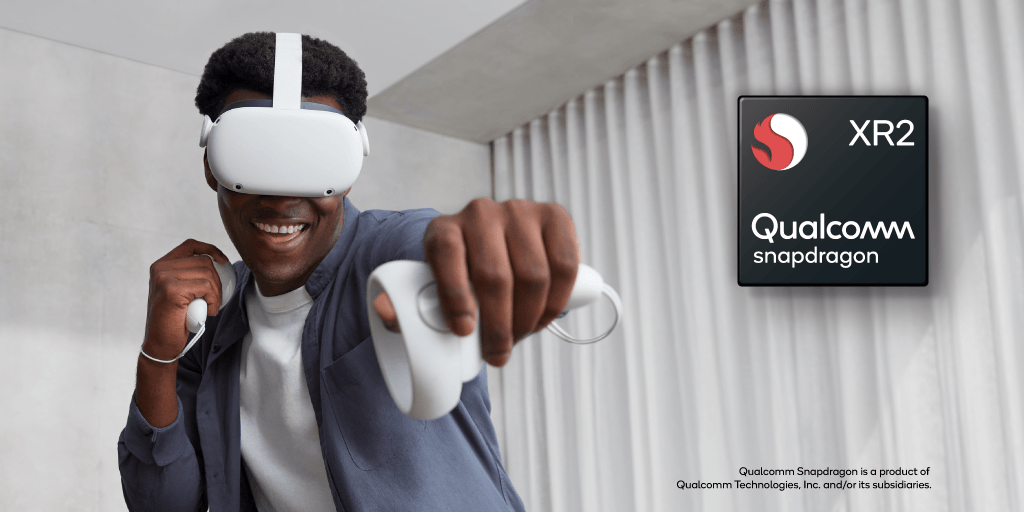 Oculus Quest 2 powered by Qualcomm Snapdragon XR2 Platform
Purpose-built for extended reality (XR), the Snapdragon XR2 Platform unlocks staggering improvements including twice the CPU and GPU performance compared to its predecessor[1] which powers the original Oculus Quest headset. The Snapdragon XR2 Platform delivers significant performance enhancements in Oculus Quest 2 including:
Powering the highest resolution display yet in any Oculus headset, with 50% more pixels than the original Oculus Quest headset.
Delivering more than 11x the AI processing than its predecessor[2], the Snapdragon XR2 Platform allows more perception algorithms to work concurrently with the many other tasks, resulting in more immersive experiences for the end user.
Incorporating the Engine for Visual Analytics (EVA) computer vision dedicated processor which helps to offload key VR-related tasks for tracking to enable low latency and reduce overall power consumption.
Cutting-edge heterogenous compute architecture that is designed to help preserve Oculus Quest 2 battery life of 2-3 hours of playtime meaning users can have even better VR experiences on the same charge.
Premium Wi-Fi 6 performance of the Qualcomm® FastConnect™ 6800 connectivity system that enables Oculus Quest 2 to achieve truly wireless VR with faster download speeds.
"We built the Snapdragon XR2 Platform from the ground up and designed it to push the boundaries of what is possible in XR and enable our customers to create a new generation of experiences and devices," said Hugo Swart, VP and head of XR, Qualcomm Technologies, Inc. "Qualcomm Technologies' worked closely with the team at Facebook to enhance and tailor the Snapdragon XR2 feature-set in Oculus Quest 2 and today marks an incredible milestone in VR.  We look forward to our continuous collaboration with Facebook to offer the best possible, all-in-one VR experiences to the mass consumer."
With a deep catalog of premium and unique gaming experiences at the heart of Oculus Quest 2, the product also provides a variety of engaging non-gaming experiences for all to enjoy, including fitness apps, unique entertainment and social places to connect with friends. It's also helping to redefine the future of work with enterprise and productivity applications that can transform collaboration and training, despite distance.
"For Facebook, this collaboration represents our commitment to accelerating the VR industry," said Rafael Camargo, VP of Hardware for Facebook Reality Labs. "We won't just wait for the key technologies that power next-gen VR experiences to develop over time. We want to be part of defining the future and helping it to move faster, and we're proud to be doing this hand-in-hand with our innovative partners at Qualcomm Technologies."
For more information on Oculus Quest 2, visit Oculus.com.
About Qualcomm
Qualcomm is the world's leading wireless technology innovator and the driving force behind the development, launch, and expansion of 5G.  When we connected the phone to the internet, the mobile revolution was born.  Today, our foundational technologies enable the mobile ecosystem and are found in every 3G, 4G and 5G smartphone.  We bring the benefits of mobile to new industries, including automotive, the internet of things, and computing, and are leading the way to a world where everything and everyone can communicate and interact seamlessly.
Qualcomm Incorporated includes our licensing business, QTL, and the vast majority of our patent portfolio. Qualcomm Technologies, Inc., a subsidiary of Qualcomm Incorporated, operates, along with its subsidiaries, substantially all of our engineering, research and development functions, and substantially all of our products and services businesses, including our QCT semiconductor business.
---
For enquiries, product placements, sponsorships, and collaborations, connect with us at

[email protected]

. We'd love to hear from you!
---
Our humans need coffee too! Your support is highly appreciated, thank you!