NTT Communications Corporation (NTT Com), the ICT solutions and international communications business within the NTT Group, announced that it will enhance its cloud business offerings to provide a one-stop service aimed at meeting a broader range of client needs and supporting their digital transformation. In Japan, NTT Com's private cloud service Enterprise Cloud, provided via the company's Smart Data Platform, which enables clients to collect, store, and analyze data, will be updated to deliver even greater security, facilitating migration of clients' core systems to the cloud. In overseas countries and regions, NTT Com will enhance its lineup of cloud services in order to be able to respond more rapidly and flexibly to clients' evolving business needs.
The updated ECL service is also scheduled to become fully compliant with the Japanese government's Information System Security Management and Assessment Program (ISMAP). This program evaluates the security provisions of private sector suppliers, including their anti-malware capabilities and implementation of prescribed encryption functionality. NTT Com's acquisition of ISMAP certification will verify it as a safe and secure cloud environment, thereby contributing to the digitalization of government business as well as that of the private sector.
In overseas countries and regions, NTT Com will provide its Enterprise Cloud hybrid cloud environment in conjunction with Microsoft Azure, a feature-rich public cloud service. Clients can apply online for immediate use and scale their cloud environment up or down as their business evolves, enabling them to quickly and flexibly respond to the opening of new offices or to the consolidation or elimination of branches. In addition, a Private Cloud for Enterprise service will offer clients more flexible customization of their cloud environment. Concurrent with these updated service offerings, applications for existing ECL1.0 and ECL2.0 services outside Japan will close on October 31, and the services themselves will be withdrawn in March 2022 and March 2023 respectively.
NTT Com will enable the management of the Private Cloud for Enterprise service on its Solution Insight platform, which provides clients with one-stop management of their global multi-cloud environments.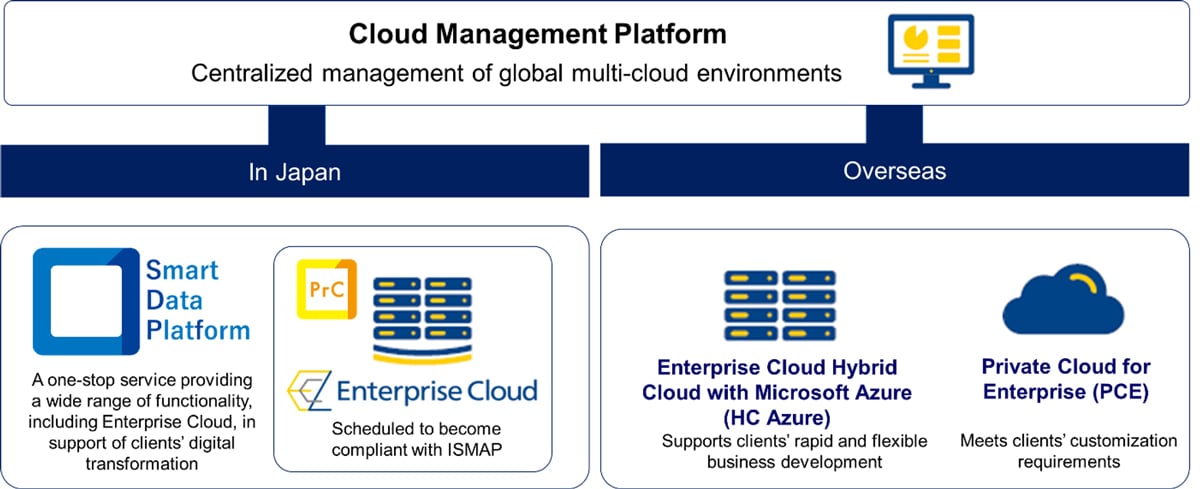 Summary of service details
NTT Com is increasingly seeing a wider diversity of cloud environment requirements in Japan and overseas due to differences in clients' business operations and system configurations. More and more companies in Japan are considering cloud computing for their mission critical legacy systems as a means of promoting digital transformation; this in turn is driving the need for more secure cloud services capable of handling highly confidential data. In many other countries, however, there is a growing need for cloud services that can respond quickly and flexibly to clients' business expansion or consolidation of their office networks.
NTT Com will continue to support its clients' global business development and digital transformation by providing a one-stop cloud environment through its Smart Data Platform and other cloud services.
About NTT Communications
NTT Communications solves the world's technology challenges by helping enterprises overcome complexity and risk in their ICT environments with managed IT infrastructure solutions. These solutions are backed by our worldwide infrastructure, including industry leading, global tier-1 public and private networks reaching over 190 countries/regions, and more than 500,000m2 of the world's most advanced data center facilities. Our global professional services teams provide consultation and architecture for the resiliency and security required for your business success, and our scale and global capabilities in technology world are unsurpassed. Combined with NTT Ltd., NTT Data, and NTT DOCOMO, we are NTT Group.
www.ntt.com | Twitter@NTT Com | Facebook@NTT Com | LinkedIn@NTT Com
---
For enquiries, product placements, sponsorships, and collaborations, connect with us at

[email protected]

. We'd love to hear from you!
---
Our humans need coffee too! Your support is highly appreciated, thank you!