A Comprehensive List of the Best Free Cloud Storage Providers with Comparison. Know which are the best paid and free online storage companies for personal and business use in 2020.

What is Cloud Storage and why one needs it?
Cloud storage means storing data in a remote location that is accessible from any device. Cloud Storage will improve efficiency and productivity in terms of backing up and securing the data. It has a lot of benefits and Businesses can pay only for the amount of storage they require.
There is no need for businesses to over-invest in the device memory.
Decide the type of solution i.e personal use, business use or combination of both before comparing cloud storage services. Check the storage they are providing, the file upload limit, basic free plan limits, and hidden terms, if any, before proceeding.
Cloud storage has made sharing and collaboration easier. According to Reviews.com, 53% of people use cloud storage for file sharing purposes.
Businesses have shifted from the local storage drive to cloud storage. Many cloud storage providers give accounts to businesses and not to individuals. This is because they have certain features that can be confusing for the individuals and those features will not be of much use to the individuals.
Features like task management etc., are specially provided for businesses.
The below graph will help you in knowing the number of users for each cloud storage provider.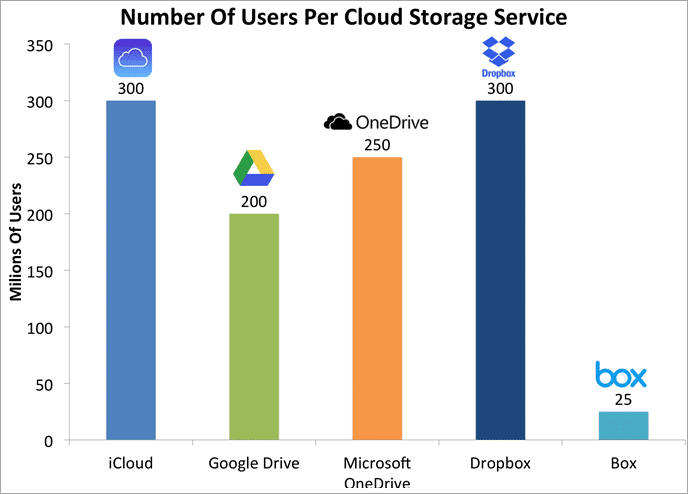 Many cloud storage providers offer a free plan for those who require the minimum out of their service. Cloud storage providers offer much data security for business users.
If we are to compare the cloud storage providers, then all will look similar at first glance. Hence, most of them compare the providers based on the prices and decide which one to select. The features that you should look in the cloud storage providers include collaboration features, usability, and security provided by the company.
Also, the support provided by these providers must also be considered. While selecting the cloud storage provider, you must consider your platform for use like Windows, Mac, iPhones, Androids, BlackBerry phones or mix. Big tech players have their own platforms for cloud storage as Windows have OneDrive and Mac has iCloud.
If you select the SaaS provider, then it will also help you in reducing the cost as it reduces the licensing cost. If the service is not providing end-to-end encryption then you can first encrypt your data and then transfer it to the cloud for more security.
Most Popular Cloud Storage Providers
Enlisted below are the most popular Cloud Storage service provider companies you can rely on in 2020.
pCloud is best for and suitable for storing large files.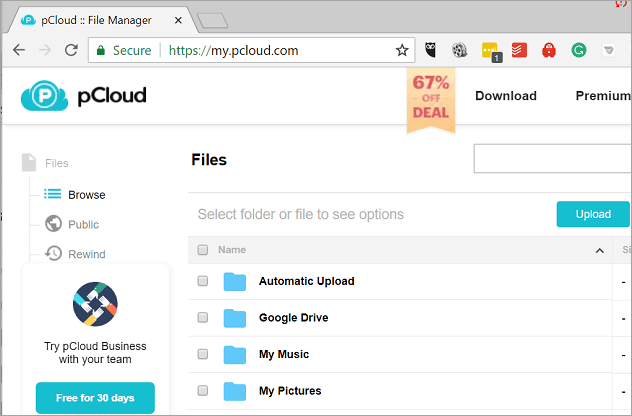 pCloud will allow you to store your files and get them accessible on all devices. Sharing and collaboration on files will be easier with pCloud. Also, private files can be encrypted and kept confidential here.
Features:
For data security, it provides TLS/SSL encryption.
With pCloud, file management can be done from the web, desktop, or mobiles.
It provides multiple file-sharing options.
For some specific period of time, it saves versions of files.
You can back up your photos from social media like Facebook, Instagram, and Picasa.
Cons: It applies bandwidth limits.
OS Platforms: Windows, Mac, Linux, iOS, and Android.
Price: pCloud provides free storage of 10GB. It has annual as well as lifetime pricing plans. With the annual plan, you will pay $3.99 per month for 500 GB storage and $7.99 per month for 2TB storage.
For the Lifetime plans, you will pay a one-time amount of $175 for 500GB and $359 for 2TB storage. A free trial is also available.
Sync.com is best for its ease of use and for providing security.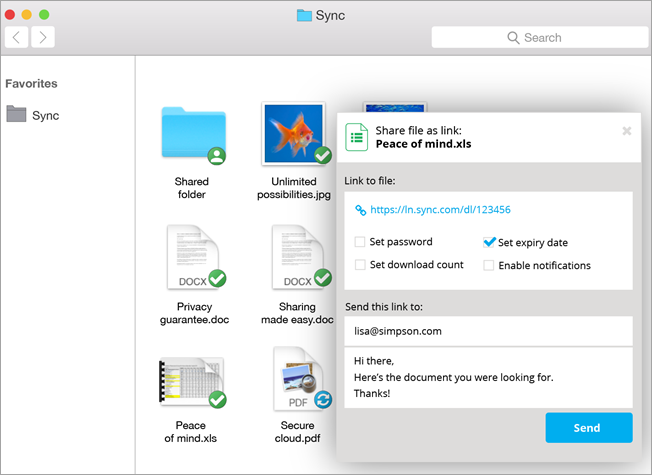 Sync provides encrypted cloud storage. It will allow you to send or share any file with anyone. It provides good collaboration features. You will be able to access your files from anywhere. The data is synced across all your devices.
Features:
For data protection, it provides features like 365-day history, advanced share control, restricting downloads, password protected sharing, etc.
It has productivity features such as file requests, document previews, auto camera upload, offline access, etc.
It provides the core features of unlimited share transfer limits, sharing & collaboration, real-time backup & sync, and access from anywhere.
It provides privacy protection through end-to-end encryption, no-third-party tracking, HIPAA compliance, GDPR compliance, and PIPEDA compliance.
Cons: It doesn't offer a monthly billing option.
OS Platforms: Windows, Mac, iPhone, iPad, Android, and web.
Price: Sync offers three pricing plans for teams, Standard ($5 per user per month), Plus ($8 per user per month), and Advanced ($15 per user per month). All these prices are for annual billing. Sync.com also offers plans for individuals starting from $8 per month. It offers the starter plan for free with the basic features. It is free forever.
Icedrive is best for User-friendly cloud storage with next-level security encryption.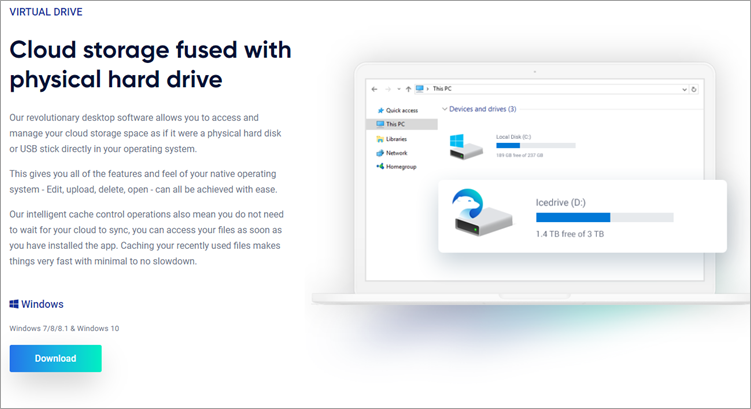 Icedrive is the embodiment synergy between ease of use and absolute security for your stored files.
The revolutionary desktop software allows you to access and manage your cloud storage space as if it were a physical drive directly in your operating system, by giving you all the features you're familiar with in your native drives such as opening, uploading, editing, etc at unparalleled speed.
Additionally, any files that you want to keep secure or confidential can be encrypted client-side using the bullet-proof TwoFish algorithm.
Features:
Modern and streamlined user interface.
Twofish client-side encryption.
Responsive support.
Great Android & iOS mobile applications in addition to mounted drive capability for Windows desktop users.
Stored file versioning.
A variety of file-sharing options.
OS Platforms: Windows, Mac, Linux, iOS, and Android.
Price: Icedrive offers a multitude of plans to suit your needs.
Free Storage of up to 10GB
Monthly plans: Lite ($1.67 per month for 150 GB of storage). Pro ($4.17 per month for 1TB of storage). Pro+ ($15 per month for 5TB of storage).
Annual plans: Lite ($19.99 annually for 150 GB of storage). Pro ($49.99 annually for 1TB of storage). Pro+ ($179.99 annually for 5TB of storage).
Lifetime plans: Lite (£49 one-time payment for 150GB of storage). Pro (£119 one-time payment for 1TB of storage). Pro+ (£399 one-time payment for 5TB of storage).
Polarbackup is best for security and encryption features.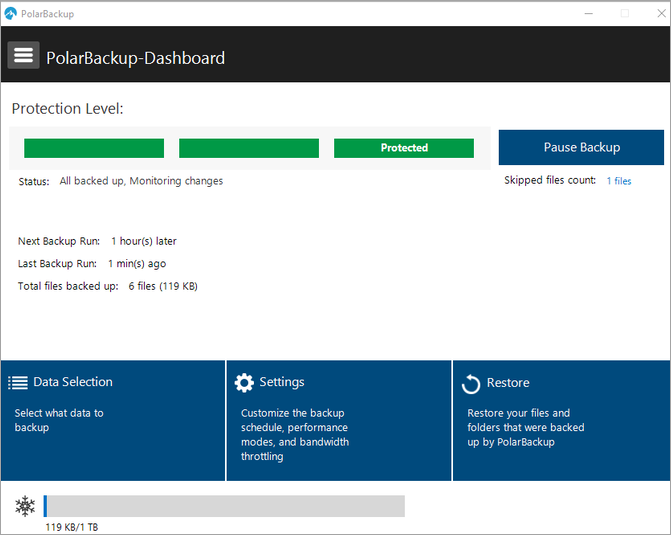 Polarbackup is a complete cloud backup solution that will protect your data. It can be used to back up local, external, and network drives. You can store files forever. It supports file versioning. The tool can take automatic backups.
The platform is abundant in special features and will improve productivity. It is based on AWS advanced technology. Polarbackup is an intuitive and user-friendly platform to manage, sort, locate, and preview files. It is privacy and GDPR compliant.
Features:
Polarbackup provides the highest quality reliable and consistent cloud storage by making use of AWS technology.
It provides efficient duplication and redundancy and your data will always be available on demand.
You will be able to restore all your data with just a click.
It provides military-grade encryption through 256-bit AES encryption, allowing you to set your encryption password, and through protection against Ransomware.
Cons:
Polarbackup doesn't offer a free trial period.
It doesn't support Linux platforms.
OS Platforms: Windows and Mac.
Price: Polarbackup provides a 30-days money-back guarantee. It offers pricing plans for a lifetime as well as for annual payment. Three plans are available i.e. 1TB ($39.99/lifetime), 2TB ($59.99/lifetime), and 5TB ($99.99/lifetime).
Livedrive is best for personal as well as business cloud storage solutions.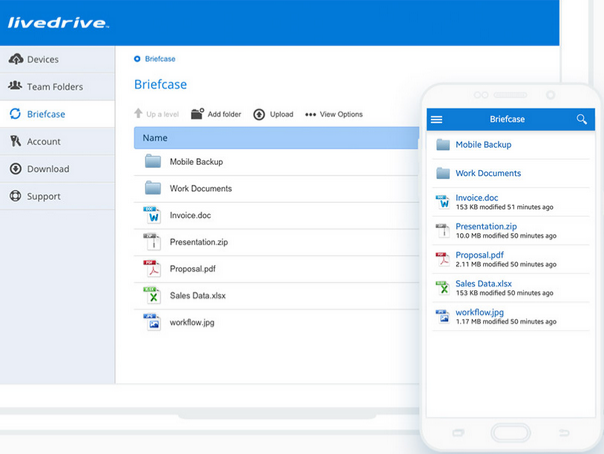 Livedrive is a cloud storage and online backup solution. You can back up an unlimited number of files. It has solutions for personal backup, business backup, and reseller backup.
It will automatically backup your files. It has data centers in the UK. Its data centers are monitored 24*7. Livedrive's data center monitoring team is ISO 27001 certified and has three layers of physical access security.
Features:
Livedrive provides the feature of a Briefcase that will let you view or edit files from any computer, mobile, or tablet.
It makes use of the strongest available encryption to transfer your files to UK data centers.
It supports two-factor authentication and hence will prevent unauthorized access.
It provides the business solution to securely access work files anywhere.
Team folders will help your team to collaborate and work remotely.
Cons: Mobile backup facility is not available for Windows phones and RT tablets.
OS Platforms: Windows, Mac, Android, iOS, and Windows mobile phones.
Price: A free trial is available for 14 days. For businesses, it offers two pricing plans i.e. Business Express ($50 per month) and Business Standard ($160 per month). It also has plans for personal products.
BigMIND is best for online cloud storage and file-sharing capabilities.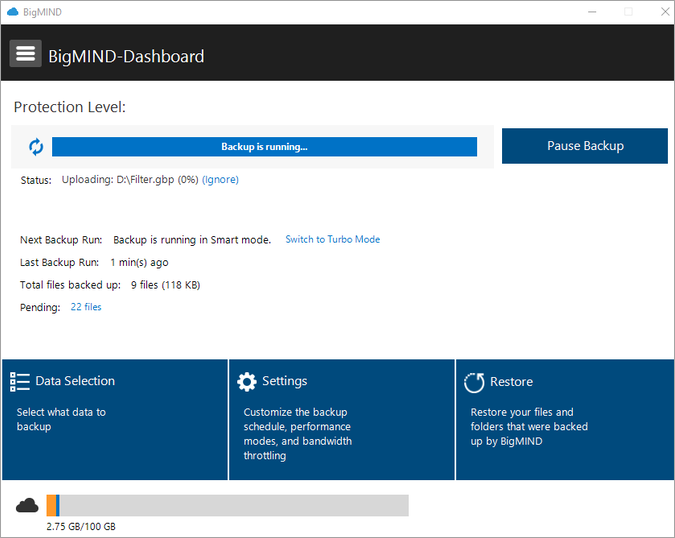 BigMIND provides an all-in-one cloud solution. It is a secure, flexible, and smart system with various functionalities like automatic backup, user management, mobile apps, real-time-search, data transport, etc. The cloud solution can be used by various industries like healthcare, accounting, education, legal, etc. 
Features:
BigMIND has 6 global data-centers.
It is easy to use and can discover files like a search engine.
It has intelligent filters and can analyze any uploaded image. It will let you add your data tags for organizing the photos.
9% uptime is ensured by BigMIND.
It has millions of users worldwide and 15 years of software experience.
Cons: As per reviews it sends extensive trial period expiration reminders.
OS platforms: Windows, Mac, iOS, Android.
Price: A free trial is available for 14 days. 30 days money-back guarantee BigMIND has four pricing plans, Starter ($15 per month), Standard ($20 per month), Premium ($37.5 per month), and Smart Archive ($40 per month).
IBackup is best for providing privacy and security features to small businesses.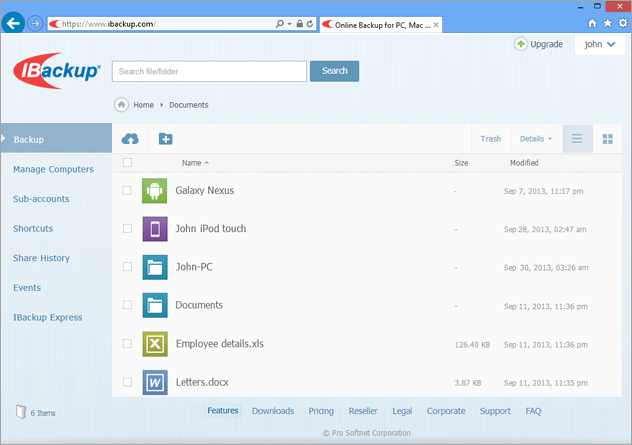 IBackup provides enterprise-grade cloud backup solution. It provides support to various types of backups like open file backup, system state backup, and backup of running servers and databases. Supported servers are MS SQL Server, MS Exchange Server, Hyper-V, MS SharePoint Server, and Oracle Server.
Features:
Automatic scheduling of backups.
Using the IBackup's centralized console you will be able to monitor multiple accounts that are created using your storage space.
It supports incremental backup subsequent to initial full backup.
It can backup unlimited devices to a single account.
It supports versioning.
Cons: NIL
OS Platforms: Windows, Mac, & Linux, iOS, Android
Price: IBackup offers the plans starting with 10GB for $9.95 per month. It offers the plans for 20GB ($19.95/month), 50GB ($49.95/month), 100GB ($99.95/month), and 200GB ($199.95/month). Currently, it is offering 50 times more storage for the same price.
This offer is available until 14 May 2020. The 15-days evaluation period is available for all plans. The plans are available for 2-years and one-year.
IDrive is Best for taking a backup of files.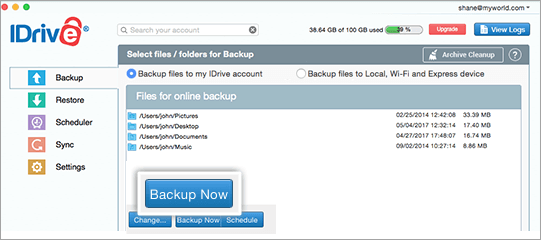 Files stored with IDrive can be accessed from PCs or Mac. It has a mobile app for iOS and Android devices. It takes a backup of the file in real-time by automatically recognizing the changed part of the file. It allows you to back up the entire drive including the OS and settings.
Features:
With a single account, you can backup from unlimited PCs, Mac, iPhone, iPad, and Android devices.
Across all the devices linked to IDrive, files and folders will be synced in real-time.
Backup storage will not be impacted by Sync storage.
It provides 256-bit AES encryption to your files.
It will not delete the data automatically. You can delete the files manually or run Archive Cleanup.
Deleted files can be recovered within 30 days.
Cons: Only 5GB of free storage is offered by the company.
OS Platforms: Windows, Mac, iOS, and Android.
Price: Pricing plans offered by IDrive are as given. Some more options are available with the IDrive Business plan, but only a few are mentioned here.
| | | |
| --- | --- | --- |
| Basic | 5GB | Free |
| IDrive Personal | 2TB | $104.25 for 2 years |
| | 5TB | $149.25 for 2 years |
| IDrive Business Unlimited users, Unlimited computers and servers. | 250GB | $149.25 for 2 years |
| | 500GB | $299.25 for 2 years |
| | 1.25 TB | $749.25 for 2 years |
9.) Amazon Cloud Drive
Amazon Cloud Drive is best for storing photos.

Amazon Cloud Drive is a facility provided by Amazon to easily backup and access the documents, spreadsheets, music, photos, and videos.
It is a secure, online cloud storage platform. It will help you to keep your important documents safe. It has added the features to access the recent files easily and quickly. It supports bulk uploading of photos and videos.
Features:
Amazon Cloud Drive provides the facility to preview the documents, spreadsheets, photos, and presentations.
It will allow you to play videos and music stored in the cloud drive.
You can upload photos, videos, and files from your smartphone.
You can create folders and organize files in the folders.
Amazon Drive will allow you to share files as links and attachments by email, text message, etc.
It will allow you to create and edit text files.
Cons: It is expensive than Google Drive and offers less storage than it.
OS Platforms: You can upload the data from any computer.
Price: Amazon Cloud Drive offers unlimited photo storage for Amazon Prime Members. It has other storage plans that start at $11.99 per year. You can download the app and try the cloud storage for free for 3 months.
Best for light data users.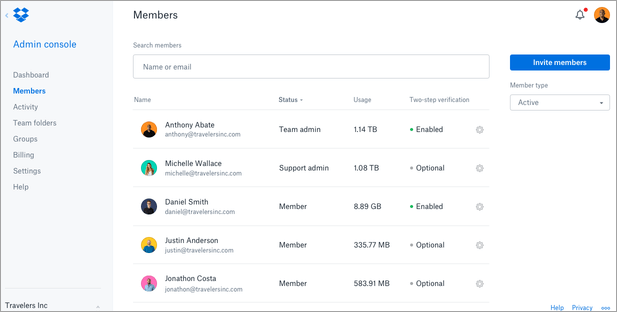 Dropbox provides you with a modern workspace to keep your files together at one central place. It is accessible from anywhere anytime. It can be synced across all your devices. With Dropbox, files will be accessible from computers, phones, and tablets.
Features:
It allows you to share any file like PowerPoint and Photoshop.
Dropbox Paper will allow you to create and share anything, from rough drafts, videos, images to code and sound.
It can be used by freelancers, solo workers, teams, and businesses of any size.
It allows you to share a big or a small file with anyone.
Admin Controls will simplify your team management tasks.
It allows you to secure access to the shared data.
Cons: It starts with only 2GB free data.
OS Platforms: Windows, Mac OS, Linux, Android, iOS, and Windows phone.
Price: It offers 2GB for free. Dropbox has two plans for individuals and two plans for teams.
Plus and Professional are the two plans for Individuals. Pricing for the Plus plan will be $8.25 per month. Price for the Professional plan will be $16.58 per month.
Standard and Advanced are the two plans for teams. The price of the Standard plan is $12.50 per user per month. The price of the Advanced plan will be $20 per user per month.
A free trial is available for Professional, Standard, and Advanced plans. The below screenshot will give you the idea of the storage and core features that they are providing.
Click here to see more providers.
Conclusion
While concluding this article on Cloud storage providers, we can say that Dropbox, Google Drive, One Drive, Box, IDrive, iCloud, and pCloud provide some amount of storage for free.
Dropbox gives only 2GB of storage for free whereas Google Drive provides the highest amount of storage for free i.e. 15 GB. SpiderOak has affordable pricing plans and Amazon S3 pricing plans are a little bit confusing.
Tresorit can be used by professionals, freelancers, and teams. Similarly, OpenDrive is also available for personal as well as business use. This is all about cloud storage and cloud storage providers.
Hope this top 10 best cloud storage list is helpful for you to decide and compare the best provider companies with their free and paid storage plans and other terms. From this, you can compare and select the best provider for your personal or business use.
This feature originally appeared in Software Testing Help.
---
For enquiries, product placements, sponsorships, and collaborations, connect with us at

[email protected]

. We'd love to hear from you!
---
Our humans need coffee too! Your support is highly appreciated, thank you!