Our mission at Google Cloud is to accelerate your ability to digitally transform and reimagine your business through data-powered innovation. To stay true to our mission we made the choice to embrace an open cloud approach early on. This is reflected in our contributions to projects like Kubernetes, TensorFlow, Knative, Go and many more. On top of these open foundations, we've built opinionated offerings like Google Kubernetes Engine (GKE) and Anthos to provide you a managed experience.
We also heard loud and clear that you want to run the same best-of-breed Google Cloud services in your on-premises and in other clouds. Over the past few years,  we have been working hard to deliver these services regardless of where your cloud journey began. Today, I'll walk through three ways Google Cloud is helping you succeed in the hybrid and multicloud world:
Bringing a consistent managed Kubernetes experience anywhere with Anthos
Delivering data and insights where it's needed, even across clouds with Looker
Running petabyte-scale analytics in a  multicloud data warehouse with BigQuery
One multicloud management layer for all your apps
Anthos gives you a consistent platform for all your application deployments, both legacy as well as cloud native, while offering a service-centric view of all your environments. Anthos makes multicloud easier with a Kubernetes-based API that allows you to run across Google Cloud, on-premises, AWS, and soon Azure with a single management interface. That interface also lets you manage containers as well as non-Kubernetes resources including other infrastructure, platform, and application services.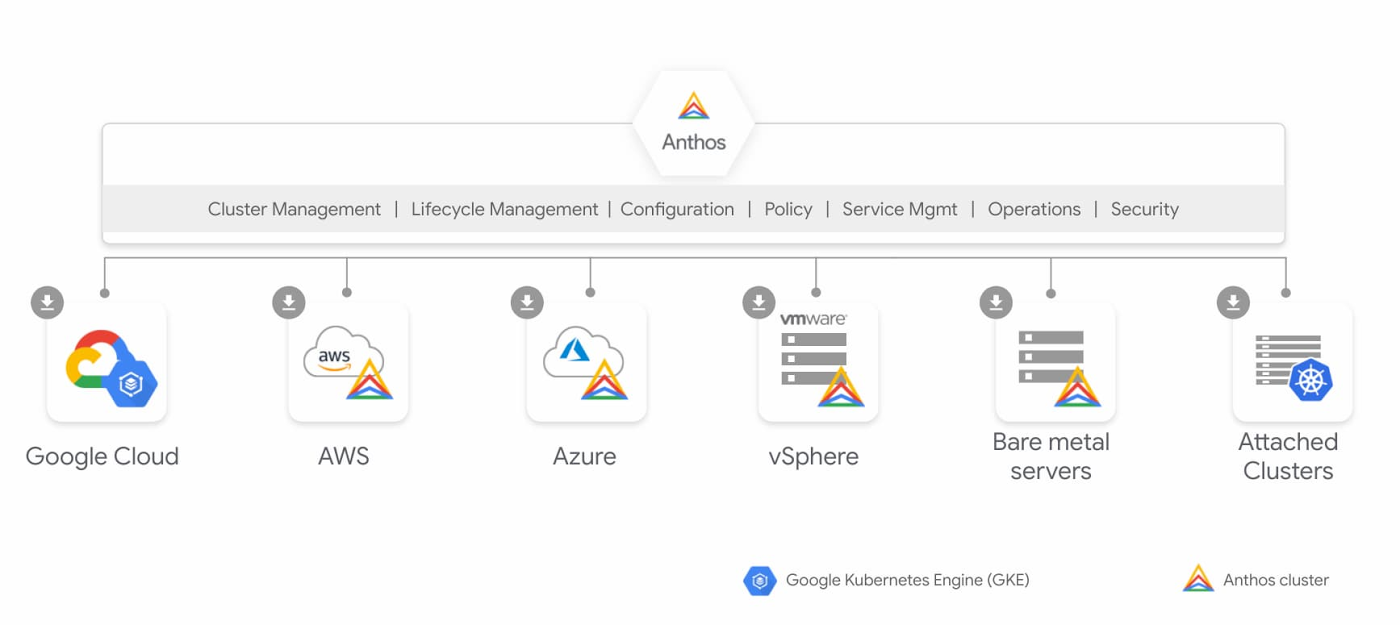 Earlier this year Anthos' support for multicloud became generally available for applications running on AWS. Now, you can consolidate all your operations across on-premises, Google Cloud, and other clouds—even at the edge with bare metal.
Modern analytics, even across clouds
Historically, business analytics technology stacks have been built as single-vendor architectures, with tightly linked storage and analytics that lock users into a single way of viewing and using data. These older report-and-dashboard approaches limit the value organizations can extract from data. But changing an organization's visualization tools or databases usually requires costly migrations, reworking of business logic, and months of effort.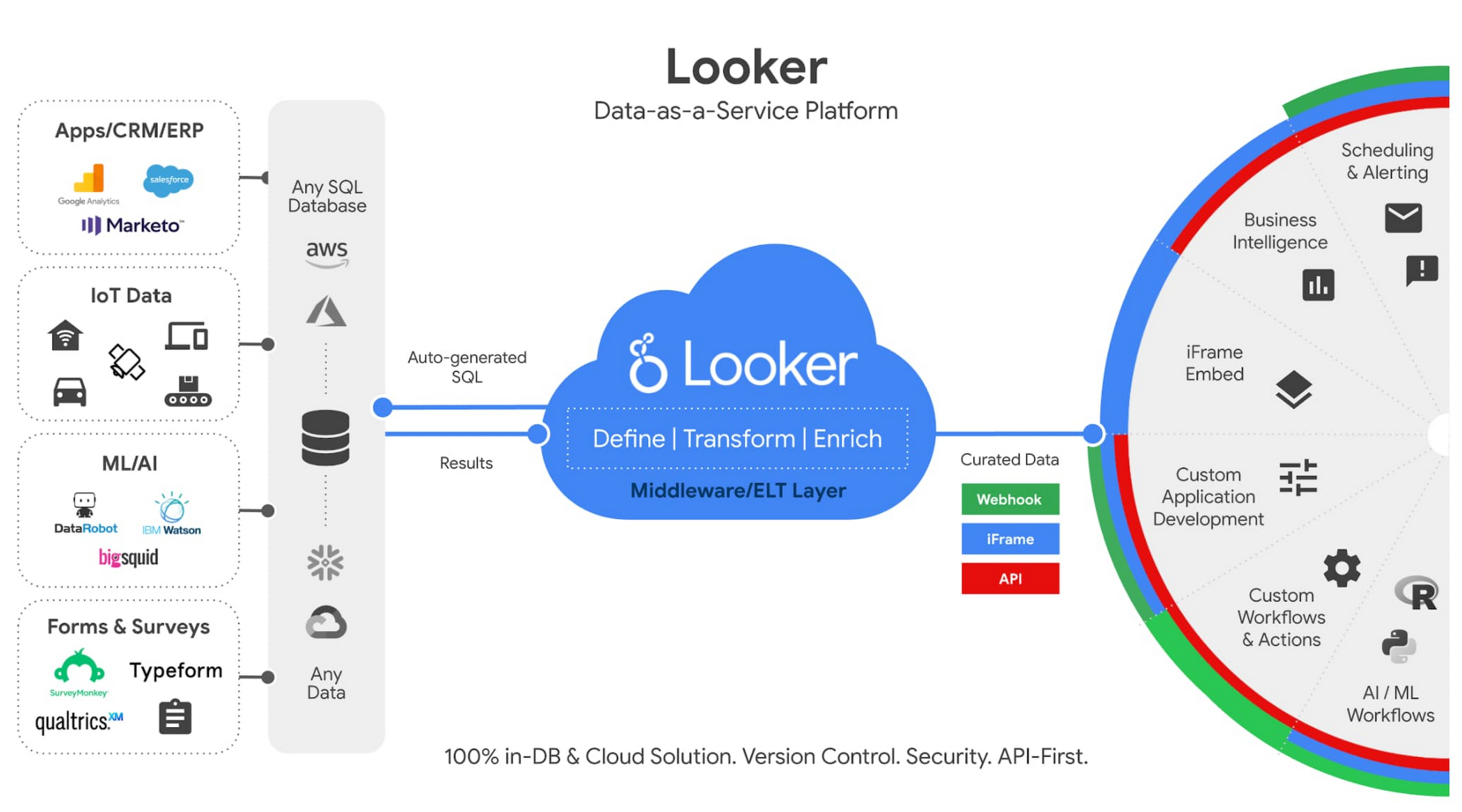 Looker, a multicloud data platform, is different. Looker supports multiple data sources and deployment methods, providing more options without compromising on transparency, security, or privacy. Looker's strengths include its centralized data-modeling and governance, which promotes metric consistency and reuse, and an API for building modern data-driven apps and workflows that go beyond reports and dashboards. We know you the value of having freedom in your technology stack. Looker supports hosting on public clouds like AWS and GCP, and in multicloud and hybrid environments. Looker connects with Redshift, Snowflake, BigQuery, and 50+ supported SQL dialects, so you can link to multiple databases, avoid database lock-in, and maintain multicloud data environments.
Gain insights from your data across clouds with ease
Data analysts have long used BigQuery, our enterprise data warehouse, to do petabyte-scale analysis of data in Google Cloud. We're extending analytics to your data in other public clouds with BigQuery Omni. BigQuery Omni ups the ante and lets you analyze data in Amazon Web Services (AWS) and Azure (coming soon)—all from a single pane of glass, and without any cross-cloud movement or copies of data.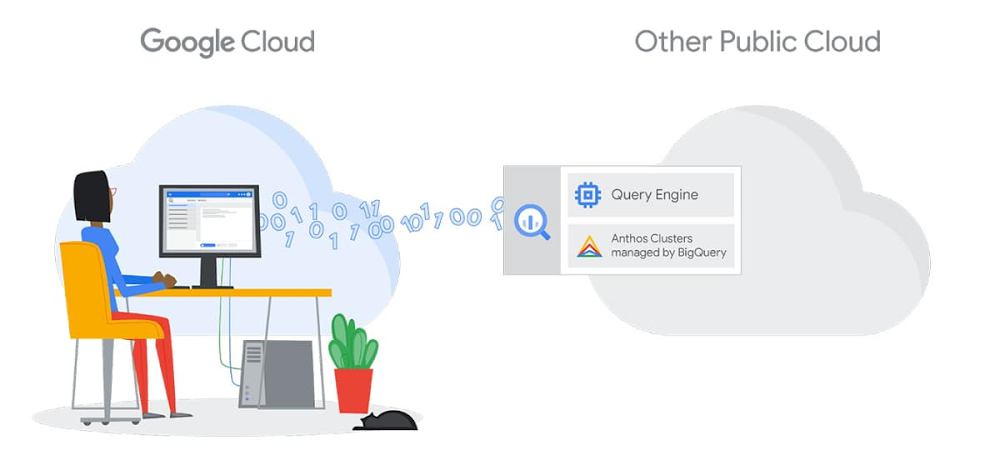 For example, you can use BigQuery Omni to query Google Analytics 360 Ads data that's stored in Google Cloud, and also query logs data from your e-commerce platform and applications that are stored in Amazon S3. Then, using Looker, you can build a dashboard that allows you to visualize your audience behavior and purchases alongside your advertising spend.
Getting started 
You can learn more about Google's multicloud products and solutions by visiting our new multicloud page, and get started today with our free trial offering.
Source: Google Cloud Blog by Arun Ananthampalayam Product Marketing Manager, Google Cloud
---
For enquiries, product placements, sponsorships, and collaborations, connect with us at

[email protected]

. We'd love to hear from you!
---
Our humans need coffee too! Your support is highly appreciated, thank you!