Yokogawa Electric Corporation (TOKYO: 6841) and NTT Communications Corporation (NTT Com) announce they have signed a business partnership agreement for the joint development and provision of a shared-use operational technology (OT)1 cloud service that will support digital transformation (DX) in the manufacturing industry through the fusion of Yokogawa and NTT Com's respective strengths in OT and IT.
Based on this partnership, the two companies aim to adapt production control systems2 and manufacturing execution systems3 for use in cloud-based services, and then evolve these through the development of a shared-use OT cloud service.
Background
In recent years, the manufacturing industry has faced the challenge not only of dealing with soaring resource prices, fluctuations in supply and demand, and the development of high-quality products, but has also had to swiftly deal with changes in a diversifying business environment, such as the need to manufacture products that contribute to a decarbonized society. However, manufacturing facilities and the systems that control them are built in on-premises environments where the focus is on availability and the robustness needed to maintain non-stop operations, so dealing with immediate system-related changes is a significant challenge. To handle these issues, a system configuration that supports high flexibility is required.
The practice of moving systems into the cloud has become the dominant approach in the IT field. Through this partnership, the two companies will apply this practice to OT, and by providing a shared-use OT cloud service, will support DX in the manufacturing industry to drive forward improvements in manufacturing flexibility and data utilization.
Overview of the Partnership
(1) Adaption of production control systems and manufacturing execution systems for cloud services
The two companies will migrate specific OT systems such as production control systems and manufacturing execution systems into the cloud so they can be provided as a service.
Yokogawa already offers services, including Yokogawa Cloud,4 which analyzes facility data in the cloud and streamlines maintenance work. Through this partnership, specific OT systems will be adapted for use with NTT Com's Smart Data Platform,5 which provides a one-stop solution for functions that are required to utilize a company's data and maintain a high-security environment, and enables the swift handling of tasks such as system renewal, function expansion, and control-setting modification.
(2) Development and provision of shared-use OT cloud service
By adding OT–IT orchestration functions to the aforementioned cloud services for production-control and manufacturing-execution systems, the two companies aim to develop and provide a shared-use OT cloud service for collaboration between the production-control and manufacturing-execution systems of each user company. Not only will this make swift system renewals and on-demand functional enhancements a reality, it will also enable data sharing between users and lead to the optimization of manufacturers' entire supply chains.
For instance, by analyzing data, manufacturing techniques can be identified that will help to reduce carbon dioxide (CO2) emissions not only for individual businesses, but also across entire supply chains.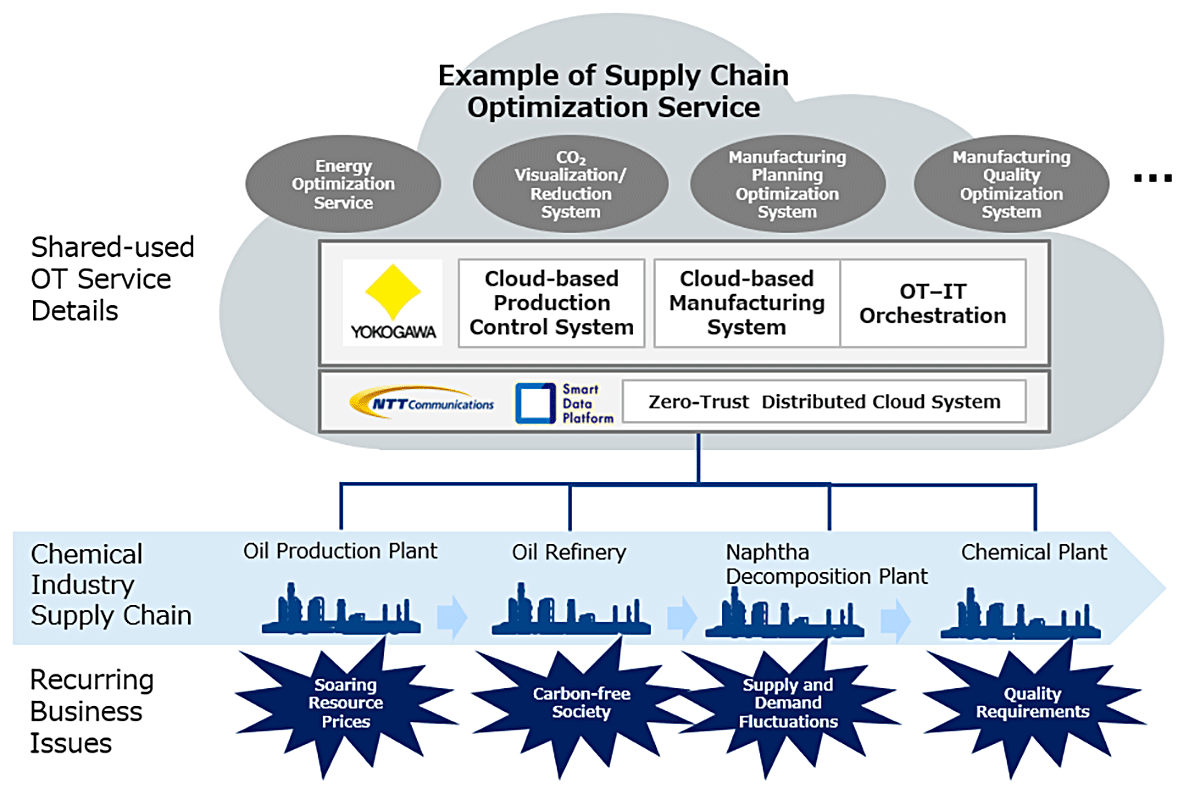 Overview of shared-use OT cloud service
(3) Expansion of partner network and user base of the shared-use OT cloud service
The two companies also aim to bring in additional partners who can make functional enhancements to the shared-use OT cloud service, and increase the number of users.
Role of Each Company
Yokogawa: System development for a shared-use OT cloud service that utilizes the company's OT-domain knowledge of control and manufacturing management
NTT Com: Platform development for the provision of a shared-use OT cloud service utilizing the company's IT-domain knowledge of security and the cloud
Hitoshi Nara, president & CEO of Yokogawa Electric Corporation said, "This partnership signifies an important collaborative relationship for the realization of the system of systems6 concept that we are advocating. Through the provision of services that bring together both companies' IT and OT, we will be able to integrate a variety of systems and thereby achieve an overall optimization that will contribute to solving issues faced by our society."
Toru Maruoka, president & CEO of NTT Communications Corporation commented, "We will meet the high level of real-time performance, availability, and security requirements required for cloud-based plant-control systems by making use of our edge and center distributed cloud systems as well as our low-latency networks. Through collaboration between the two companies, we will support the optimization of the overall supply chain in the manufacturing sector and create an industrial model capable of contributing to the achievement of a sustainable society."
Development plans
Based on this alliance, the two companies will commence an experiment in February 2022 to demonstrate the migration of production-control and manufacturing-execution systems to a cloud service, and aim to launch this service by the end of FY2022 (March 2023). Regarding the next-stage shared-use OT cloud service, joint experiments will commence in FY2022, with the aim of launching this service in FY2024.
1: OT is a collective term for the operational and control technologies used in plants and other such places.
2: A production control system is a system that monitors the control and operation of a plant or factory.
3: A manufacturing execution system is a system that supports the management of manufacturing processes and operators.
4: Yokogawa Cloud is a cloud service from Yokogawa that supports a wide variety of facilities and industrial protocols, efficiently gathers IoT data that is generated, and enables swift analysis in the cloud and data visualization. For more details, see the following website. https://www.yokogawa.com/solutions/solutions/digital-transformation/yokogawa-cloud/
5: Smart Data Platform is an NTT Com platform that accelerates DX through data utilization by providing a one-stop solution for all functions necessary for data collection, storage, management, and analysis, including ICT infrastructure. For more details, see the following website. https://www.ntt.com/business/sdpf/
6: In a system of systems (SoS), everything is intricately connected, and each element is treated as a system. These systems work together while maintaining operational and management independence, and realize goals that cannot be achieved by any one system functioning alone.
About Yokogawa
Yokogawa provides advanced solutions in the areas of measurement, control, and information to customers across a broad range of industries, including energy, chemicals, materials, pharmaceuticals, and food. Yokogawa addresses customer issues regarding the optimization of production, assets, and the supply chain with the effective application of digital technologies, enabling the transition to autonomous operations.
Founded in Tokyo in 1915, Yokogawa continues to work toward a sustainable society through its 17,500 employees in a global network of 119 companies spanning 61 countries.
For more information, visit www.yokogawa.com
About NTT Communications
NTT Communications solves the world's technology challenges by helping enterprises overcome complexity and risk in their ICT environments with managed IT infrastructure solutions. These solutions are backed by our worldwide infrastructure, including industry-leading, global tier-1 public and private networks reaching over 190 countries/regions, and more than 500,000m2 of the world's most advanced data center facilities. Our global professional services teams provide consultation and architecture for the resiliency and security required for your business success, and our scale and global capabilities in technology world are unsurpassed. Combined with NTT Ltd., NTT Data, and NTT DOCOMO, we are NTT Group.
www.ntt.com | Twitter@NTT Com | Facebook@NTT Com | LinkedIn@NTT Com
The names of corporations, organizations, products, services and logos herein are either registered trademarks or trademarks of Yokogawa Electric Corporation, NTT Communications Corporation, or their respective holders.
---
For enquiries, product placements, sponsorships, and collaborations, connect with us at

[email protected]

. We'd love to hear from you!
---
Our humans need coffee too! Your support is highly appreciated, thank you!