Startups are quickly becoming the conduits of innovations and solutions in our world. Startup companies are larger than you might initially think. Some of them reach billions in market value. However, reaching such a mark is quite a feat. There is even a term used in particular for startups which attain US $1 billion valuation — unicorns.
So which companies are currently the top unicorns? CB Insights made a list. Here's a quick rundown.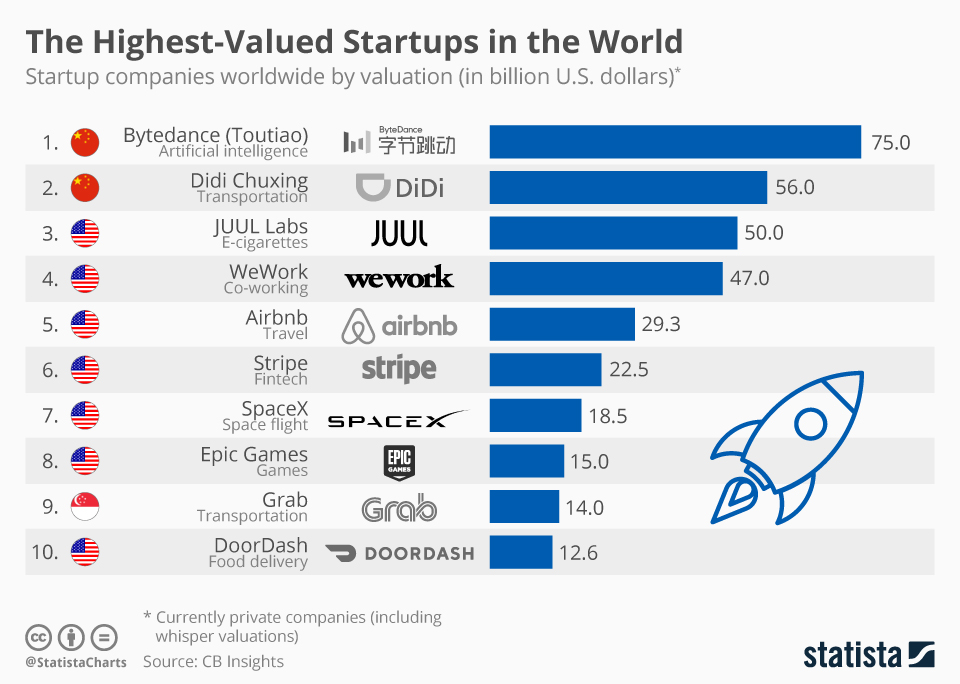 Highlights
Chinese AI tech company ByteDance tops the list with a market value of about $US 75 billion. The company specializes in digital content. Through them, the names of apps like TikTok and Vigo dominated the Asian market.
United States occupies eight of the top ten positions with prominent names such as SpaceX, JUUL , and Airbnb.  The country also accounts for 49% of the unicorn companies in CB Insights' listing. It is followed by China, with 24% of the unicorn companies coming from the country.
Singapore sneaks in the top ten list with the ride-hailing platform, Grab.
Meanwhile, Financial technology (Fintech) reigns supreme in terms of company category, with 12% of the unicorns belonging in the classification. It is closely followed by E-commerce and Direct to Consumer, Internet Software and Services, and Artificial Intelligence which triple-tied at 11 %.
CB Insights counted a total of 395 unicorn startups as of September 2019. 21 of these companies are decacorns — companies which have reached at least $US 10 billion in value.
Investing in innovation will not only lead to the rapid growth of entrepreneurs and companies, it will also help in solving a lot of our problems and providing us with the services we never thought we needed. With this, the number of unicorn companies can only be expected to grow in the succeeding years.
---
Our humans need coffee too! Your support is highly appreciated, thank you!