Amazon Web Services (AWS), Microsoft Azure, and Google Cloud are the three biggest cloud providers as of Q4 2019 based on market share, Synergy Research Group reports.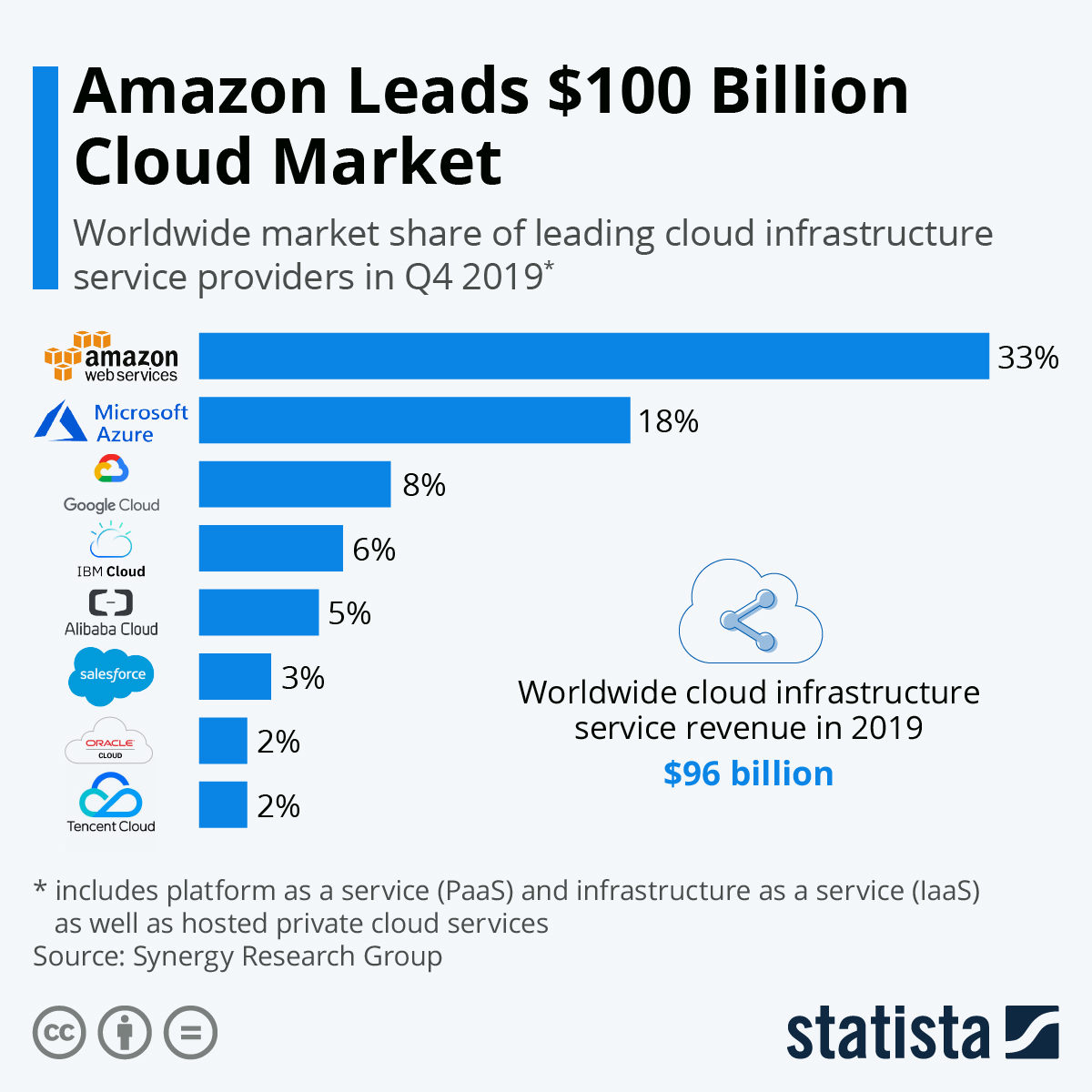 Together, these three providers account for around 60% of the market share of the global cloud infrastructure.
Apart from being practically essential for a huge chunk of global IT operations, the cloud infrastructure is also contributing something far from desirable — carbon emissions.
On the whole, The Shift Project estimates the carbon footprint of the ICT sector to be increasing. From the previous year's 2.5%, it has now become about 3.7% of the global emissions. This makes it higher than the estimated share of air travel which is 2.4%.
How much is the cloud infrastructure contributing to these growing levels of emissions from the sector? Let's look at the big three and see for ourselves.
Google Cloud
As of Q4 2019, Google Cloud accounts for eight percent of the total market share of the worldwide cloud infrastructure. While this is considerably large relative to all the cloud providers, it has the smallest share among the biggest three.
However, among the three, the cloud provider is the greenest cloud provider. Google claims that their service processes data with zero net carbon emissions.
Google Cloud maintains its commitment to 100% carbon neutrality, making sure that they match the energy they consume for their operations with renewable energy — either by purchasing renewable energy utilities for their use or funding their construction.
Overall, the company has been very transparent about their emissions and they have made conscious efforts to further hold themselves accountable.
Apart from what has been already mentioned, Google also uses machine learning methods to optimize the energy usage of their operations. They also are aiming to eventually use 100% renewable energy sources in the totality of their operations.
Microsoft Azure
Microsoft Azure is the second-largest cloud provider in terms of market share at 18%.
Right now, Microsoft's data centres run on 60% renewable energy, a figure they want to boost to 70% by the year 2023.
The company claims that all its operations are carbon neutral. However, it should be noted that the company announced a collaboration with oil giants Chevron and Schlumberger to improve the digital services in the industry. This sparked outrage from Microsoft employees who eventually participated in a climate strike.
Amazon Web Services
AWS is the largest cloud provider to date, with a 33% market share as of Q4 2019. Recently, AWS said that they are aiming to achieve zero net carbon emissions in their operations by 2040.
The company also has a long-term commitment to power 100% of its data centres with renewables. However, a Greenpeace report heavily criticized AWS, pointing out that some of the largest data centres are only powered by as low as 12% renewables, though Amazon said that their commitment stands.
How AWS will do this remains unclear, since the company has yet to release a comprehensive action plan that will allow them to attain the 100% renewable energy goal.
With cloud computing now taking a large role in ICT operations, it is also becoming increasingly important for cloud providers to acknowledge the impact of their services on the environment. Apart from making sure that they are staying on top of their game, they should also make sure that they are not causing harm to the environment in the process of doing so.
---
For enquiries, product placements, sponsorships, and collaborations, connect with us at

[email protected]

. We'd love to hear from you!
---
Our humans need coffee too! Your support is highly appreciated, thank you!