Apple's services segment is quickly growing and could be the key to its revenue growth.
It may go unnoticed compared to Apple's famous line of products, but Apple Services may be what the company needs to attain record-breaking growth.
The revenue of Apple's services segment continues to soar high, quickly becoming a major source of the company's total earnings, according to the data from Statista.
Apple Services encompasses various features offered by the company which include the App Store, Apple TV +, Apple Music, Apple Pay, iTunes, and iCloud.
Highlights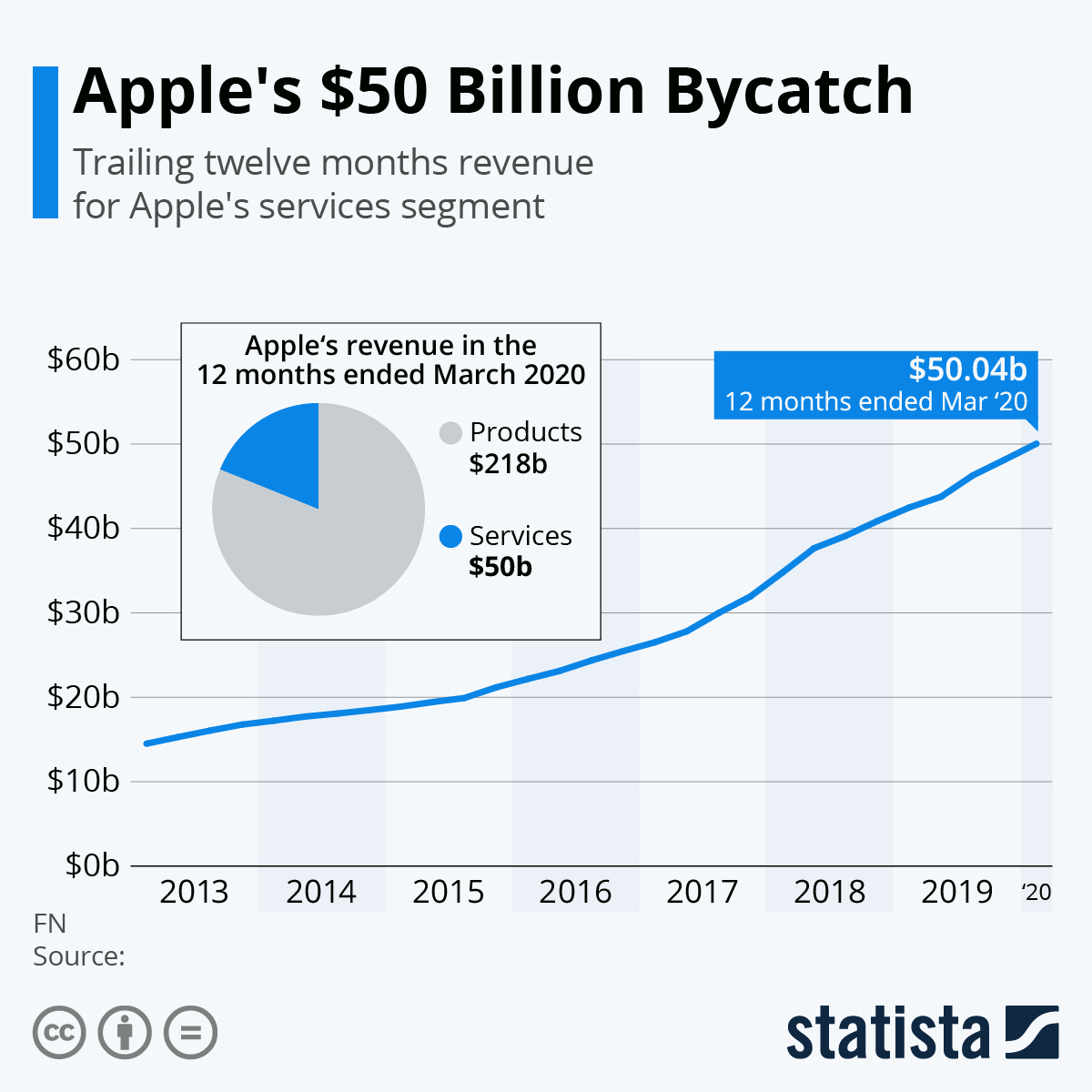 Shown above is the trailing twelve months (TTM) revenue of Apple Services. For the 12 months ending March 20, Services have accumulated about USD 50.04 billion in revenue.
For  Q2 2020 alone, Services recorded a revenue of USD 13.3 billion which is a huge jump from the USD 11.5 billion during the same period in the previous year.
Forbes estimates that the Services segment will grow to around USD 89 billion by the year 2025. Their analysis also reveals that it is the fastest-growing segment.
They said that if Apple Services continue in this growth trajectory, it may even surpass the gross profits of the iPhone —the company's biggest source of revenue — by 2025.
While the Services segment is growing quickly, it is still dwarfed by the revenue coming from Apple's products, which accounts for around 80% of the company's total revenue.
In spite of the global pandemic, Apple posted total quarterly revenue of USD 58.3 billion, which is still an improvement of about 1 percentage point compared to the same period in 2019.
"In this difficult environment, our users are depending on Apple products in renewed ways to stay connected, informed, creative, and productive. We feel motivated and inspired to not only keep meeting these needs in innovative ways, but to continue giving back to support the global response," according to Apple CEO Tim Cook
The WWDC20
This year's Apple's Worldwide Developers Conference  (WWDC) has started. It will be the first time that Apple will be going fully digital for its biggest event. The stream and video sessions can be watched on Apple's website.
As always, the Conference will be where we will be updated about Apple's software and will be given hints about the next launches of their devices through their iconic keynote.
WWDC20 will be a five-day event, ending on June 26. Apart from the keynote, video collections made by Apple engineers to help developers learn to build next-generation apps will be released.
Throughout the week of the Conference, those with an Apple ID can also ask over 1,000 Apple engineers about various development topics and visit discussions through the all-new Developer Forums.
For those who want to seek help from an Apple engineer one-on-one, the Developer Labs are open for appointment requests. However, this is only available for Apple Developer Program or Apple Developer Enterprise Program members as of June 11, 2020.
Lastly, Apple will also announce the winners of the prestigious Apple Design Awards on June 29.
---
For enquiries, product placements, sponsorships, and collaborations, connect with us at

[email protected]

. We'd love to hear from you!
---
Our humans need coffee too! Your support is highly appreciated, thank you!