Let's face it: bringing workloads to the public cloud isn't always easy. And if you want to take full advantage of the elasticity, economics and innovation of the cloud, you usually have to write a new application. But that isn't always an option, especially for existing applications, which may be from a third-party or written years ago. Compounding the challenge of rewriting those applications for the cloud is how you manage the application after you rebuild it—how you protect it from failures, monitor it, secure it, and so on. For many existing applications, this is done on a platform such as VMware®. So, the question becomes: how can these critical applications take advantage of the cloud when you don't have a clear path to rearchitecting them outright?
Google Cloud VMware Engine now generally available
Today, we're happy to announce that Google Cloud VMware Engine is generally available, enabling you to seamlessly migrate your existing VMware-based applications to Google Cloud without refactoring or rewriting them. You can run the service in the us-east4 (Ashburn, Northern Virginia) & us-west2 (Los Angeles, California) regions, and we will  expand into other Google Cloud regions around the world in the second half of the year.
Google Cloud VMware Engine provides everything you need to run your VMware environment natively in Google Cloud. The service delivers a fully managed VMware Cloud Foundation hybrid cloud platform, including VMware technologies vSphere, vCenter, vSAN, NSX-T, and HCX—in a dedicated environment on Google Cloud's high performance and reliable infrastructure, to support your enterprise production workloads.With this service, you can extend or bring your on-premises workloads to Google Cloud in minutes—and without changes—by connecting to a dedicated VMware environment.
Google Cloud VMware Engine is a first-party offering, fully owned, operated and supported by Google Cloud, that lets you seamlessly migrate to the cloud, without the cost or complexity of refactoring applications, and manage workloads consistently with your on-prem environment. You reduce your operational burden by moving to an on-demand, self-service model, while maintaining continuity with your existing tools, processes and skill sets, while also taking advantage of Google Cloud services to supercharge your VMware environment.
Google Cloud VMware Engine is a unique solution for running VMware environments in the cloud, with four areas that provide a differentiated experience: a) user experience, b) enterprise-grade infrastructure, c) integrated networking and d) a rich services ecosystem. Let's take a closer look.
A simple user experience
Launching a fully functional instance of Google Cloud VMware Engine is easy—all it takes is four clicks from the Google Cloud Console. Within a few minutes, you get a new environment, ready to consume. Compare that to the days and weeks it takes to design a new on-prem data center, ordering hardware and software, racking, stacking, cabling and infrastructure configuration. Not only that, but once the environment is live, you can expand or shrink it at the click of a button.
To further simplify the experience, you can provision VMware environments using your existing Google Cloud identities. You also receive integrated support from Google Cloud—a one-stop shop for all support issues, whether in VMware or the rest of Google Cloud. The service is fully VMware certified and verified, and VMware's support is fully integrated with Google Cloud support for a seamless experience. Consumption associated with the service is available in the standard billing views in the Google Cloud Console. And when you need to use native VMware tools, simply log into the familiar vCenter interface and manage and monitor VMware environment as you normally would.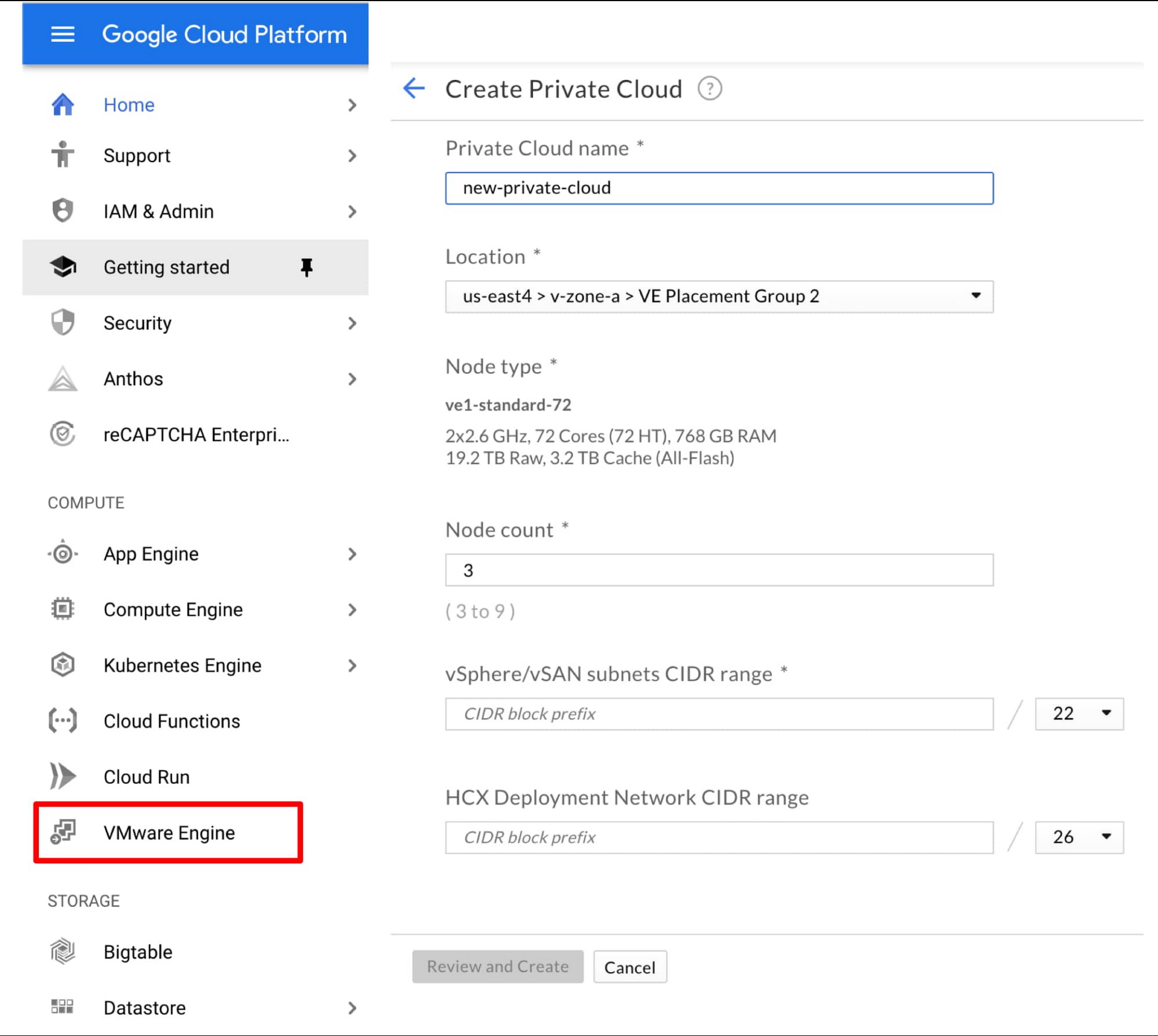 Dedicated, enterprise-grade infrastructure
Google Cloud VMware Engine is built on high-performance, reliable and high-capacity infrastructure, giving you a fast and highly available VMware experience, at a low cost. The environment includes:
Fully redundant and dedicated 100Gbps networking, providing 99.99% availability, low latency and high throughput to meet the needs of your most demanding enterprise workloads.
Hyperconverged storage via the VMware vSAN stack on high-end, all-flash NVMe devices. This enables blazing fast performance with the scale, availability, reliability and redundancy of a distributed storage system.
Recent generation CPUs (2nd Generation Intel Xeon Scalable Processors), delivering very high (2.6 GHz normal, 3.9 GHz burst) compute performance for your workloads.
768 GB of RAM, and 19.2TB of raw data capacity per node. Since VMware allows compute over-provisioning, many workloads in existing environments are often memory- or storage-constrained. The larger memory and storage capacity in Google Cloud VMware Engine nodes enables more workload VMs to be deployed per node, lowering your overall cost.
The compute and storage infrastructure is single tenant—not shared by any other customer. The networking bandwidth to other hosts in a VMware vSphere cluster is also dedicated. This means that you get not only the privacy and security of a dedicated environment, but also highly predictable levels of performance.
Integrated cloud networking
VMware environments in Google Cloud VMware Engine are configured directly on VPC subnets. This means you can use standard mechanisms such as Cloud Interconnect and Cloud VPN to connect to the service, as you would to any other service in Google Cloud. This eliminates the need to establish additional, expensive, bandwidth-limited connectivity.
You also get direct, private, layer 3 networking access to workloads and services running on Google Cloud. You can connect between workloads in VMware and other services in Google Cloud with high-speed, low-latency connections, using private addresses. This provides faster access and higher levels of security for a wide variety of use cases such as hybrid applications, backup and centralized performance management. By eliminating a lot of networking complexity, you get a seamless, secure experience that is integrated with Google Cloud.

A rich services ecosystem
In addition to its native capabilities, VMware users value the platform for its rich third-party ecosystem for disaster recovery, backup, monitoring, security—or any other imaginable IT need. Since the service provides a native VMware platform, you can continue to use those tools, with no changes.
In Google Cloud VMware Engine, we have built unique capabilities to enable ecosystem tools. By elevating system privileges, you can install and configure third-party tools as you would on-prem. Third parties such as Zerto are taking advantage of this integration for mission-critical use cases such as disaster recovery.
You can also benefit from native Google Cloud services and our ecosystem partners alongside your VMware-based applications. For instance, you can use Cloud Storage with a third-party data protection tool offered by companies such as Veeam, Dell, Cohesity, and Actifio to get a variety of availability and cost options for your backups. You can run third-party KMS tools externally and independently in your Compute Engine VMs to encrypt at-rest storage, making your environment even more secure.
And then there are the native Google Cloud services. With your VMware-based databases and applications running inside Google Cloud VMware Engine, you can now manage them alongside your cloud-native workloads with our Operations family (formerly Stackdriver). You can interoperate VMware workloads with services such as Google Kubernetes Engine and Cloud Functions. You can use third-party solutions such as NetApp Cloud Volumes for extended VMware storage needs. And you can take advantage of the privacy and performance of Google Cloud VMware Engine to run cloud-native workloads directly next to your VMware workloads, with the help of Anthos deployed directly inside the service. Or supercharge analytics of your VMware data sources with BigQuery, and make it more intelligent with AI and machine learning services.
Moving to the cloud doesn't have to be hard. By migrating your VMware platform to Google Cloud, you can keep what you like about your on-prem application environment, and tap into next generation hardware and application services. To learn more about Google Cloud VMware Engine, check out our Getting Started guide, and be sure to watch our upcoming Google Cloud Next '20: OnAir session, Introducing Google Cloud VMware Engine during the week of July 27th.
---
For enquiries, product placements, sponsorships, and collaborations, connect with us at

[email protected]

. We'd love to hear from you!
---
Our humans need coffee too! Your support is highly appreciated, thank you!