Sony's game consoles dominate the numbers game, being among the best sellers of all time.
20 years after its release, PlayStation 2 remains as the best-selling home video game console, according to the estimated lifetime unit sales data compiled by Statista.
Highlights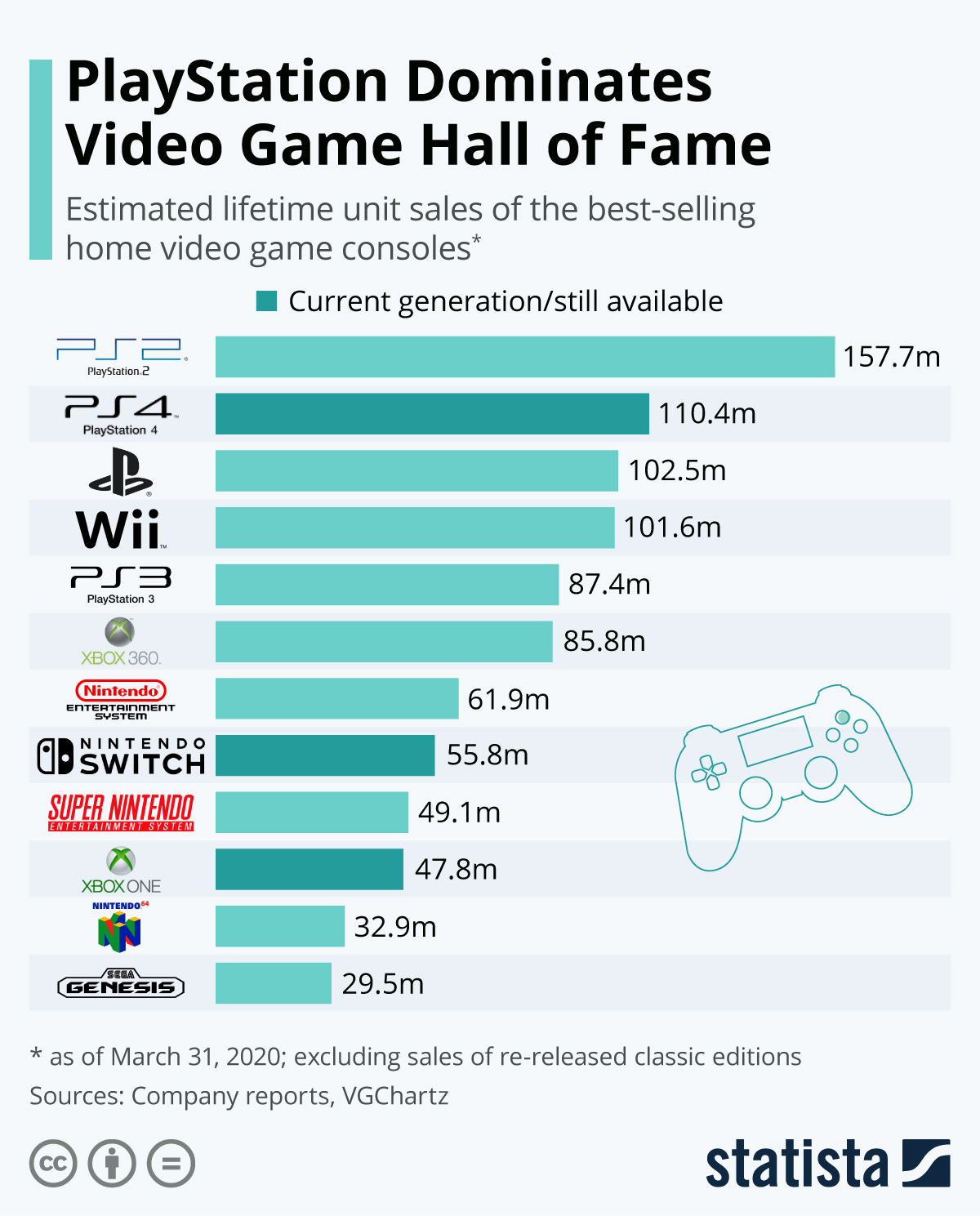 With 157.7 million units sold since its debut on March 4, 2000 in Japan, PlayStation 2 is at the top of the video game hall of fame in terms of unit sales.
The success of PlayStation 2 prompted Sony to retain its production until 2013, even when its successor PlayStation 3 had already been released in 2006.
Three more consoles from Sony — PlayStation 4 (110.4 million), PlayStation Portable (102.5 million), and PlayStation 3 (87.4 million) — join PlayStation 2 in recording among the highest number of units sold during their lifetimes.
Meanwhile, Nintendo has five entries in the video game hall of fame: Wii (101.6 million), Nintendo Entertainment System (61.9 million), Nintendo Switch (55.8 million), Super Nintendo Entertainment System (49.1 million), and Nintendo 64 (32.9 million).
Sony's other major competitor, Microsoft also obtained record-high sales with their Xbox 360 (85.8 million) and Xbox One (47.8 million). Another notable entry in the hall of fame is Sega's Genesis which sold 29.5 million units while it was still in production.
Fierce competition
The last major releases of Sony and Microsoft are the PlayStation 4 and the XBox One respectively. These consoles were both introduced in 2013. This year, the fierce competition of these two companies continues.
Last June, Sony unveiled its next-generation console, the PlayStation 5, or PS5.
PS5 is set to compete with Microsoft's upcoming Xbox Series. Both consoles are scheduled for launch later this year.
As seen on the trailer, the powerful gaming system of PS5 — reported to have 8k capabilities and  the ability to run 4K at 140 fps — is enclosed with a black, tower-like frame, definitely a futuristic look.
Another eyecatcher is the DualSense wireless controller, which Sony claims "will bring the sense of touch to PS5 gameplay."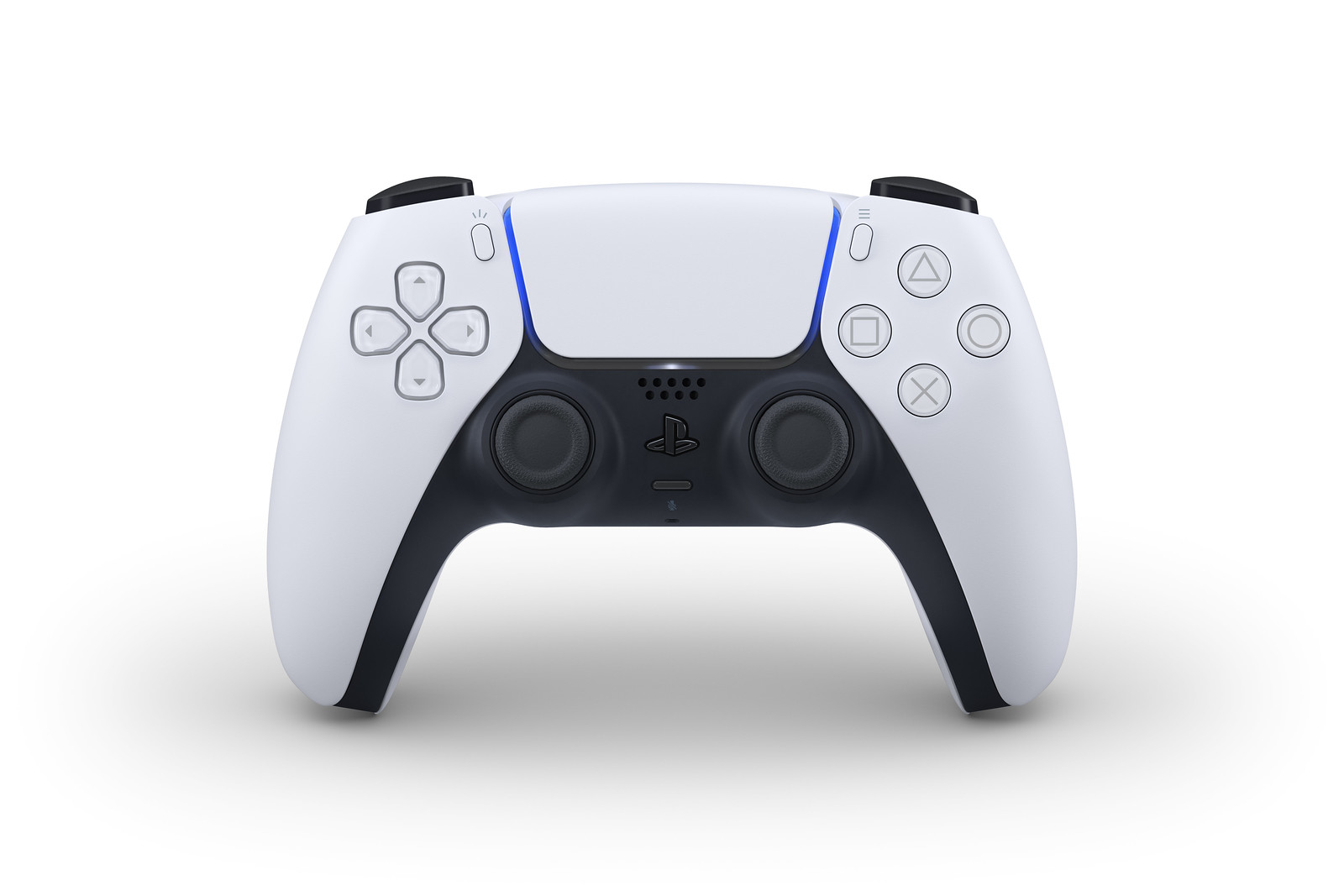 According to Sony's blog, they adopted haptic feedback in DualSense so that game creators can experiment with bringing in a variety of powerful sensations for a more immersive gameplay. Pushing the L2 and R2 buttons also provides some tension in the fingers, which makes the sensation of actions like drawing a bow to shoot an arrow more satisfying.
The "Share" button present in the DualShock 4 is no longer present in DualSense, replaced with a "Create" button which Sony said will provide new ways for players to craft gameplay content.
"DualSense marks a radical departure from our previous controller offerings and captures just how strongly we feel about making a generational leap with PS5,"  according to Jim Ryan, President & CEO of Sony Interactive Entertainment.
Some PS5-exclusive games currently known are "Spider-Man: Miles Morales" and "Horizon Forbidden West," along with other big titles which will entice gamers to make the switch.
Currently, the exact price and launch date of PS5 are still unknown.
---
For enquiries, product placements, sponsorships, and collaborations, connect with us at

[email protected]

. We'd love to hear from you!
---
Our humans need coffee too! Your support is highly appreciated, thank you!