Here are the countries where the social media app TikTok has been downloaded the most.
These countries recorded the highest number of TikTok downloads as of June 30, according to Priori Data, a Berlin-based analytics firm.
Highlights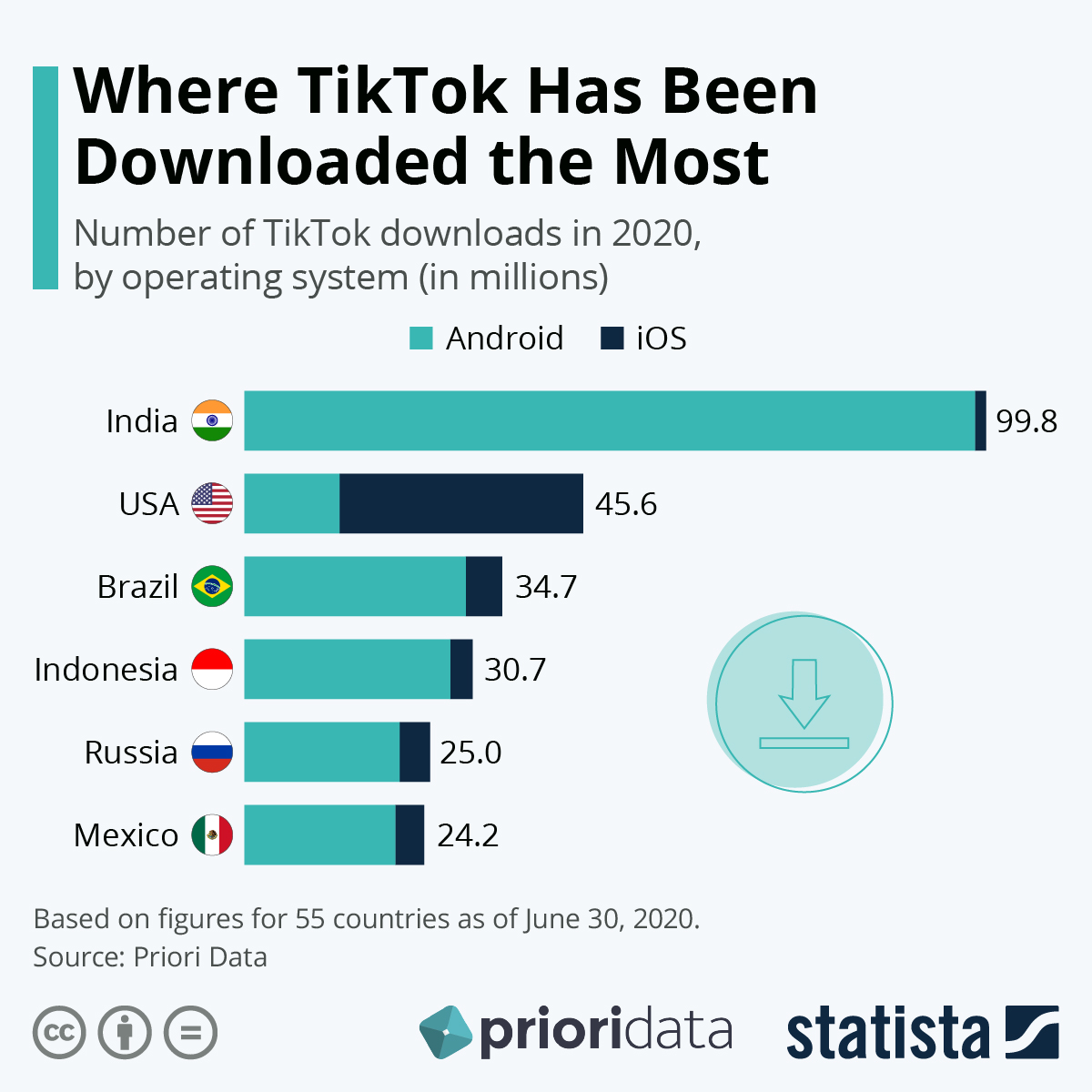 At the top of the list is India, with 99.8 million downloads. According to analysts, this translates to about a third of all the global users of TikTok, which rose to popularity for its short-form content format and creative filters.
Following it is the U.S., with 45.6 million downloads of the app, Brazil (34.7 million), Indonesia (30.7 million), Russia (25.0 million), and Mexico (24.2 million).
Android is the dominating operating system across all the countries in the top list, save for the United States where iOS is much preferred.
In January, TikTok earned the distinction of being the most downloaded app in the world that is neither in the gaming category nor owned by Facebook.
A security risk?
Citing national security concerns, India has recently banned around 60 China mobile apps, including the TikTok. This is in light of the heightened tensions in the India-China border which led to the death of at least 20 Indian troops.
Even prior to the TikTok ban, concerns over the security of the app had been raised, with some allegations that the app is a form of spyware — a claim which has yet to be substantially proven.
Putting these allegations aside, governments also fear that the app, with the permission to collect information from users just like other popular social media apps, can be used to push political propaganda.
"Chinese mobile app firms and other tech firms are beholden to the CCP under Chinese law. As extensions of the Chinese state, they pose a national security risk,"  said Brahma Chellaney, former adviser to the National Security Council of India in a tweet.
Similarly, U.S. Secretary of State Mike Pompeo has also mentioned the possibility of banning TikTok, along with other social media applications from China. "I don't want to get out in front of the President (Donald Trump), but it's something we're looking at," Pompeo told Fox News in an interview.
This worried some of the U.S.-based top creators in the app — some of which have already amassed millions of fans — prompting them to direct their supporters to other platforms should the ban push through. This also triggered an open revolt from TikTok users who posted negative reviews on President Trump's 2020 campaign app which currently has 226,431 one-star reviews.
TikTok's rise to popularity began with China-based Bytedance's acquisition of Musical.ly — its strongest competitor at the time —  back in 2017. After the acquisition, the service was eventually shut down last year and its users were migrated to Tiktok, further expanding its number of monthly active users
Its popularity is also boosted by the on-going COVID-19 pandemic as it became one of go-to platforms of Millennials and Gen-Zers for the creation and consumption of short-form content which lasts from 15 to 60 seconds.  The videos typically posted by users in the app come in the form of dance videos, challenges, mini-skits, and moments from daily life.
---
For enquiries, product placements, sponsorships, and collaborations, connect with us at

[email protected]

. We'd love to hear from you!
---
Our humans need coffee too! Your support is highly appreciated, thank you!