South Korea is the undisputed telecommunications superpower of our world — how did they achieve this?
South Korea has the highest percentage of users with fibre broadband subscriptions in the world, according to the data from the Organisation for Economic Co-operation and Development (OECD).
Statista published a chart displaying selected countries included in the OECD data set which was collected in the second quarter of 2019.
TelecoHighlights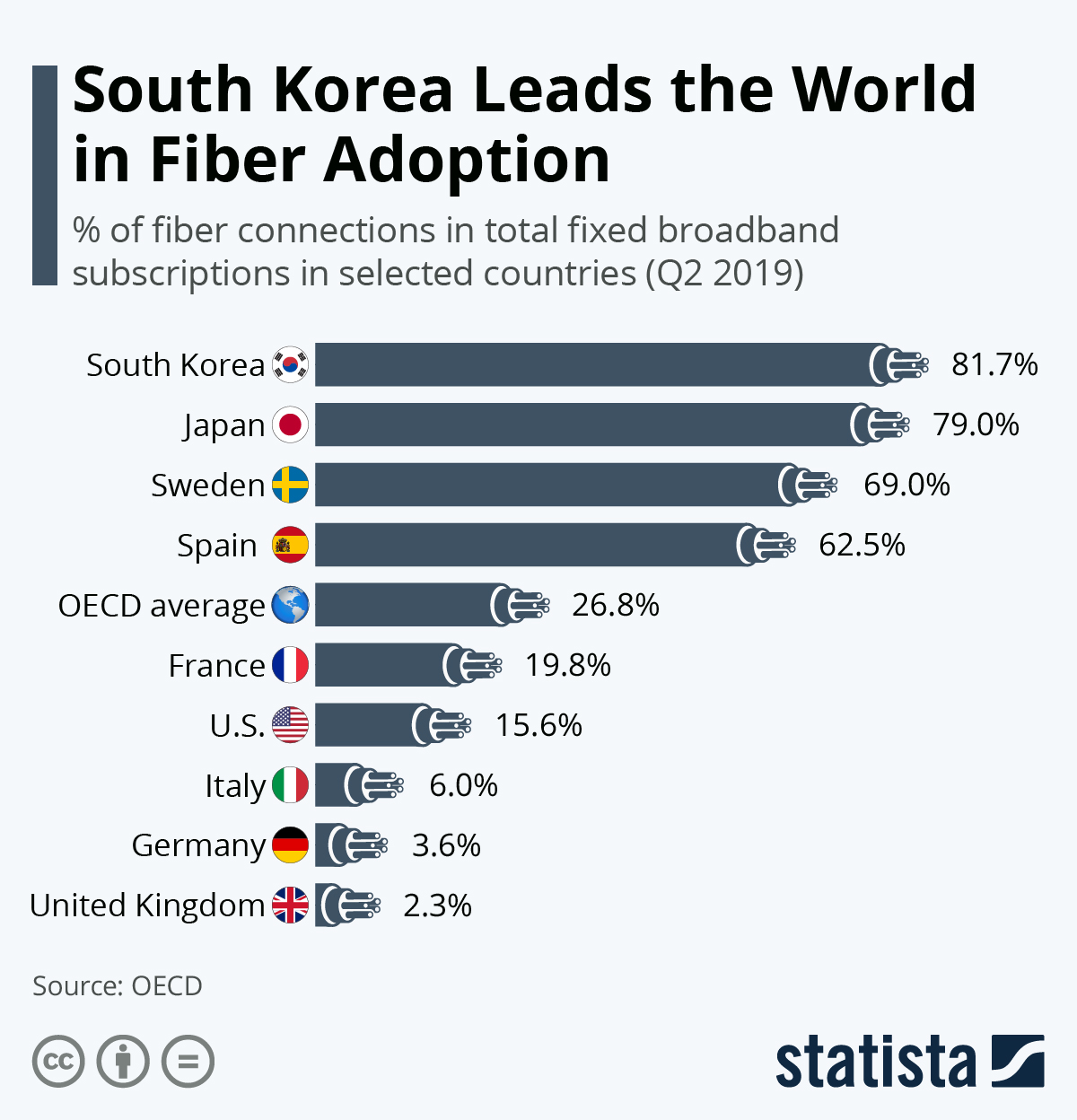 Accounting for 81.7% of its total fixed-broadband subscriptions, it is clear that South Korea is the leader when it comes to fibre adoption. Its neighbour, Japan (79%), is also among the nations where fibre broadband penetration soars high.
In Europe, fibre adoption is widespread in countries like Sweden (69%) and Spain (62.5%). However, the technology has yet to catch on in Italy (6%), Germany (3.6%), and the United Kingdom (2.3%). Similarly, there is still a long way ahead before fibre broadband becomes the norm in the United States (15.6%).
According to OECD, the penetration rates of technologies like fibre networks are highly dependent on a country's market size, regulations, and geography. Given this, caution must be taken in comparing the percentages shown above. "Comparisons should therefore focus on why some countries are at the end, middle or near the top of one or more indicators," OECD noted.
That being said, what makes South Korea such a standout in fiber adoption?
Supremacy
In a report published by the Electronic Frontier Foundation (EFF), it is revealed that the main driver of the success in South Korea's telecommunications infrastructure is policy. According to the report, South Korea's status as telecommunications superpower dates back to the 1970s when the war-torn nation needed to rebuild their infrastructure. Telecommunications started receiving special attention when the country was preparing to host for the Summer Olympics in 1988.
It is South Korea's aggressive policies which made nearly universal access to fibre networks possible. In the 1990s, Korean Information Infrastructure Government program sparked the transition from copper to fibre lines. Meanwhile,  modifications in their Monopoly Regulation and Fair Trade Act ensured that fibre rates will not become unreasonable.
EFF also mentioned that South Korea's impressive policy is infused with their geographic advantage. With a higher concentration of residents per square kilometre relative to other countries like the U.S., the adoption of high-speed fibre networks takes much less manpower, time, material, and cost.
Another advantage specified by EFF is their demographic. In 2017, 95.3% of South Koreans are enrolled in tertiary-level education. The prevalence of high-level education among the citizens also makes them predisposed to using high-speed connections.
Now that our lives are highly dependent on connectivity, having a high-speed network is becoming more of a necessity rather than a mere luxury. Given this reality, rethinking our policies is also becoming an imperative.
The success of South Korea highlights the importance of laying down policies that would not only build the infrastructure needed for fibre networks but would also make this infrastructure accessible for all.
---
For enquiries, product placements, sponsorships, and collaborations, connect with us at

[email protected]

. We'd love to hear from you!
---
Our humans need coffee too! Your support is highly appreciated, thank you!