One day before the official start of pre-orders for the new Xbox Series X and Series S, Microsoft bolstered its video game line-up with the acquisition of ZeniMax Media, parent company of Bethesda, the game studio and publisher behind iconic franchises such as The Elder Scrolls, Fallout and DOOM, to name only a few. The deal, valued at $7.5 billion, will further strengthen the appeal of Microsoft's Xbox Game Pass, a Netflix-style subscription service for video games, by adding Bethesda's line-up of iconic games to the service. The deal could also hurt Microsoft's main competitor Sony and its PlayStation franchise in the long run, as future Bethesda games, barring existing agreements, will be released on "other consoles on a case by case basis," according to Phil Spencer, Microsoft's Head of Xbox, making it sound likely that many of them will be exclusive to PC and Xbox.
"Quality differentiated content is the engine behind the growth and value of Xbox Game Pass — from Minecraft to Flight Simulator," Satya Nadella, CEO of Microsoft said in the official announcement of the deal. "As a proven game developer and publisher, Bethesda has seen success across every category of games, and together, we will further our ambition to empower the more than three billion gamers worldwide."
Valued at $7.5 billion, Microsoft's latest acquisition is among its biggest M&A deals to date. The software giant is no stranger to billion-dollar acquisitions, as the following chart shows. Over the past two decades, the company has made acquisitions in various fields ranging from hardware (Nokia) to video games (Minecraft-maker Mojang) and social media (LinkedIn).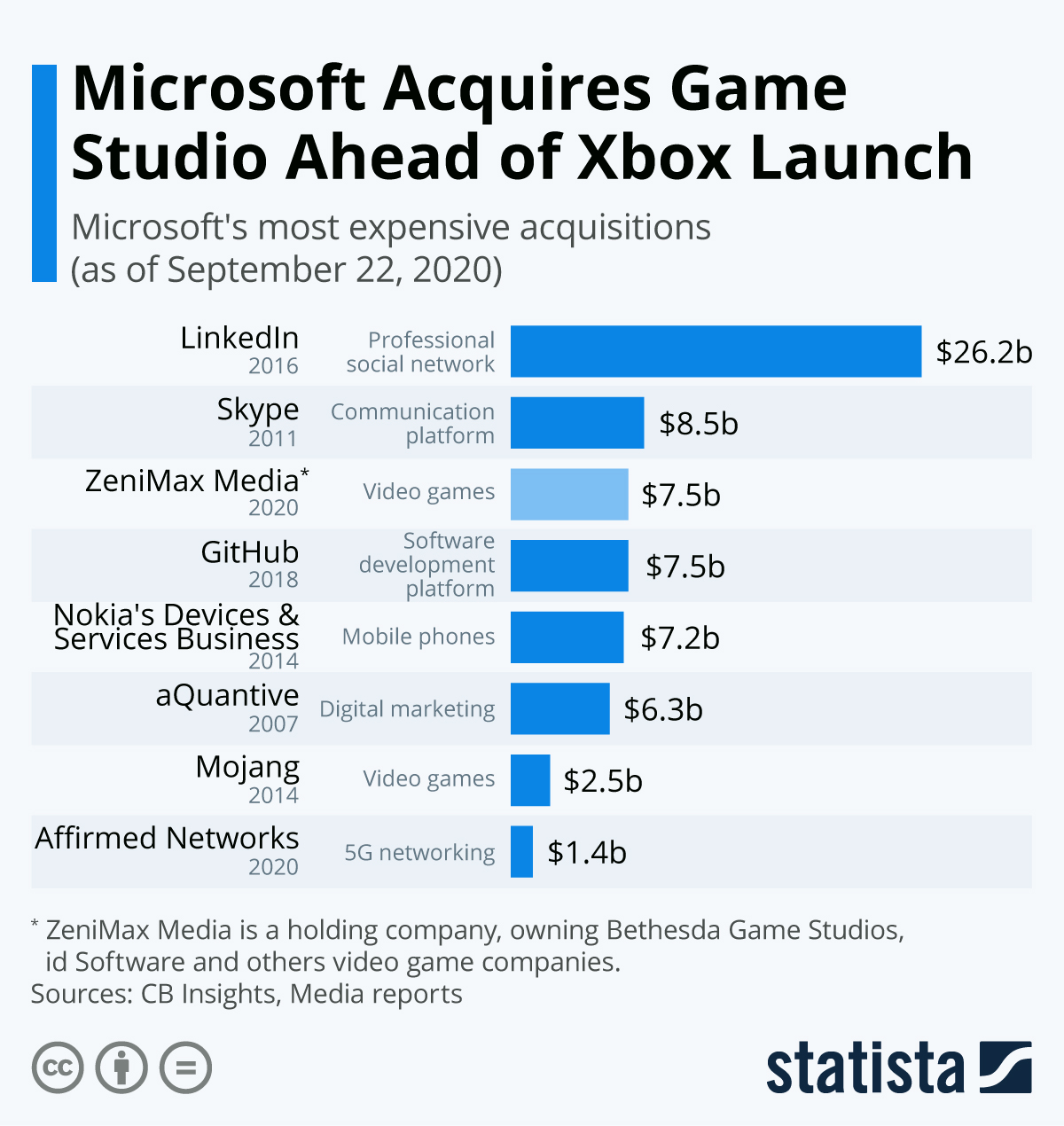 Source: Statista