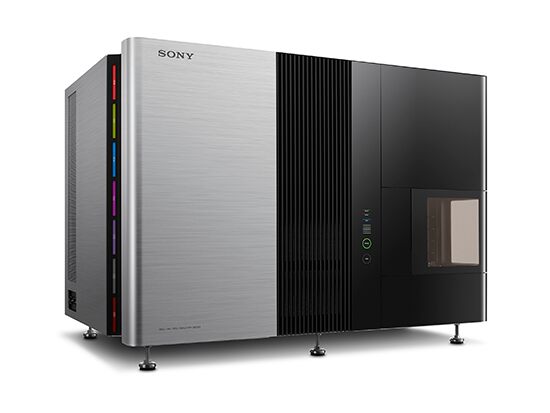 Sony Corporation ("Sony") announced the launch of its ID7000™ flagship spectral cell analyzer, a new flow cytometer that achieves streamlined multicolor cell analysis for more than 44 colors※1.Incorporating Sony novel spectral technology with up to 7 lasers※2 and 1886* detectors the system enables researchers to detect dim and rare populations from heterogeneous cell populations expanding the boundaries of cell analysis.
In terms of multi-color analysis, cell analyzer currently available on the market can express up to 30 different colors. ID7000 increases this up to 44 colors, allowing for up to 16,000 times the information collecting capacity in principle※3. ID7000 provides comprehensive cell information about heterogeneous cell populations to empower scientific deep insights and contribute acceleration of research growth.
Model name
Release date
Price
ID7000 spectral cell analyzer
(flow cytometer)
2020 Summer
Open price
*Revised on September 30th
A flow cytometer is a powerful tool that analyzes cells on cell-by-cell basis and allows users to measure multiple parameters of single cells very rapidly—up to 40,000 cells in under one second. Flow cytometers are used with monoclonal antibody reagents with different fluorochromes (multicolor flow cytometry) to distinguish different populations of cells in samples run on the system. Cell analyzers are widely used for cell analysis in research fields such as immunology and oncology to advance understanding of human disease, and identify proactive factors that can improve human health. Clinicians use these instruments to diagnose and select the best treatment options for patients.
One of the significant breakthrough of spectral technology incorporated in the ID7000 is its 1886* detectors – more than 3 times the number detectors than in any flow cytometer available today. This flagship spectral cell analyzer allows for a dramatic increase in the information collection capacity of the system to empower deep scientific insights for advanced research.
Sony is currently exhibiting and demonstrating the ID7000 at the 34th Congress of the International Society for Advancement of Cytometry (CYTO 2019), to be held until June 26 in Vancouver, Canada
※2:ID7000 can be configured with up to 7 lasers from 3 lasers.
※3:Calculated based on fact that data of flow cytometer raise two to the Nth power (N=number of colors).
Main Features
1. Sony's original spectral technology supports multicolor cell analysis more than 44 colors※1
7 lasers※2 and 18* detectors allow for more information to be delivered at once.
ID7000 can be configured with up to 7 lasers※2 including deep ultraviolet (320nm), ultraviolet (355nm), violet (405nm), blue (488nm), yellow-green (561nm), red (637nm), and infrared (808nm). The system comes standard with an advanced autosampler that supports standard and deep-96 and 384-well plate and up to 24 tube (12 x 75mm 5mL) in the tube loader. Additionally, 18* detectors, which detect the light emitted by lasers have been implemented. This allows for spectral detection of fluorochromes across a wide range of between 360 and 920nm, providing more accurate analysis of cell information. The 320nm laser helps detecting weak fluorescence information that the cells themselves emit spontaneously (autofluorescence) and will allow for multicolor analysis of more colors in the future. *Revised on September 30th
Improved Sony's original analytic algorithm, for faster processing
An analytic algorithm, spectral unmixing, developed by Sony is used to divide multiple fluorochrome signals into discrete color information based on waveforms. The spectral unmixing can distinguish spectrally adjacent fluorochromes and fluorescent proteins in a panel. Given the ever-growing number of fluorochromes available to researchers, spectral unmixing eliminates the subjectivity and complexity associated with conventional compensation methods. Moreover, improved algorithm achieves the high-speed processing in analysis of multiple parameters.
2.Streamline high parameter multicolor workflows
Spectral reference library
ID7000 includes a novel feature which allows users to store, search, and select spectral information in the form of a Spectral reference library. Conventionally, increasing the number of colors to be measured when analyzing leads to complications such as increased manual compensation, and this increased workload represents a significant issue. Calling up spectral reference from the library simplifies the experiment creation process and saves time by allowing it to be carried out automatically. This feature obviates such work and can carry out cell analysis in a shorter amount of time than in cases requiring a control sample, greatly streamlining workflow for multi-color analysis.
Autofluorescence Finder
Measurement of large numbers of samples may be complicated by inconsistent background fluorescence due to factors such as individual samples having different autofluorescence levels. This can make it difficult to compare samples quantitatively. Autofluorescence Finder enables researchers to identify and subtract contributions from multiple autofluorescent populations using spectral unmixing for higher fidelity data and more accurate visualization.
3. Autosampler supports consistent measurement
The usability of the auto-sampler has been further improved while maintaining low carryover, and with the addition of new agitation and cooling features, damage caused to each cell is minimized, supporting faster and more stable analysis over long periods of time.
1. Incorporated unique active agitation capability
ID7000 incorporates a system which agitates a sample probe※4, minimizing the damage caused to each cell. It also enables in-process agitation capability to keep cells in suspension during acquisition. Also, a cooling function has been added to the auto sampler to further reduce variability and prevent sample degradation over time, allowing for consistent analysis.
2. Software and automation enable walkaway operation
Bubbles, clogs, and low sample volume are major error conditions during acquisition. Software and automation manage such conditions automatically and enable walkaway operation.
3. Compatible formats of the Autosampler
Compatible with standard and deep 96-well plates※5, 384-well plates, and 24 tube (12x75mm 5mL) rack※6
4. Sample probe is a nozzle to inject sample from sample suspension and bring them to laser irradiated position.
5. Well plates, also called microplates, are rectangular containers that can collect multiple types of cell liquids and other substances into "wells," used as small test tubes. For example, a 96-well plate contains 96 plates arranged into an 8×12 rectangle.
6. Tube rack is a rack to prop 12 x 75 mm 5 mL tubes up to twenty-four tubes.
Main Specifications
Optical System
Excitation Optical System
Laser Wavelength
Up to 7 Lasers (320/355/405/488/561/637/808)In addition to 488nm/405nm/637nm, 320nm/355nm/561nm/808nm lasers can be selected (for up to 7 lasers equipped at once)
Detection Optical System
Measurement Parameters
1×Forward Scatted Light(FSC)、1×Side Scattered Light(SSC)、
1864*×Fluorescence Parameters
Body
Dimensions
(W × D × H)
1060mm × 719mm × 776*0mm
Weight
Body: 221*0kg (Final spec could be changed)
Power Source
Two 100-240 V, 50/60 Hz
Output Data Format
Flow Cytometry Standard (FCS) 3.0,3.1
*Revised on September 30th
※This product is for research purposes only. It cannot be used for diagnosis or treatment.
※This product is a Class 1 laser (JIS standard) product.
※ID7000 is a trademark of Sony
※Other company and product names used herein are trademarks or registered trademarks of their respective owners.
---
For enquiries, product placements, sponsorships, and collaborations, connect with us at

[email protected]

. We'd love to hear from you!
---
Our humans need coffee too! Your support is highly appreciated, thank you!