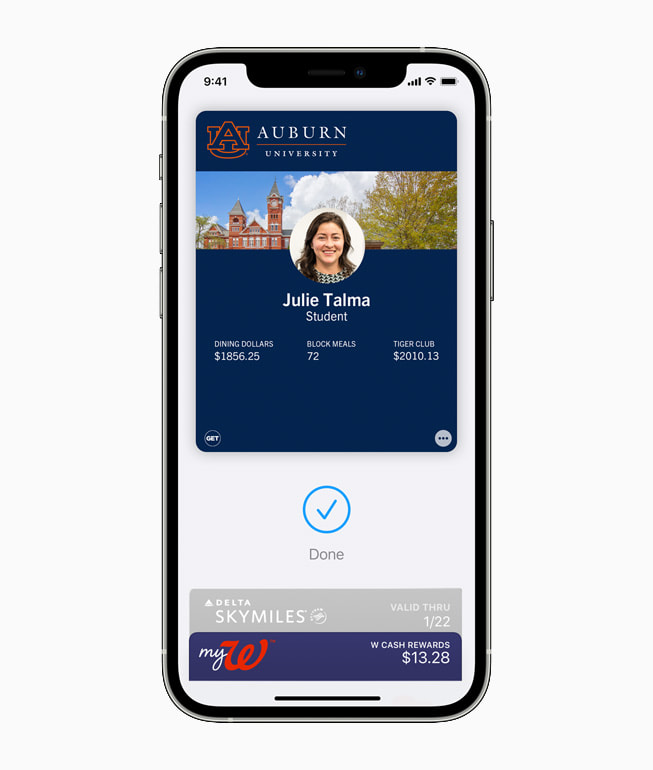 This school year, tens of thousands of students will be able to use mobile student IDs on iPhone and Apple Watch to get around campus and make purchases. For the first time, mobile student IDs can be added to the Wallet app in Canada, starting with the University of New Brunswick and Sheridan College this year. In the US, new schools to adopt mobile student IDs include Auburn University, Northern Arizona University, University of Maine, New Mexico State University, and many more colleges across the country.
"We're excited to work with more schools in the US and introduce mobile student IDs in Canada to provide a secure and convenient way to get around campus with iPhone and Apple Watch," said Jennifer Bailey, Apple's vice president of Apple Pay. "Students and faculty have embraced using their iPhone and Apple Watch as the best way to access buildings, purchase meals, and more."
Many universities are increasingly moving away from plastic cards and taking a mobile-first approach to their student ID programs, allowing students to use mobile student IDs in Wallet to complete any action that would have previously required a plastic ID card — both on and off campus.