Leading industry innovators Vodafone, Qualcomm Technologies, Inc., and Thales have joined forces to demonstrate a working smartphone featuring iSIM (based on the ieUICC[1] GSMA specification) – a new technology enabling the functionality of a SIM card to be integrated into a device's main processor. This milestone paves the way for commercialisation of the technology, which could be rolled out in a host of new devices that will use iSIM to connect to mobile services.
The iSIM, which complies with GSMA specifications, embeds the SIM functionality into the device's main processor, allowing for greater system integration, higher performance, and increased memory capacity. This technology is the latest evolution of SIM technology in which 'eSIMs' are embedded into devices. However, eSIM requires a separate chip: with iSIM this is no longer necessary and removes the need for dedicated space assigned to SIM services.
iSIM technology is a significant evolution on existing eSIM solutions and delivers wholesale benefits to both consumers and telecommunications operators, further paving the way for mobile services to be integrated into devices beyond the mobile phone, taking the mobile experience to laptops, tablets virtual reality platforms, IoT devices, wearables, and more. The iSIM is integrated in the application processor of the device bringing multiple benefits:
Simplifies and enhances device design and performance by releasing space previously occupied within a device
Consolidates the SIM functionality into the device's main chipset alongside other critical capabilities such as GPU, CPU, and modem
Enables remote SIM provisioning by the operator leveraging the existing eSIM infrastructure
Opens mobile service connection capabilities to a host of devices that previously could not have SIM capabilities built-in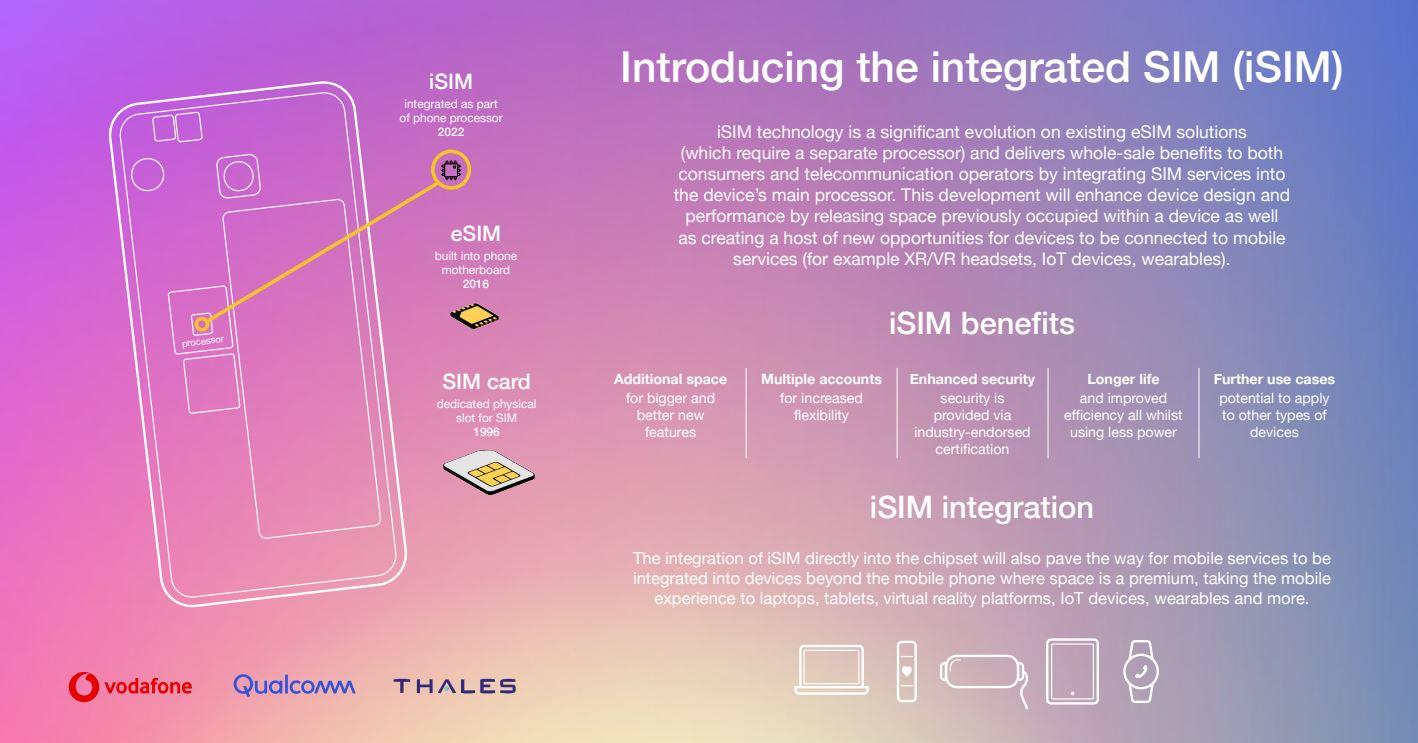 A proof of concept (POC) demonstration took place in Europe, as one of the highest global smartphone penetration regions. The POC illustrates the technology's commercial readiness and efficiency working on existing infrastructure, leveraging Vodafone's advanced network capabilities. In the demonstration, the fully operational proof of concept device used on Vodafone's network was based on the Samsung Galaxy Z Flip3 5G powered by a Snapdragon® 888 5G Mobile Platform, which features a built-in Qualcomm® Secure Processing Unit running the Thales iSIM operating system for the purpose of this demonstration. This proof of concept took place in Samsung's R&D labs using Vodafone's advanced remote management platform.

Alex Froment-Curtil, chief commercial officer, Vodafone, said: "Our aim is to create a world where every device connects seamlessly and simply to each other, and the customer has complete control. The iSIM, combined with our remote management platform, is a major step in this direction, allowing devices to be connected without a physical SIM or dedicated chip, making connectivity to many objects – the promise of the connected IoT world – a reality. It will enable our customers to enjoy the ease of multiple accounts on one device, while from an operator's point of view, help eliminate the need for separate SIM cards and the additional plastic this consumes. We will continue working closely with Qualcomm Technologies and Thales to evolve further applications for this technology and accelerate its commercialisation."

Enrico Salvatori, senior vice president and president, Europe/MEA, Qualcomm Europe, Inc., said: "iSIM solutions offer great opportunities to MNOs, free-up valuable space in devices for OEMs, and provide flexibility for device users to benefit from the full potential of 5G networks and experiences across a wide range of device categories. Some of the areas that will benefit most from iSIM technology include smartphones, mobile PCs, VR/XR headsets, and industrial IoT. By engineering the iSIM technology into the SoC, we are able to create additional support for OEMs in our Snapdragon platform."

Emmanuel Unguran, senior vice president mobile connectivity solutions at Thales, said: "With new types of networks and devices rolling out, innovation in SIM technology is essential to best serve the connected world. The iSIM supports new device design and manufacture while providing the same digital experience as the eSIM, and certified security levels. Thales is committed to on-going innovating with our partners to provide the best connectivity experience."

About ieUICC/iSIM technology
Integrated Embedded Universal Integrated Circuit Card (ieUICC) goes one step further than the eSIM by being integrated into the silicon design of a system on a chip (SoC). Functionality wise, it can be similar to a standalone SIM card (with only one permanent subscription), or it can be more flexible like the eUICC (where the needed profiles can be uploaded over the air (OTA) along the device lifecycle).

[1] Integrated Embedded Universal Integrated Circuit Card

About Vodafone
Vodafone is a leading telecommunications company in Europe and Africa. Our purpose is to "connect for a better future" enabling an inclusive and sustainable digital society.  Our expertise and scale gives us a unique opportunity to drive positive change for society. Our networks keep family, friends, businesses and governments connected and – as COVID-19 has clearly demonstrated – we play a vital role in keeping economies running and the functioning of critical sectors like education and healthcare.

Vodafone is the largest mobile and fixed network operator in Europe and a leading global IoT connectivity provider. Our M-Pesa technology platform in Africa enables 50m people to benefit from access to mobile payments and financial services. We operate mobile and fixed networks in 21 countries and partner with mobile networks in 52 more. As of 30 September 2021, we had over 300m mobile customers, more than 28m fixed broadband customers, over 22m TV customers and we connected 136m IoT devices.

We support diversity and inclusion through our maternity and parental leave policies, empowering women through connectivity and improving access to education and digital skills for women, girls, and society at large. We are respectful of all individuals, irrespective of race, ethnicity, disability, age, sexual orientation, gender identity, belief, culture or religion.

Vodafone is also taking significant steps to reduce our impact on our planet by becoming net zero by 2040, purchasing 100% of our electricity from renewable sources in Europe and across our entire operations by 2025, and reusing, reselling or recycling 100% of our redundant network equipment.

For more information, please visit www.vodafone.com, follow us on Twitter at @VodafoneGroup or connect with us on LinkedIn at www.linkedin.com/company/vodafone.

About Qualcomm 
Qualcomm is the world's leading wireless technology innovator and the driving force behind the development, launch, and expansion of 5G. When we connected the phone to the internet, the mobile revolution was born. Today, our foundational technologies enable the mobile ecosystem and are found in every 3G, 4G and 5G smartphone. We bring the benefits of mobile to new industries, including automotive, the internet of things, and computing, and are leading the way to a world where everything and everyone can communicate and interact seamlessly.

Qualcomm Incorporated includes our licensing business, QTL, and the vast majority of our patent portfolio. Qualcomm Technologies, Inc., a subsidiary of Qualcomm Incorporated, operates, along with its subsidiaries, substantially all of our engineering, research and development functions, and substantially all of our products and services businesses, including our QCT semiconductor business.

About Thales
Thales (Euronext Paris: HO) is a global leader in advanced technologies, investing in digital and "deep tech" innovations – connectivity, big data, artificial intelligence, cybersecurity and quantum computing – to build a confident future crucial for the development of our societies. The Group provides its customers – businesses, organisations and governments – in the defense, aeronautics, space, transport, and digital identity and security domains with solutions, services and products that help them fulfil their critical role, consideration for the individual being the driving force behind all decisions.

Thales has 81,000 employees in 68 countries. In 2020, the Group generated sales of €17 billion.

Follow the latest from Thales:
Twitter: https://twitter.com/thalesgroup
LinkedIn: https://www.linkedin.com/company/thales
---
For enquiries, product placements, sponsorships, and collaborations, connect with us at

[email protected]

. We'd love to hear from you!
---
Our humans need coffee too! Your support is highly appreciated, thank you!